The role that science, technology, engineering, and mathematics (STEM) play in this fast-paced society is becoming even more essential. STEM enables social and economic advancements. Creating a strong STEM foundation in the Philippines' will drive economic growth and consequently improve people's lives.
The key to building a strong STEM foundation? Education.
However, international studies like the Program for International Student Assessment (PISA) show poor Philippine performance in math and science, compared to other countries. A 4.4-year learning gap in higher education also exists between the Philippines and other top-performing educational systems.
Focusing on STEM Educators
Recognizing STEM as a driving force for national development, and the problems besetting the education system, the Gokongwei Brothers Foundation (GBF) took special focus on helping educators improve their professional development, seeing the huge impact of their wide reach on learners.
"We would like to focus on STEM education because we do think that technology, math, and science are crucial building blocks in teaching children a framework of thinking," said GBF General Manager Lisa Gokongwei-Cheng in an interview for GBF's 30th anniversary video. "We've also decided that we would focus on the teachers because we do believe that teachers have that multiplier effect, and our teachers need to be supported in order for them to support their students."
In 2018, GBF launched TeachSTEM, a scholarship program that aims to increase and develop STEM educators in various parts of the country who will be champions of STEM and equip learners to become critical thinkers and innovative problem solvers in their communities.
Since its inception, TeachSTEM has supported 152 scholars nationwide and targets to reach around 300 this year. Their passion for teaching STEM fueled them to pursue STEM education despite financial difficulties. This led them to touch the lives of hundreds of learners, inspiring them to consider taking STEM-related professions.
Teacher Eron's dream to become a Supervisor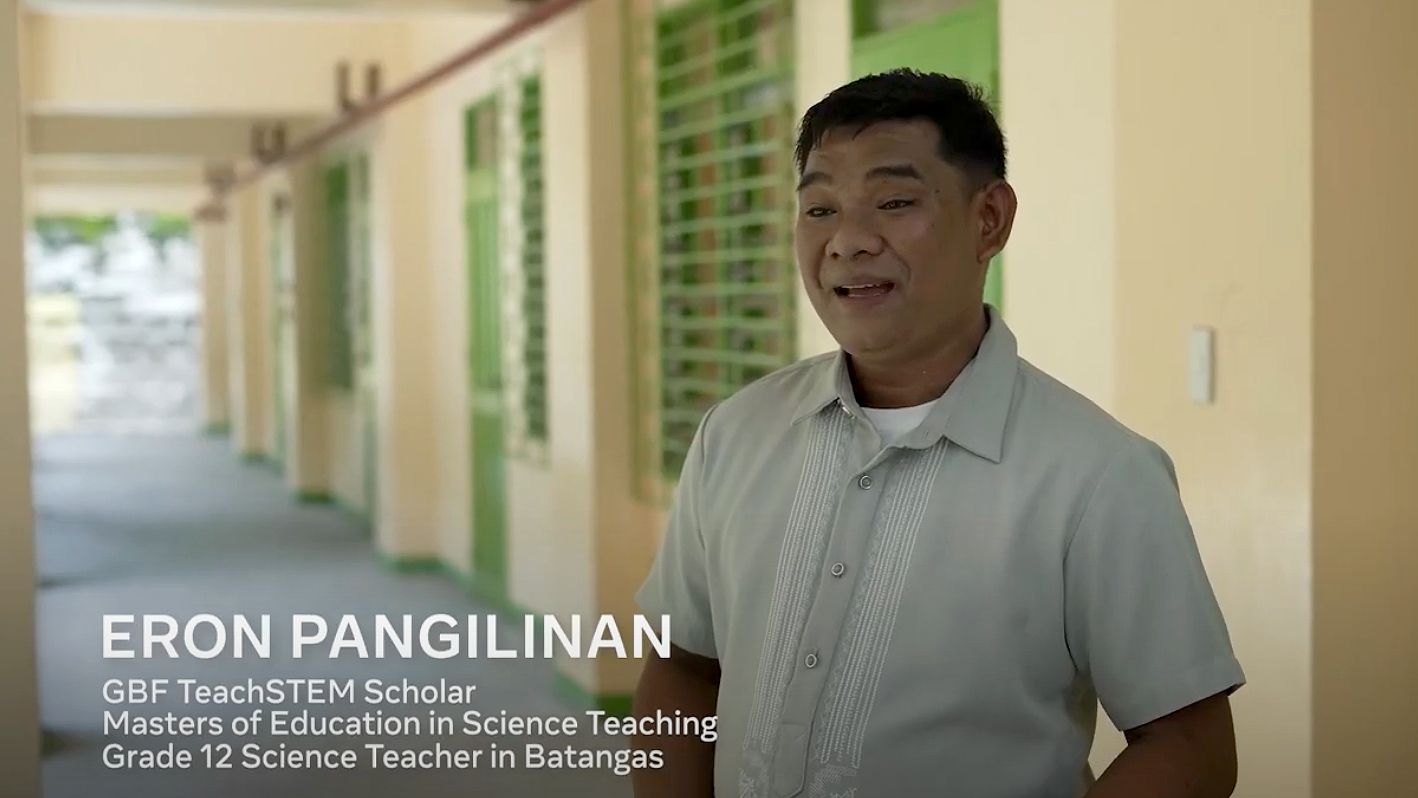 Grade 12 Science Teacher Eron Pangilinan was a GBF TeachSTEM Scholar for his Master of Education in Science Teaching degree at Batangas State University. Teaching was a dream his mother wasn't able to achieve – a reason why he decided to teach. Eron's appreciation for science gave him a goal of his own – becoming a Science Education Program Supervisor in their district. STEM educators taking on leadership roles in areas where they teach is also crucial in promoting the value of STEM amongst fellow teachers, education leaders and stakeholders in school communities.
Teacher Niño's innovation during the pandemic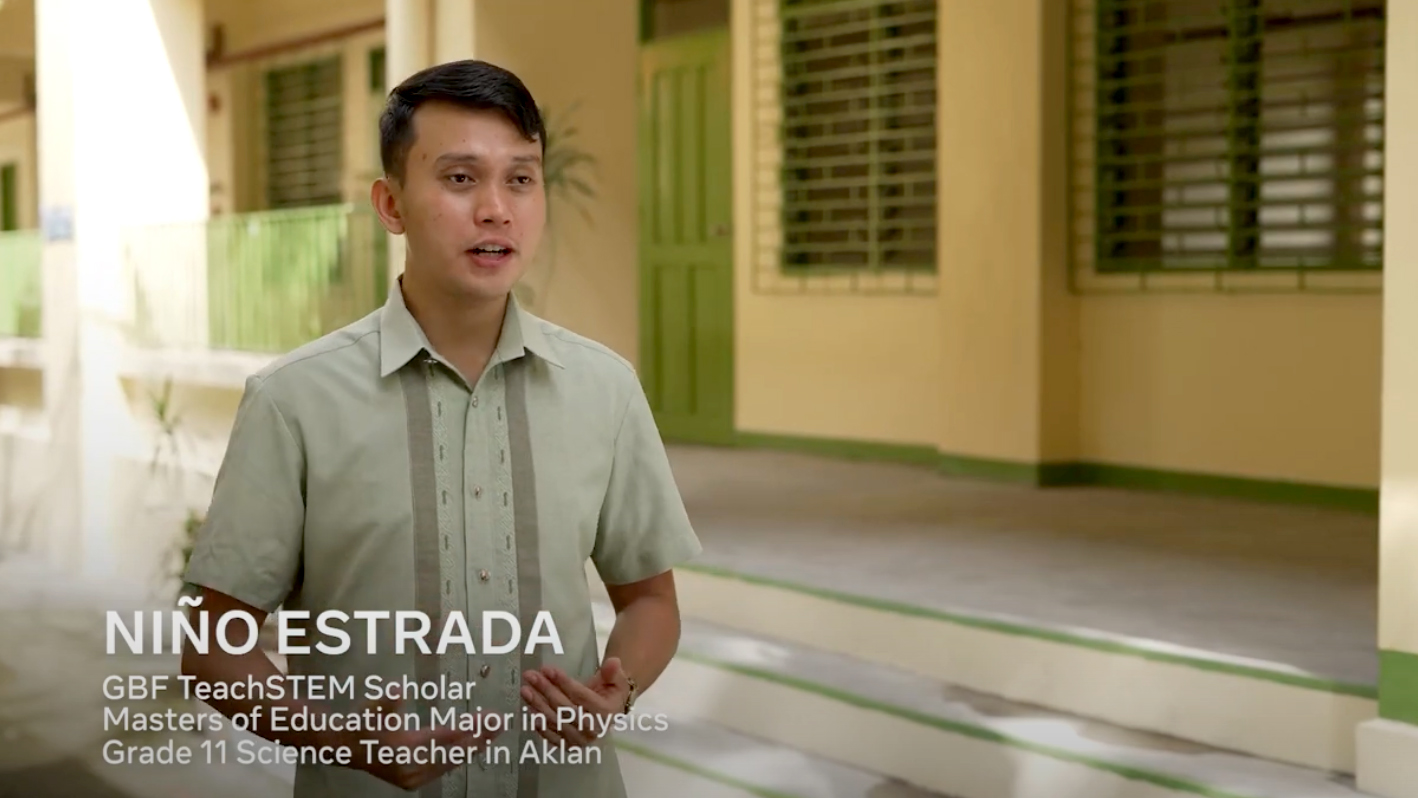 Niño Estrada, a Grade 11 Science Teacher, started his journey as a GBF TeachSTEM scholar while taking his Master's degree in Education, majoring in Physics, at West Visayas State University. Unable to fulfill his dream of becoming a doctor due to financial difficulties, he pursued teaching so he can inspire learners to become doctors themselves.
While his class faced challenges during the pandemic, Niño's dedication to STEM led him to experiment with teaching approaches.
"I came up with this project – a chat- and text-based integrated approach. Nag-drawing po ako, for example, ng mga chemical formulas through text (I made drawings, for example, of chemical formulas through text)," shared Niño. "As a teacher, you should be an innovator."
Teacher Coleen: from community volunteer to Science teacher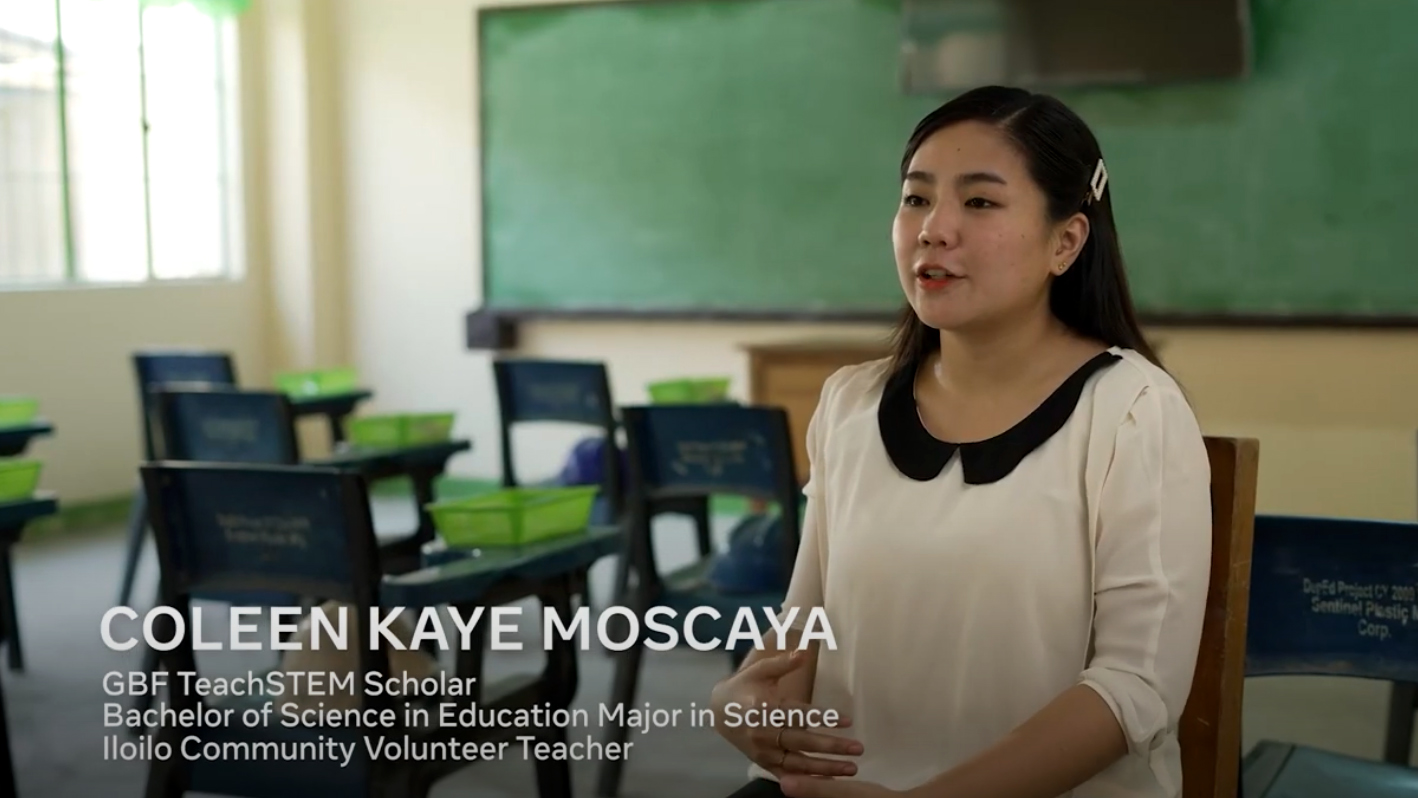 Iloilo Community Volunteer Teacher Coleen Kaye Moscaya became a GBF TeachSTEM Scholar while completing her Bachelor of Science degree in Secondary Education with a major in Science at West Visayas State University. At a young age, Coleen's mother exposed her to different communities where her experience with her fellow children led her to dream of teaching Science.
"Bata pa lang ako, dinadala niya na ako sa different communities," Coleen narrated. "Seeing the children and their hunger and thirst for knowledge, attention, and love helped me develop into a teacher who wanted to change lives – a teacher who wants to see her students be successful someday." Through the help of GBF and TeachSTEM, Coleen graduated and achieved her childhood aspiration.
GBF'S TeachSTEM Scholarship Offerings
Through TeachSTEM, GBF provides scholarships to aspiring and in-service STEM educators completing a bachelor's or master's degree in Science, Technology, or Mathematics education. 
Apart from financial grants, TeachSTEM offers other scholar development programs such as psychosocial support and professional development opportunities. TeachSTEM scholars serve as STEM educators for a period equivalent to the duration of their scholarship. 
Recognizing that the work cannot be done alone, GBF partnered with Teacher Education Institutions (TEIs) with passing rates higher than the overall national average in the 2019 Licensure Examination for Teachers to accommodate more science and mathematics teachers.
TeachSTEM is designed to inspire its scholars to contribute to the development of STEM education in the Philippines, paving the way for more Filipino learners to become STEM professionals.
TeachSTEM College Degree Scholarship Program
Through the TeachSTEM College degree scholarship program, graduating high school students who aspire to be STEM teachers receive support to help them become competent teachers and STEM champions of their respective communities.
Incoming or continuing college students taking a Bachelor's degree in elementary or secondary education majoring in Science, Technology, or Mathematics in any of GBF's preferred TEIs are welcome to apply. Scholars from public universities receive a fixed annual grant of Php 65,000, while scholars from private universities receive Php 85,000.
TeachSTEM Master's Degree Scholarship Program
On the other hand, the TeachSTEM Master's degree scholarship program aims to motivate practicing STEM educators to advance their knowledge. The program supports incoming or continuing Master's Degree students in Education specializing in Science, Math, Technology, or Engineering in any of GBF's preferred TEIs.
Scholars should also either be an educator in any level from K to 12 teaching science, math, technology, or engineering in public school or an instructor teaching a science, math, technology, or engineering-related course in any tertiary institution. Scholars from public universities receive a fixed annual grant of Php 45,000, while scholars from private universities receive Php 65,000.
Teaching STEM for the Country 
"Education is the only way to save the country," GBF Founder John Gokongwei Jr. once said.
As developed countries advance with the benefits of STEM, developing countries such as the Philippines can also do so, through a committed effort of collaboration from both the private and public sectors.
GBF collaborates with the Department of Education and leading private and public universities in realizing this through programs such as TeachSTEM Scholarships in its desire to contribute in shaping future-ready Filipino workers, progressive communities, and, eventually, a globally competitive Philippines.
Yet without young graduates who will aspire to teach, and without existing teachers improving their skills, the country remains wanting of STEM educator champions that will educate the next generation of STEM workforce.
Hence GBF's call to for new and seasoned teachers to take on this opportunity and avail of the TeachSTEM Scholarship.
Join GBF in supporting STEM educators by promoting the TeachSTEM Scholarships to students and STEM teachers. Check out the complete eligibility and documentary requirements at https://bit.ly/TSTEMOmnibus. The deadline for submission of the application is until November 30, 2022. For further inquiries, please email teachstem@gbf.com.ph or call +63 939 912 5347.