Discovering Walang Imposible
Held virtually on November 19, the first session set the tone for the whole program and gave an overview of the initiative's theme, "Walang Imposible." This inspiring theme was first introduced during the opening remarks of Ciela Mendoza, the Gokongwei Brothers Foundation Program Head of Scholarships and Community.
Afterwards, GBF welcomed ABS-CBN News multimedia journalist Jeff Canoy to discuss how his passion for storytelling pushed him to overcome difficulties in his career. Having witnessed the siege of Marawi for months on end, Canoy shared that he draws bravery from the commitment of fellow Filipinos to serve. "Walang imposible if you get to see the other, 'yung kapwa natin. Doon natin mahuhugot at makikita 'yung strength to go on," he shared. "I probably won't be able to change the world, but if I'm able to change someone's world or someone's world view, parang okay na ako."
Meanwhile, Pasig City mayor Vico Sotto reminded the scholars to value both idealism and practicality because some goals are nearly impossible to achieve. Still, Sotto stressed the importance of fighting for such goals regardless of how impossible they may seem. He said, "Kung naniniwala tayo na tama tayo at tama 'yung pinaglalaban natin, maganda 'yung pinaglalaban natin—kahit mukhang imposible, gawin pa rin natin. Hindi natin malalaman hangga't di natin susubukan kung hanggang saan ba tayo makakarating."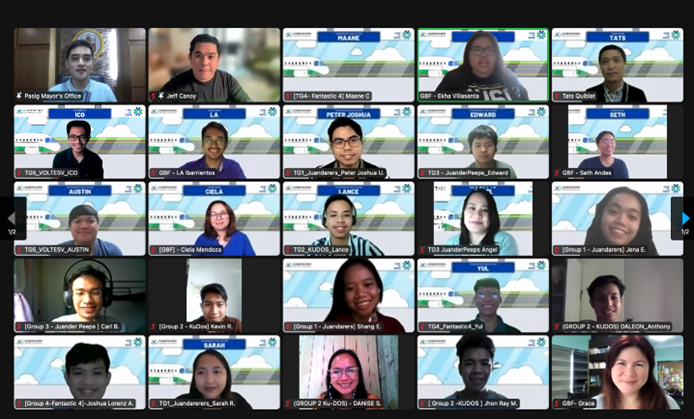 Pasig City Mayor Vico Sotto and ABS-CBN Chief of Reporters Jeff Canoy sharing their stories of Walang Imposible to GBF's Juan to Serve participants
To conclude all their learnings, Ateneo de Manila University (AdMU) Office of Student Activities Director Tats Quiblat encouraged participants to remember their values while they journey towards attempting to do the difficult as loving leaders: "Huwag mong itanong kung mahirap, itanong mo kung mahalaga. Kasi ang mahirap, nakikitang mahalaga, kinakaya."
While the first session focused on finding their stories of Walang Imposible, the second meeting taught them how to practice empathy and understand themselves in the context of society. First, AdMU National Service Training Program Assistant Director Anitta Nuevo talked about what self-leadership truly entails.
According to her, it's part of our social responsibility to proactively care for others because we all occupy the same domain. By doing so, we can contribute to different social structures, focus our energy on things we can actually change, and reach even more people. "The key is to focus your energy on those things that you can influence and this will enable you to make effective changes. So if you do this, you will find that your circle will increase or grow larger as you meet your allies [and] people with the same goals as you," she shared.
Like Nuevo, Teach Peace Build Peace Movement Founding Director Bai Rohaniza Sumndad-Usman believed in building a culture of peace by helping others and fostering unconditional love. As she stated beautifully: "Walang imposible sa nagmamahal, lalo na't kung ang pagmamahal na ito ay para sa pamilya, para sa komyunidad, para sa bayan, at para sa kapayapaan. Walang imposible kung ay para sa ikabubuti at ikabubuhay natin ay para sa iba."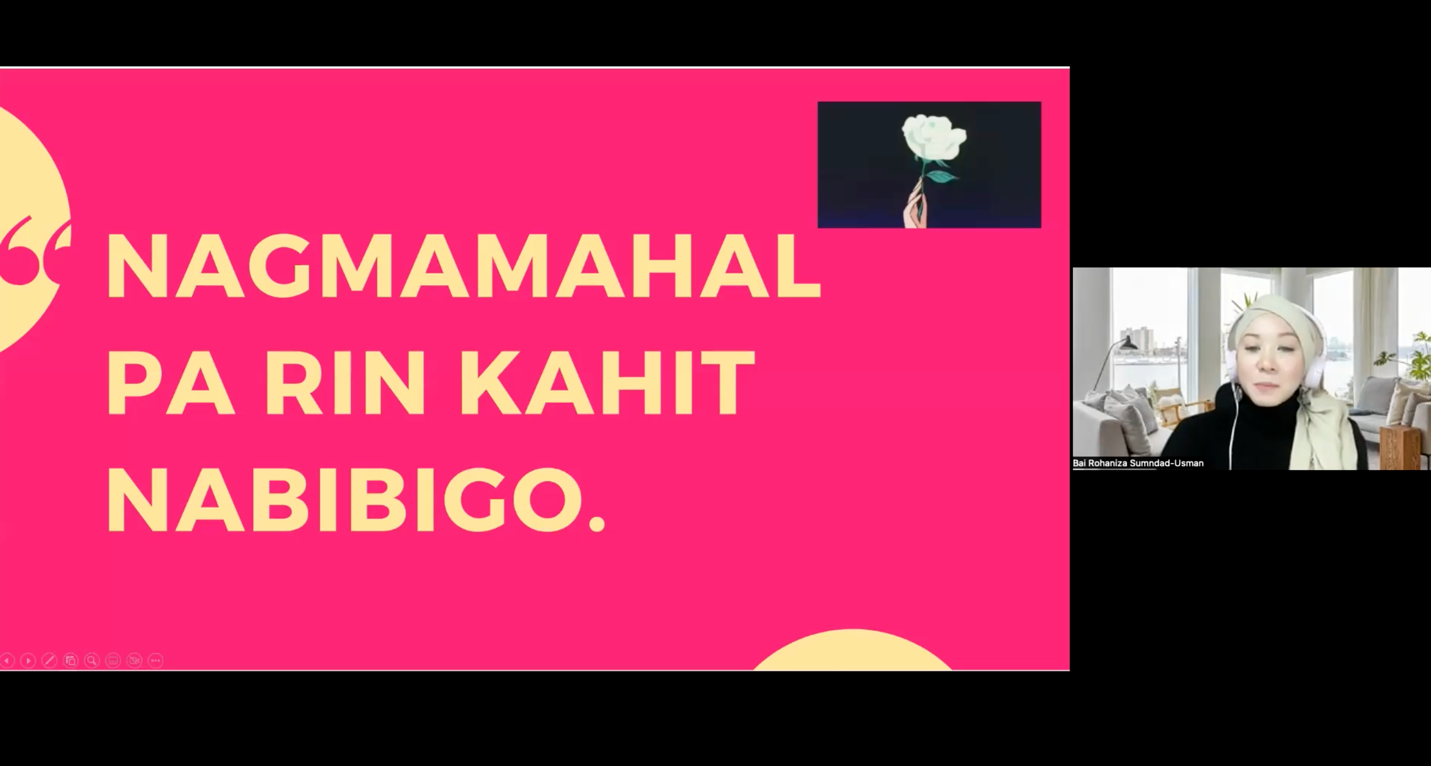 Teach Peace Build Peace Movement Founder, Ms. Bai Rohaniza Sumndad-Usman shares her experiences of promoting peace to communities and the importance of empathy in building peaceful relationships in the community.
YGOAL President and Co-Founder JR Demecais then facilitated a panel discussion about community work with Maginhawa Community Pantry Organizer Ana Patricia Non and Sowing Legacy Movement Co-Founders Richelle and Charles Mangga.
As a former scholar who experienced financial instability, Non shared that even the smallest efforts can cause the biggest differences, especially when working towards the same goal as other community members. "Nationwide siya na struggle, pero ang maganda doon, nationwide din siyang pwedeng solusyonan. T'saka marami yung gumagawa na maliliit na efforts," she explained.
Building on Non's point about staying hopeful, Mangga reminded the scholars to find an advocacy they're genuinely passionate about. He said, "Realistically speaking, kung nag-co-community work ka, mabigat siyang trabaho. Kung hindi mo nagugustuhan yung ginagawa mo, mas nagiging mabigat siya. Mas tinitingnan mo siya as a reponsibility rather than something na ginagawa mo from the heart, kaya maghanap ka ng mga bagay na malapit sa puso mo."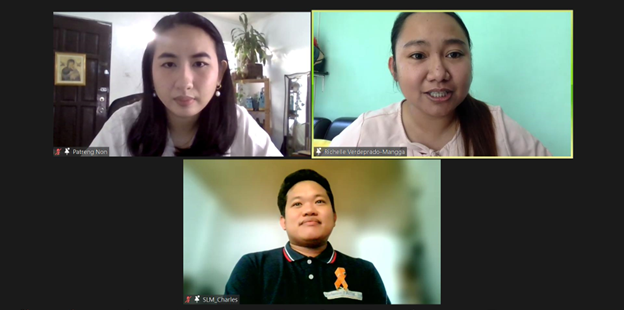 Maginhawa Community Pantry Organizer, Ms. Ana Patricia Non and Sowing Legacy Movement Inc., founders, Charles and Richelle Mangga shared their experiences in community work.
Before the second session ended, participants were asked to accomplish various community tasks like getting a barangay clearance, inquiring about part-time jobs, and reaching out to former teachers. These assignments prepared them for the last session of 2022, which explored social impact projects in depth.
To kick off the third session, scholars went into different breakout rooms with their respective group mates to process their experiences and conceptualize a "How Might We" question based on their insights. Following their group meetings, they listened to another panel discussion with Association of Young Environmental Journalists Co-Founder and Executive Director Val Vestil and City Farm Co-Founder and GBF scholar Bea Suavengco.
Demecais prompted both of them to share tips on how to actually put advocacies into action. Suavengco suggested focusing on skills and interests: "If you're really devoted about something and you believe in the vision you have in mind and your calling in life, you're really gonna find a way to pursue it and make it possible, kahit mahirap."
Contrary to Suavengco, Vestil took a more practical approach and stressed the significance of resources and connections. "Importante na may strong believers kayo of your mission and vision, especially in the beginning stages of your advocacy," he advised. "My encouragement is [to talk to] experts, friends, family, and peers and colleagues [because] your social capital is the most important capital sa simula ng advocacy mo."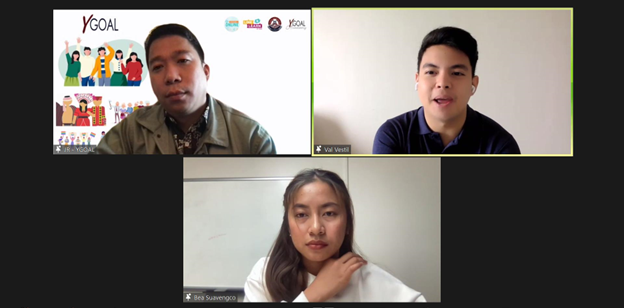 YGOAL's president and co-founder JR Demecais moderated the discussion with Association of Young Environmental Journalists Co-Founder and Executive Director Val Vestil and City Farm Co-Founder and GBF scholar Bea Suavengco as they share their stories of finding one's advocacy and pursuing it to help the communities they belong to.
Limitless Lab Founder Joie Cruz concretized the panelists' advice further and shared various techniques the students can use for ideating and implementing their own social impact projects. For example, the note and vote system and the four-step solution sketch are methods that encourage creative leaders to brainstorm rough ideas first before narrowing down feasible options based on their community's needs.
Enlightened by the speakers' pointers, the participants revisited their initial insights and refined their plans for the upcoming social impact project. Lastly, GBF Executive Director Grace Colet sent off the scholars to the next phase of their journey by reciting John O'Donohue's "For the Traveler" and highlighting the impact of servant leadership on themselves and their communities.
"We believe that it's very important na we're able to really talk about our leadership and how we can serve together, how we can be servant leaders to each other and our community," she concluded. "This is a more exciting journey because we hope that this will be about seeing and arriving at discovering different parts of yourself."
Armed with new insights about servant leadership and inspiration from community changemakers of different backgrounds, the participants set off to execute their planned social impact projects within their communities. They will return on January 7 to share the outcomes of their project and look back on their "Walang Imposible" journey.