What is a servant and how does it relate to being a leader? Furthermore, is it possible for these two roles to stand side by side to create something bigger?
These are just some of the questions that ran as the core themes of the first-ever leadership program of the Gokongwei Brothers Foundation (GBF) aptly titled "Juan-to-Serve: A GBF Leadership Journey." For the first time in the history of the foundation, GBF invited one hundred (100) of its scholars to participate in a five-session journey, faciliated by social enterprise YGOAL Inc., to help them find and develop the servant leader in them. The first session, held virtually last August 28, kicked off the program with inspiring messages and newfound lessons.
General Manager and Trustee for GBF Lisa Gokongwei-Cheng set up the stage by talking about the importance of nurturing fresh mindsets and sharing stories to inspire people to create change. "In a world faced by crisis, we need young people who use their talents to inspire others. We share your dreams of becoming successful, but true success lies in your positive impact on your family and the community. So be inspired."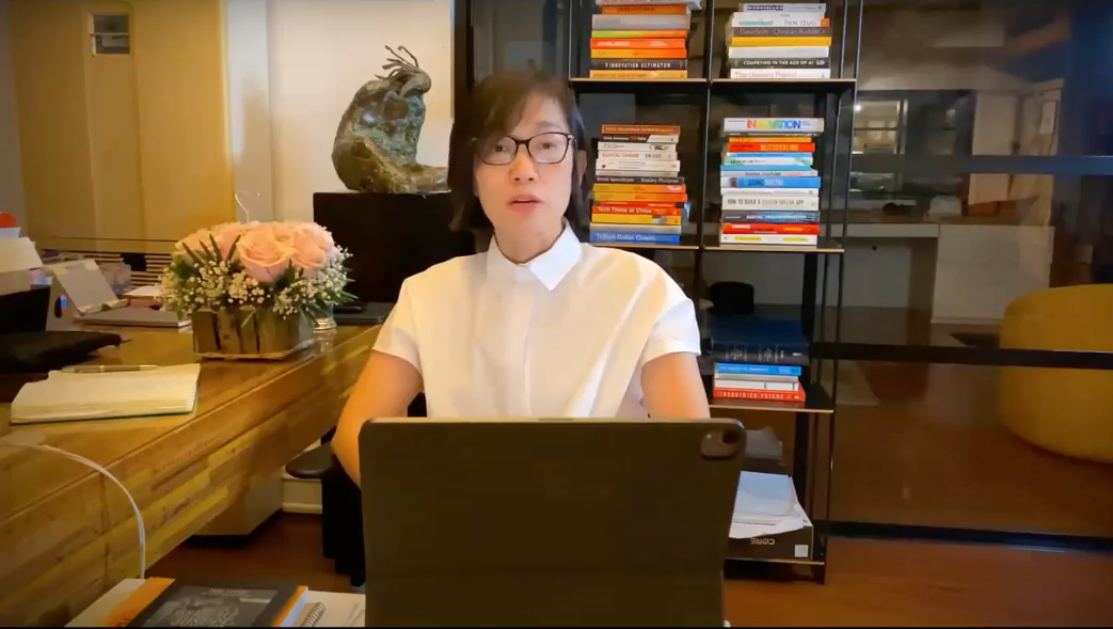 Ms. Lisa Gokongwei-Cheng, GBF General Manager and Trustee, delivers a special message for the scholars. IMAGE: Gokongwei Brothers Foundation
This, of course, is perfectly in line with what GBF has been striving for since its conception in 1992—to inspire young individuals to not only strive for academic excellence, but to also share positive contributions to their families, communities and the nation. Now, almost three decades down the line, the same values and mission are reflected on each of the students that the foundation is supporting.
Take for example Cristy Jawl Calugas, a fourth-year pharmacy student who is under the STEM Scholarship for Excellence (STEM SFE). As a future practitioner in the medical field, she believes that "it is important to have the mind of being a servant leader because our main goal is to give the best medical advice to people. We should serve them to give them a better quality of life."
The same also applies to Peter Joshua Untal, though his purpose hits a little bit closer to home. The Mechanical Engineering student under the STEM-SFE scholarship shared that not only does he want to become a role model within his family, but he also wants to do the same for his community. "I want to become a leader towards my co-workers and to my neighbors by being a responsible and concerned citizen. But most especially, I want to become a role model to my future children who will also become leaders in the future."
It is these budding ideas that the Juan-to-Serve Leadership Journey wants to develop as it goes through the rest of its sessions which will delve deeper into topics like self-awareness and being a change-maker. The sessions will follow the "Challenge by Choice" model which will inspire its participants to get out of their comfort zones, face their fears, and explore their learning zones so they can grow.

Juan-to-Serve leadership program gathers one hundred (100) GBF scholars as they begin their servant leadership journey through GBF. IMAGE: Gokongwei Brothers Foundation
The first session focused on re-aligning everyone's goals by setting values and getting to know their fellow leaders, something which Alyzza Jane Obispo, an Aeronautical Engineering student, said she liked a lot. When asked about her experience, she shared that she found the kick-off session very relatable to her personal vision.
"I was really moved when the comfort zone topic was explained. To be honest, I am currently at a stage in my life where I am struggling to get out of my safe zones so the training helped me realize the importance of stepping away from it if I want to grow. I am looking forward to more experiences, realizations, and interactions with my co-leaders. Hopefully, after all the sessions, my skills will be improved and I will feel more confident to lead."
Paul and Cristy openly agree. The former said that the "Getting to Know You" part of the program was his favorite activity because it helped him bond with his groupmates while Cristy enjoyed the chance of making new friends. She shared, "I am looking forward to knowing more about my groupmates and leadership in general. This, I think, will help me get to know myself better so I can serve well in the future."
All these circles back to the main reason behind the conception of the Juan-To-Serve Journey which GBF Executive Director Grace Colet explained. "When we were reflecting, we asked, what does our world need right now? Yes, we need smart people, innovative people, but all of those are not important if there is no direction. That's where we got the concept of servant leadership. We need leaders who go beyond themselves, someone who can answer the questions of who and why they serve."
True enough, the kick-off session of the leadership training perfectly captured the idea of the journey to leadership. Colet perfectly sums it up with her closing words.
"What you will get is only as important as what you are willing to give. What makes a journey all worthwhile is your destination. We hope that the start of this journey lets our students realize their landing places, which is that of being a servant leader."
The Juan-To-Serve: A GBF Leadership Journey will run for five more weeks and will conclude on the Graduation Day of its participants on October 2.