This #HeroTeacher Built Reading Huts In Communities To Help Students Learn To Read
She has a soft spot for disadvantaged children with learning difficulties.
By
Grace Bautista for Smart Parenting
Dec 25, 2020
It would not take more than five minutes of conversation with Teacher Brilin Adalin to know how passionate she is about her work and that she has fully embraced teaching as her life's purpose. Even after almost two decades in the public school system, she is still full of enthusiasm and ideas in advancing the cause of reading in her school and community.
Before the pandemic, her daily routine was to wake up very early each morning so she could catch the first bus from Koronadal City, where she resides, to Tacurong City, where she works. The commute would take around one hour by bus, but she was never late for work.
From 2005 to 2014, Teacher Brilin taught the lowest section of Grade 1 learners in Tacurong Pilot Elementary School, in Tacurong City, Sultan Kudarat. She was assigned to "a class of struggling learners with passive and uncooperative parents," according to an article written about her in Bato Balani's The Many Faces of a Teacher.
"To help struggling learners, she uses her creativity and resourcefulness to make her own teaching aids... And because most of her students cannot afford to finance such materials, she spends her personal money to make this possible," the article further said.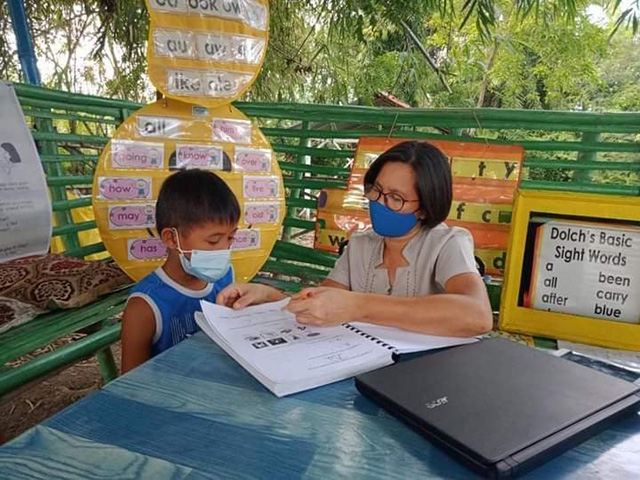 Master Teacher Brilin Adalin. PHOTO Courtesy of Brilin Adalin
In 2014, she was promoted to the rank of Master Teacher 1 and was supposed to teach a SPED class of fast learners after that. However, she opted for an assignment in the farthest and poorest school in Tacurong, which was also the lowest-ranking in the National Achievement Test (NAT) in 2014.
She was the first Master Teacher to be assigned in Casilda P. Venus Elementary School, and was placed there as a move to improve the quality of education in remote areas. In 2014, Casilda P. Venus Elementary School scored 43% in the NAT, and after teacher Brilin moved there, they managed to jump to a score of 83%!
In 2018, Teacher Brilin asked to be transferred to Kalandagan Elementry School (KES). It is still far from her home but it is by the route of the bus she takes from Koronadal every day. Now she teaches the Grade 3 class there and still champions reading in the school.
She has been the Reading Coordinator in all the schools she taught in and has introduced several reading programs including "Adopt a Brother, Adopt a Sister," where an older pupil helps a younger learner to read, and "Supervised Lunch Reading Program," where she invites parents who are able to do storytelling to come and read to the children. Because of her passion for teaching reading, she was awarded Best Reading Champion in Tacurong City.
Readers' huts for young learners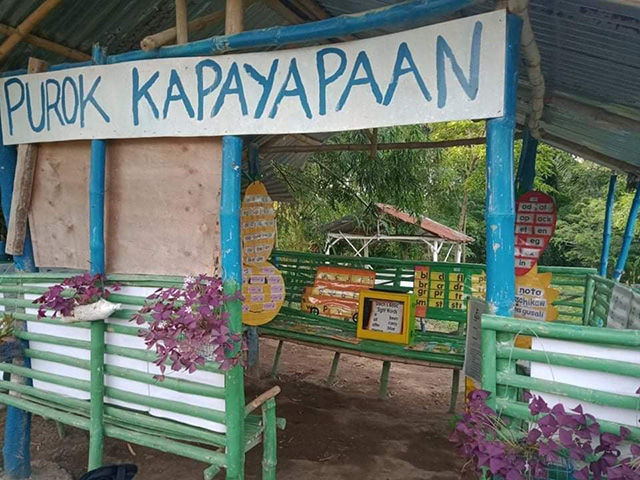 These huts provide easy access to books and other learning materials. PHOTO Courtesy of Brilin Adalin
Despite the lockdowns because of the Covid-19 pandemic, learning did not stop for Teacher Brilin's pupils. She continued her reading advocacy by sharing reading videos and online materials to her learners.
From May to June this year, Teacher Brilin was part of an Online Summer Reading Camp organized by the City Schools Division of Tacurong. For this program Teacher Brilin used the Marungko approach and digitized story books to teach children to learn to read.
Recently, she brought Young Readers' Huts (Kubo sa Pagkatuto) into three puroks within Brgy. Kalandagan. She said the idea started when the Division office gave away books on wheels. She was then inspired to build actual huts where she could put the books and learning materials so young learners could easily access and enjoy them within their communities.
The expenses for these huts were mostly personally covered by Teacher Brilin, but she's happy just to be able to inspire young children to read. She says the legacy instilled in the hearts and minds of the children makes all the work and expenses worth it.
A model teacher and public servant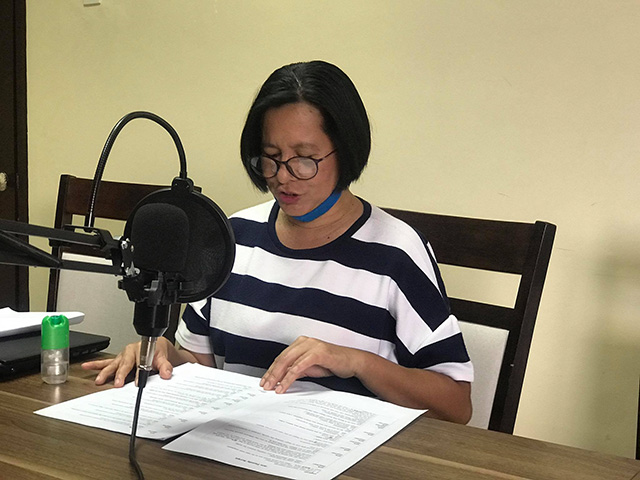 Teacher Brilin is a multi-awarded teacher. PHOTO Courtesy of Brilin Adalin
Asked why she chose teaching as a career, Teacher Brilin shares, "It is my passion to mold and influence young minds. That's why I became a teacher. I sincerely love to turn the children into literate individuals and competent learners [and] eventually... productive citizens in the future."
She protects learners from harmful elements lurking in their community. In December 2019, she did research on the effects of online gaming on academic performance, and worked with local authorities to completely ban online game shops around the vicinity of their school.
Instead of addictive online games, Teacher Brilin, in partnership with another teacher in KES, formed a band, which they now call Kalandagan Elementary School Band, that plays music using makeshift instruments —00000 tambourines from metal bottle caps, drums made of plastic waste and sticks from old spoons and forks.
Teacher Brilin is a multi-awarded teacher who has received recognition from Bato Balani Foundation's The Many Faces of the Teacher and a model public servant who was once an individual Pag-asa Awardee by the Civil Service Commission.
Very recently, she was awarded Most Outstanding Master Teacher for 2020 by the City Schools Division of Tacurong. But these awards are merely bonuses and not the true indication of her success. Instead, she feels successful with every child who learns how to read with her help.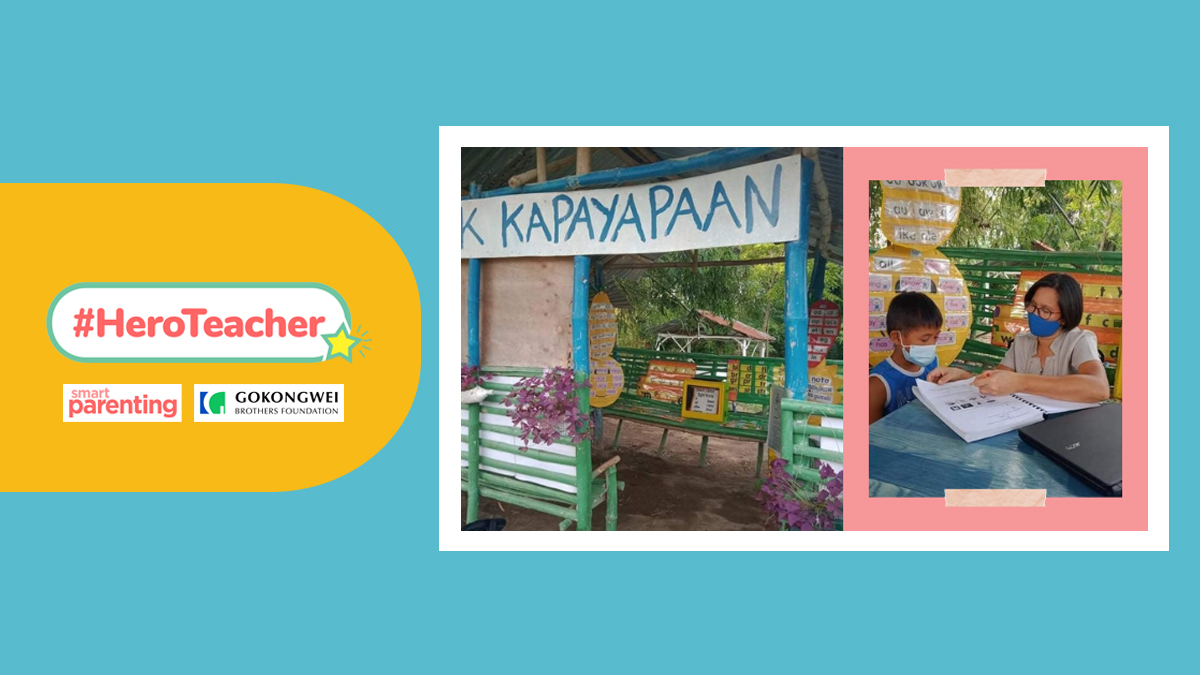 PHOTO Courtesy of Brilin Adalin
Gokongwei Brothers Foundation (GBF) teams up with Smart Parenting to shine a spotlight on teachers who go the extra mile. For every #HeroTeacher featured in Smart Parenting, GBF pledges P15,000 donation in kind.
You can also nominate a #HeroTeacher! Just go to this link and fill out the form: https://bit.ly/NominateAHeroTeacher. Meet our #HeroTeachers! Read their stories here.
This story originally appeared on SmartParenting.com.ph. Minor edits have been made by Gokongwei Brothers Foundation.