by THE JG SUMMIT TEAM

At the start of our scheduled video call, a familiar face flashes across the screen. Lisa Gokongwei-Cheng, who wears many hats in the Gokongwei Group, joins the Teams meeting, gives us a quick wave, and breaks into a warm, wide smile.
Quick disclaimer: I say familiar because for almost a decade, I was employed as an editor at Summit Media, the company Lisa founded shortly after graduating from Columbia University's School of Journalism in the early 1990s. It's quite a story, really, how she was able to turn an initial investment of one million pesos into a publishing juggernaut, before further molding Summit Media into its current status as the Philippines' leading lifestyle digital network and top digital outside-of-home media company.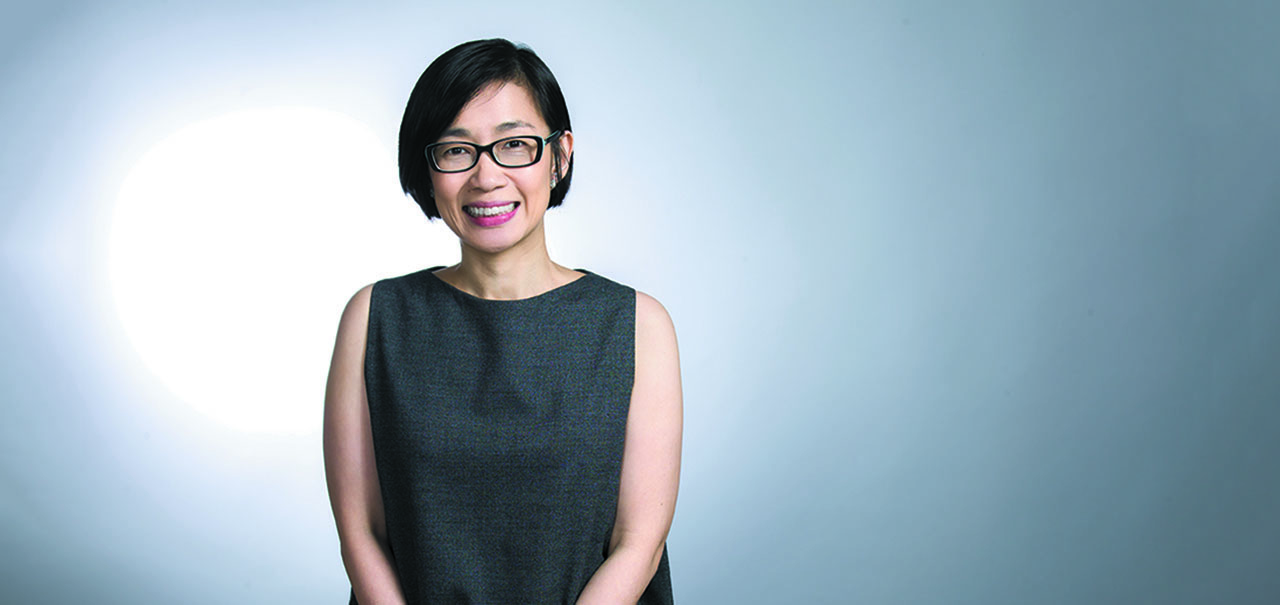 In addition to being president of Summit Media, Lisa was tasked by her elder brother, JG Summit President and CEO Lance Y. Gokongwei, to head the conglomerate's Digital Transformation Office in 2018. She attained her current title, Senior Vice President for Digital Transformation Corporate Services, in 2020.
When JG Summit's venture capital arm, JG Digital Equity Ventures, was formed in 2019, Lisa was also invited to join its Investment Committee, lending her start-up expertise to help JGDEV spot the next big thing.
Today, however, we're meeting to discuss another one of her critical roles in the conglomerate, her being the General Manager of the Gokongwei Brothers Foundation, the largest private sector provider of scholarships in Science, Technology, Engineering, and Mathematics (STEM) education in the country.
It was sometime in the early 2010s that Lisa's father, the late John Gokongwei Jr., called her up and asked her to head the family foundation's operations. In her typical, self-deprecating manner, Lisa downplays the reasons why she may have been handed the job. "To be honest, I think it was because Lance [who was president and COO of JG Summit at the time] was too busy, and so was Robina [Gokongwei-Pe, President and CEO of Robinsons Retail], so I think that's the reason he asked me!" says Lisa, chuckling at the recollection.
According to Lisa, the third child in a brood of six, her father didn't offer any advice or suggestions when she accepted the role, but she already had a relatively firm idea of what she needed to do. "We all grew up listening to him at our lunch table or the dinner table, and so we really understood what he wanted. Number one, he wanted to leave a legacy of helping the country and it was important for the Philippines to have an industrial base. Education was a way of getting there. He didn't have to sit down specifically to talk to me about his vision. I heard it already. The idea here was to make sure that that vision would play out."
As General Manager of GBF, Lisa is highly involved in plotting out its general strategy, "creating the mission, vision, and the purpose, and to make sure that we continue to follow that purpose."
Lisa is supported in this task by GBF Executive Director Grace Colet and her team, who not only help with the foundation's strategy and program design, but are also involved in the project execution. "They do a lot of the stakeholder management, working with stakeholders such as the public schools, the Department of Education, the communities where we operate, and our suppliers. They manage a lot of that plus they roll out the programs that we have. That's how we split the responsibilities," says Lisa.
Never one to hog the spotlight, Lisa makes sure that GBF's executive director gets due credit for her tireless work. "I want to praise Grace," says Lisa, cracking a slight smile after hearing the unintentional rhyme being spoken.
Lisa initially hired Colet to run JobStreet, a portal for job seekers that became highly successful in the Philippines. "I think the reason it succeeded – and this was led by Grace – is because we were able to help people find jobs and their vocations."
The business unit was sold eventually, but Colet wanted to pursue her aim to "do good for the country", and so Lisa brought her onboard GBF in 2017. "By helping educate a generation of STEM students and their teachers, you also kind of help them find jobs for the future, right? It is aligned to her personal mission," says Lisa.
Building the Future Through Education
While most Filipinos might be familiar with the Gokongwei Group's business units, products, and services that impact their lives on a daily basis, it's not as widely known that the Gokongwei Brothers Foundation is the largest shareholder in JG Summit Holdings, holding a 27.88% stake in the PSE-listed company.
Lisa explained how this came to be at the recent event to mark the launch of the Gokongwei Group masterbrand and the 30th anniversary of the Gokongwei Brothers Foundation, where she delivered a speech succinctly narrating the family foundation's history and its reason for being. "In 1992, the brothers John, Henry, Johnson, and James decided to pay it forward and through a substantial endowment of their personal wealth, established the Gokongwei Brothers Foundation. The brothers' goal was to build the nation by supporting education," shared Lisa.
She expounded on this in our chat. "My father always valued the sciences. He really believed that the sciences were important; it was definitely a pillar in building industry in the country. To become a tiger economy, it was necessary to have a manufacturing base, an industrial base. He believed that investing in STEM education was very important to achieving this, the Philippines becoming an industrial economy. I think that's why he felt that he and his brothers should give a part of their own personal fortunes to make this happen."
By pooling together a significant portion of their individual shares in JG Summit, the brothers enabled the creation of GBF in 1992. As Lisa said at the anniversary event, "Each of these two parts — our business and our philanthropy — complement each other to achieve our group's purpose, which is to create great products and services that serve our customers as well as our nation."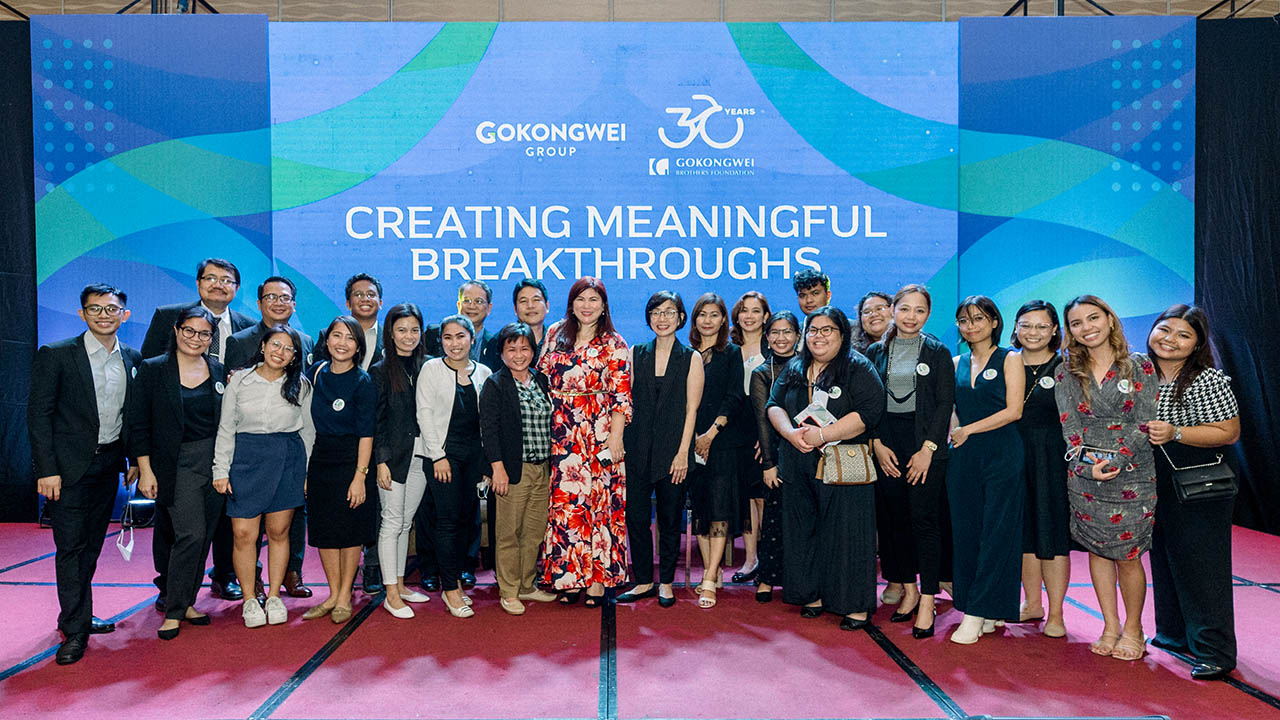 Her uncle, JG Summit Chairman James Go, one of GBF's founding brothers, also emphasized the symbiotic nature between the foundation and the company, noting that they are forever intertwined. "One makes the other possible," said Mr. Go. "We chose education because we believe that it is the most effective, the most efficient way of transforming resources into something good for an individual. It enables them to have a better quality of life, it enables the individual to have a higher standard of living. And when the individual is gainfully employed, having a good life, he helps his family; the family will help the community, and the community will help the country."
Lisa emphatically points out that the audience for GBF's 30th anniversary was composed mostly of the group's employees for a very important reason. "We wanted the employees to understand that it is their contributions to the company's success that made the foundation's programs happen. If you think about it, it's the hard work of JGS employees that enables the initiatives of the foundation. We wanted our employees to realize that they're working for their self-actualization, they're working to create value for consumers, and they're also working to send kids to school, to send teachers to school and, in their own way, help the country. I'd really like to thank our employees for their work, which is helping so many communities."
One Community at a Time
With its share of dividends from JG Summit's annual revenues, GBF has been able to provide endowments to several universities and fund the schooling of deserving but underprivileged children over the last 30 years.
As of this year, GBF has supported 1,841 scholars – 1,116 of whom have already graduated – but it has even bigger goals, aspiring to be part of the learning journey of 1 million learners and 10,000 educators by 2025.
If the number of graduates seems modest given the foundation's 30-year existence, Lisa points out that the thrust was different in GBF's early years. "In the past, we were very focused on endowments; we would donate mostly, and we had the technical school."
The school that she refers to is the GBF Technical Training Center, the foundation's first major project, which opened in Pasig City in 1999. For many years, it served as the home of Iskolar ni Juan, a one-year, fully subsidized scholarship that provided an education-to-employment opportunity for high-potential high school graduates, before the school's transfer to a new, state-of-the-art Php100-M facility in Calamba, Laguna, in 2019.
Apart from this, among GBF's major endowments include the Ateneo de Manila University John Gokongwei School of Management (2002), the De La Salle University Gokongwei College of Engineering (2011), and most recently, the Gokongwei Brothers School of Education and Learning Design, or GBSEALD, at Ateneo de Manila University.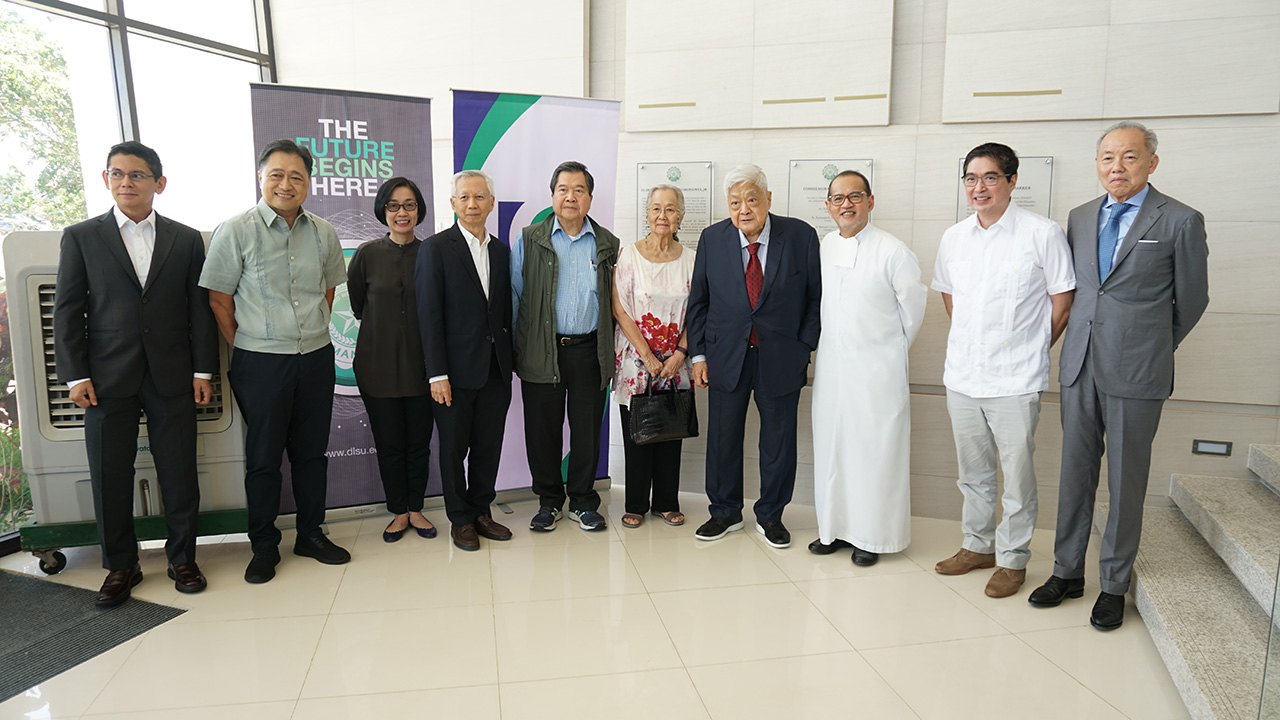 In addition, GBF has made significant donations to the Immaculate Conception Academy, Xavier School, the University of San Carlos, Sacred Heart School-Ateneo de Cebu, and the University of Asia and the Pacific over the years.
I ask Lisa about her favorite success story among GBF's graduates, and she is quick to point out the case of James Cembrano, a graduate of the Iskolar ni Juan program. "There are many stories that I like, but I remember his story very clearly," says Lisa. "His father died suddenly, and James had to become the 'padre de familia' at a very young age. He thought he wouldn't be able to continue his studies, until he applied for the scholarship at our technical school. He was so happy to get accepted."
After graduating, James was immediately employed by URC at its plant in Cavite, which enabled him to support his family and even help his other siblings finish school. Lisa says, "This is what we mean by when you support one child, you're not supporting just that child. You're supporting a whole family. That's what we mean by education's impact on the whole family and, hopefully, the whole community and then the nation."
Lisa does refer to this in foundation's 30th Anniversary video, where she also says that its goal is to help the country one community at a time through responsive and innovative STEM education programs, where students, parents, teachers, principals, and the government work together to provide the right environment for a student's development.
Asked about the biggest challenge to getting this done, Lisa offers that it is a major undertaking to get all the stakeholders on the same page, sharing that "It takes a lot of effort and time to do a program that has real impact."
As an example, she points to the "Juan Kapatid" tutorial program implemented in partnership with JG Summit Olefins Corporation in Barangay Simlong in Batangas City.
By talking to stakeholders in the community, GBF learned that some of the children in the public school were having difficulty in math, science, and other subjects, and they needed remedial studies. From there, GBF brought in an educational partner, AHA! Learning Center, and discovered that it wasn't enough to offer tutorials to the students. "You have to talk to the parents of these kids, because they need to be involved. We also had to align with their teachers. Then with our partner, AHA!, we had to create some type of curriculum."
The next issue was looking for another partner who could supply the teaching tools needed to implement the project, which was solved when Huawei Philippines volunteered to step in. "Imagine, for just one program, these are all the things that we need to do!" says Lisa.
Thankfully, the pilot program proved a resounding success. At the end of the tutorials, 100% of the students realized competency gains in math; in reading, significant improvements were recorded in more than 80% of students. A similar percentage also stated that they became more confident in class and answering their schoolwork.
In this light, Lisa strongly approves of the Philippine government's recently declared focus on STEM learning, as indicated in the first State of the Nation Address of President Ferdinand Marcos Jr. "We totally support this ambition of the government. We have been working with the Department of Education and the public school system very closely in the past. They've been very helpful, they have been very supportive of our requests, and we do hope to continue supporting them," says Lisa.
Forward-Thinking Solutions
For its part, GBF continues to seek ways to make teachers' jobs easier, hence its ongoing collaboration with IDEO, the renowned design thinking firm. The aim is to develop a digital platform for teachers that would help them become more effective in their classrooms. Together, GBF and IDEO talked to around 100 stakeholders, including teachers, to understand what their pain points were. Among the common problems were the workload of having to teach many classes, prepare lesson plans, grade student papers, and attend meetings.
Applying her experience as the head of JG Summit's Digital Transformation Office, Lisa says this project is not merely about the creation of a digital tool, "It's about understanding what the needs of our customers are, in this case, it's the teachers, and trying to really understand what problems they have and then creating a solution based on their problems. And then, in an agile manner, letting them use the prototypes of these digital tools, so that we learn from the way that they use them, and how to improve them. It's as if everything in my work life is moving together. The stuff that I learned from Digital Transformation and Summit Media, I'm able to bring into the foundation."
This project is reflective of GBF's current thrust of not only supporting students' education, but of their teachers as well. "We want to provide 1,000 teacher scholarships out of the 2,000 total scholarships every year by 2025," avows Lisa.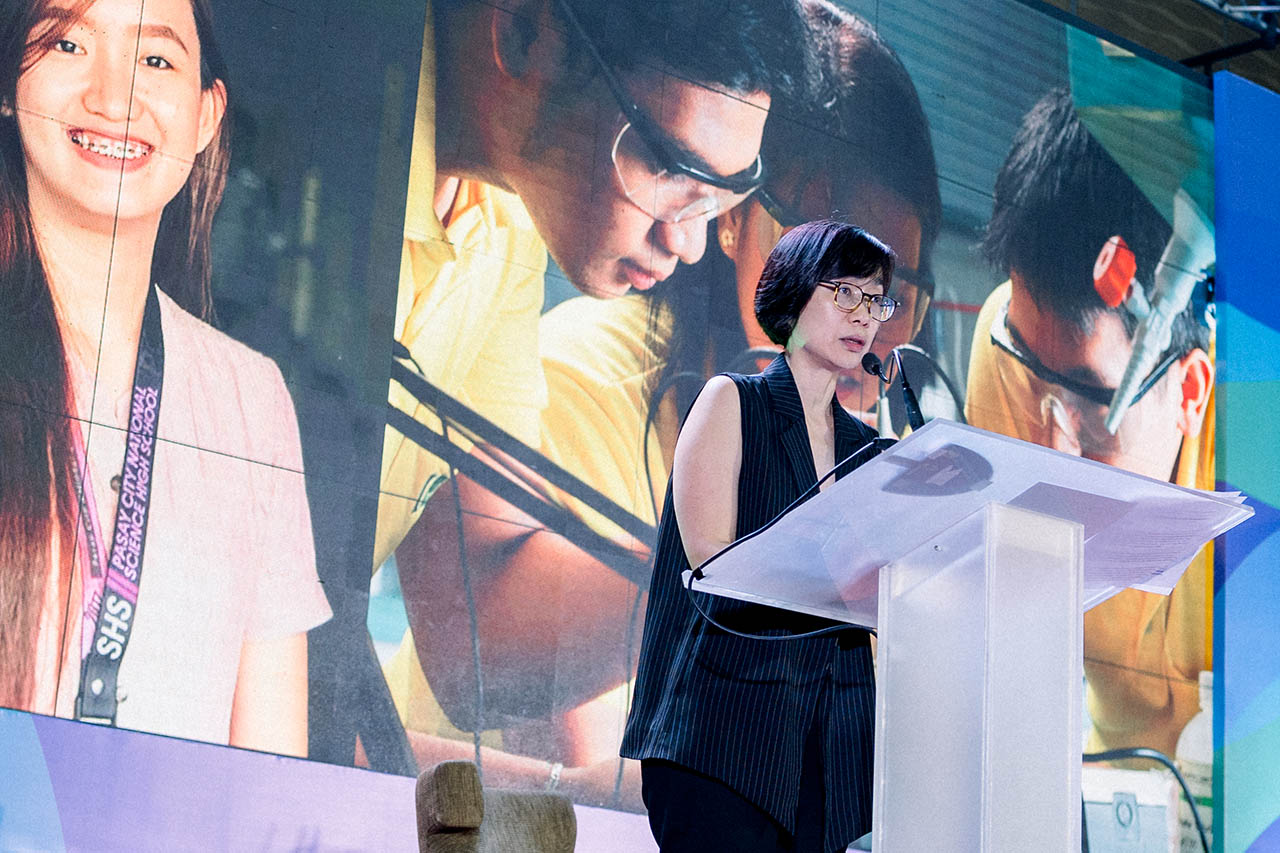 Asked what led to this shift, Lisa responds that it was influenced by something her Uncle James said. "Not exactly in these words, but he implied that teachers have a great multiplier effect. If one educated child can make a big difference in society, what more the teachers? That's so true. We know that public school teachers need a lot of support, so we decided it's something we really need to focus on."
Throughout its existence, the foundation has endeavored to build the country's future through education, its gift to the nation's youth. Lisa has come to realize that the very existence of GBF today is a gift to future generations of the Gokongwei/Go family as well, a lasting legacy to cherish and live up to. "The gift of the brothers to the family is that it gives us an identity, one that's identified with helping society," says Lisa. "Apart from being a source of pride, it will forever remind the younger generation of their duty to the nation."
Everything Falls into Place
Almost a decade ago, Channel News Asia did a documentary-type feature on Lisa detailing her many remarkable achievements at the time, among them being included on Forbes Asia's 2012 list of "Asia's Most Powerful Businesswomen to Watch." One of those interviewed in the program was Mr. John, who matter-of-factly said that Lisa "did a good job."
Fast forward to the very end of the program, and we hear another quote from GBF's founder, this time more cryptic: "She can achieve very much more than what she's doing now. That's why I have big plans for her. Big plans, but I'll keep it under wraps."
We may never know for sure what he meant, but perhaps a clue lies in the various duties Lisa now handles in the Gokongwei Group, whether it's taking Summit Media to even greater heights, shepherding the group's digital transformation, advising what investments to make in the digital sphere, or being the indefatigable steward pursuing GBF's noble mission.
As Lisa herself noted in our conversation, it's as if everything in her work life is now coming together, her many roles combining seamlessly – helping propel the Gokongwei Group and the Foundation onward to the next 30 years and far beyond. — Pierre A. Calasanz
Originally post from JG Summit: https://www.jgsummit.com.ph/people-culture/Enabling-the-Gift-of-Education-Lisa-Gokongwei-Cheng-on-Fulfilling-GBF-s-Vision-The-G-20221028-lfrm3?ref=home_hero_1