"Siguro nakita nila yung culture nang may planta na sa Simlong, marami ng tao ang employed, so I think, doon sila nag-start mangarap." (Maybe, they saw how the culture changed when the (manufacturing) plant got here in Simlong, many people were employed, so I think that's when they started to dream.)
Lanie is a Technical Training Associate in the morning and a full-time mother of four kids; born and raised in Simlong, a community in Batangas, the once rural community is now a place of opportunities for many young people who also wish to have better chances in life.
But because of the pandemic, these dreams were challenged and their education became uncertain. Elementary school students from Simlong Elementary School were pushed to study from their homes and pursue education through distance learning.
Leijian shares her learning experience in the middle of the pandemic. PHOTO Courtesy of AHA Learning Center.
Leijian, a Grade 6 student from Simlong Elementary School, shared how she struggled with modular learning, how there are no teachers to guide them when they are answering. Harder subjects such as Math and Science were once fun because a teacher is there to explain and to help them when needed, but now, answering the modules are left to the children's own devices. Even the time when children can interact with their classmates and play in-between small breaks during class days were taken away by an invisible enemy.
Leijian is not alone in this struggle, in her community, only 27% of students are able to connect to the internet. Most of them use modular learning as the main medium to continue studying at this time. Students from public schools all over the country are persevering despite the hardships brought by the changes the pandemic has given.
But what if these students from Simlong can have a better chance in learning? What if they have a better chance of reaching their dreams and becoming part of the workforce that they see when they look within their community?
According to Grace Colet, Executive Director of the Gokongwei Brothers Foundation, "Binuo namin ang Juan Community para makatulong sa mga mag-aaral, guro, magulang at sa lahat ng mga taong tumutulong sa pagkatuto ng ating mga estudyante, one community at a time." (Juan Community was built in order to aid students, teachers, parents, and partners who help our students learn, one community at a time.)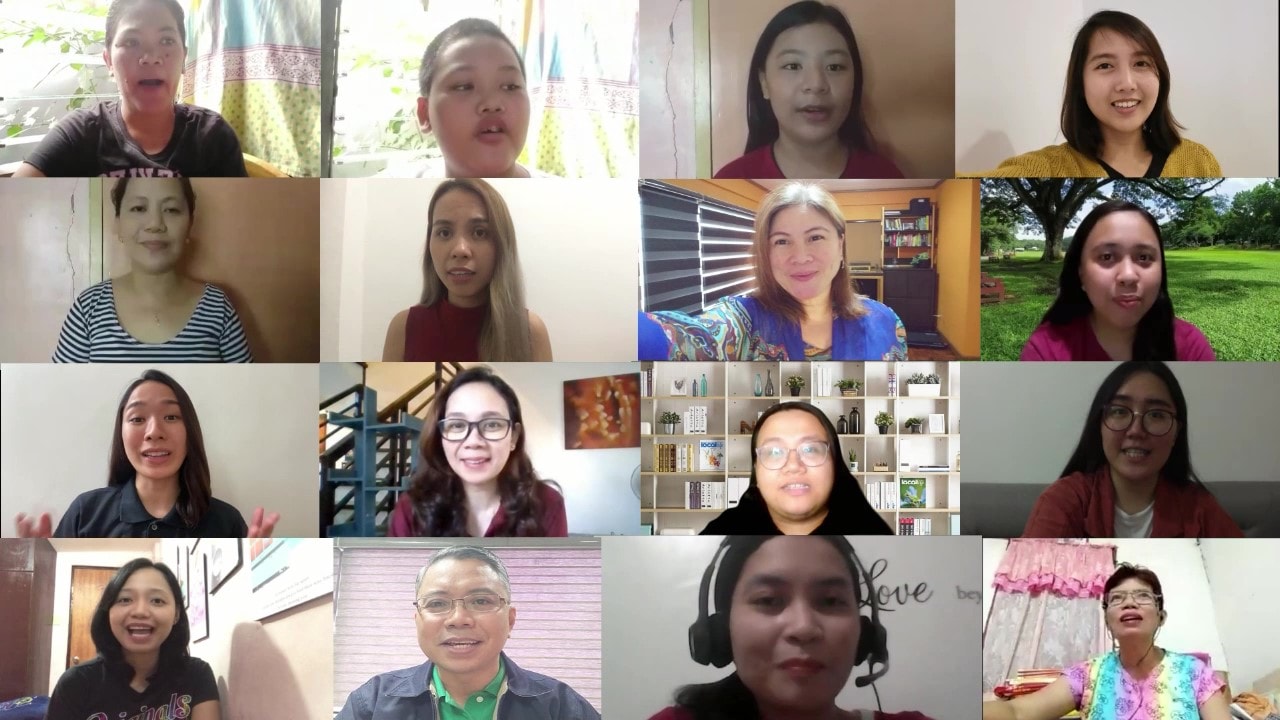 Juan Kapatid Champions during the virtual launch of the project on October 22, 2021. PHOTO Courtesy of AHA Learning Center.
Under its realm, the Juan Kapatid Project of the Gokongwei Brothers Foundation in partnership with JG Summit Petrochemicals Group and AHA Learning Center, gives a chance for students like Leijian to receive better interventions where they are guided and motivated to do their best. They will be equipped to understand why it is important to learn and how they can give back and help their communities.
Students under this project will undergo a holistic learning program highlighting STEM education. GBF believes that STEM (Science, Technology, Engineering, and Mathematics) is the driving force for sustainable national development. It is also their way of giving back to the community by opening opportunities that the future workforce can tap.
Under the Juan Kapatid Project, students are not the only ones who are being prepared to become STEM champions. Parents are also taught to learn how to support the students in their new online set-up. They will also learn the benefits of STEM in order to encourage their children to take-up STEM heavy courses, and in the future, they will become STEM advocates that can encourage peers to drive their children to a STEM Track.
Teachers are also active partners in this advocacy as they will learn Teaching At the Right Level (TARL) concepts and best practices, created by Pratham Education Foundation.
Pratham Education Foundation is one of the largest innovative learning organizations in the world created to improve the quality of education. They focus on high-quality, low-cost, and replicable interventions to address gaps in the education system. TARL has been successfully implemented in India, Ghana, Botswana, Madagascar, Uganda, Zambia, and now, the Philippines.
With Simlong Teachers being certified TARL Teachers, they will also be equipped to teach children at the right level and produce learners who can compete with students all over the country and even the world.
Dreams may have been pushed back, but it does not mean it should stop. Opportunities may have been a bit blurry for a while, but it can clear up.
With a community working hand in hand and lighting the way to the future, dreaming for possibilities of a better chance in life can continue. Together, we can work towards a future where no Juan is left behind and where every dream is possible.