Applications open for 2020 GBF-Gokongwei Group STEM Scholarship for Excellence
Deadline of application is on August 30, 2020.
Gokongwei Brothers Foundation announces the opening of applications for the GBF-Gokongwei Group STEM Scholarship for Excellence program for academic year 2020 to 2021. Applications will be received until August 30, 2020.
The GBF-Gokongwei Group STEM Scholarship for Excellence supports outstanding college students in the field of science, technology, engineering, and mathematics (STEM) who possess good academic record, demonstrate leadership potential and community involvement, and require financial assistance to pursue higher education. Scholars receive a fixed grant amount every academic year until they complete their college degree.
The scholarship program is intended for students enrolled in any year level in select STEM degree programs listed at the end of this announcement. Students enrolled in GBF's priority universities are highly encouraged to apply. First year students in academic year 2020 to 2021 may also send applications.
Aside from providing financial assistance, GBF also helps ensure that scholars undertake quality on-the-job training and find gainful employment. GBF makes this possible by partnering with various Gokongwei Group companies in carrying out the scholarship program.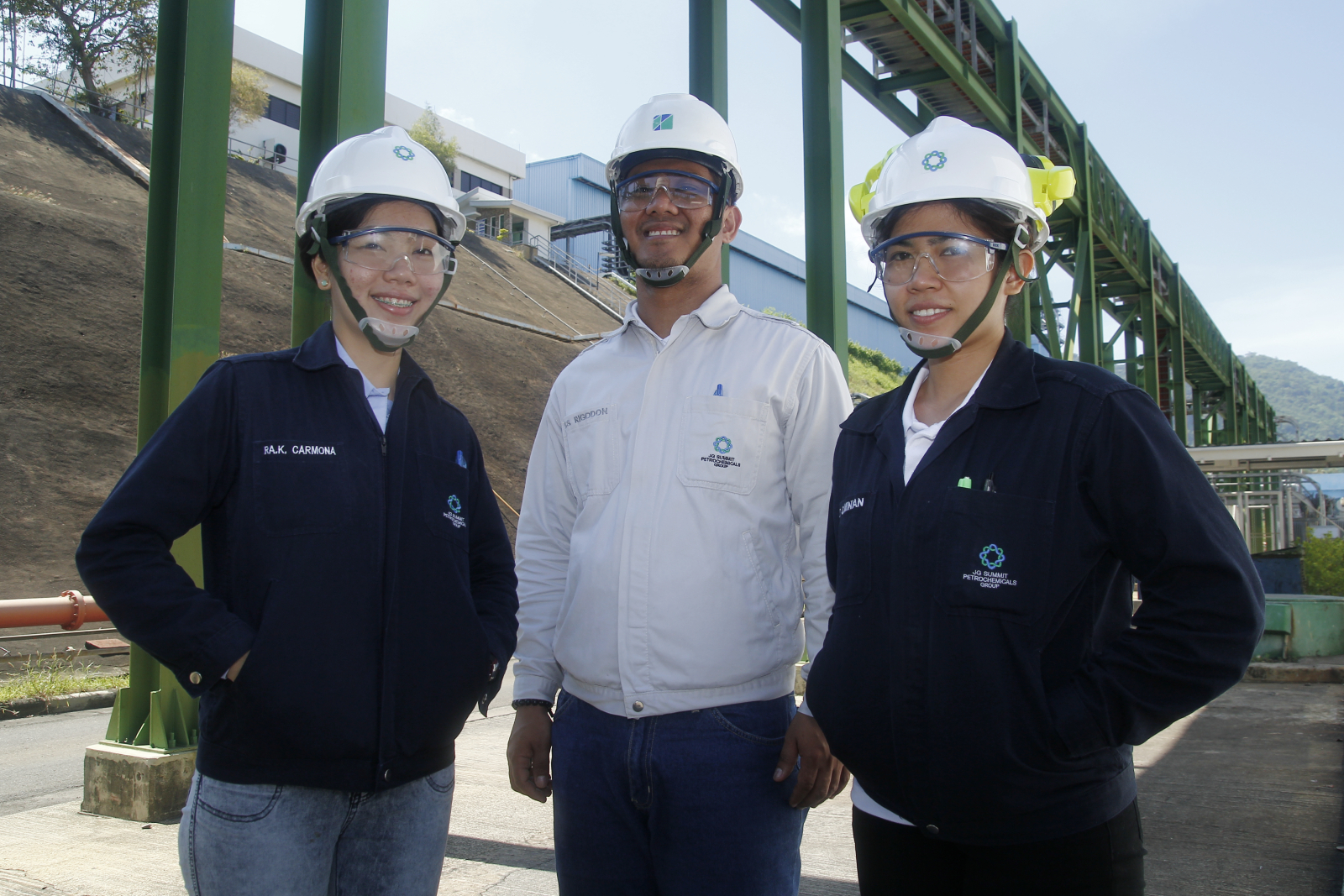 GBF-Gokongwei Group STEM SFE scholars Rose Ann Carmona, Melvin Rigodon, and Gold Caminian now work as engineers at JG Summit Petrochemicals Group.
As of June 2020, the scholarship program has supported 235 scholars through college. Currently, the program has almost 140 scholars enrolled in 23 top-ranked Philippine universities.
Especially amid the current times, GBF emphasizes its commitment to providing access to education to deserving students who will contribute to the advancement of STEM in the country. "We at GBF look to these young Filipinos, our future scientists and STEM professionals, to be the next generation of leaders and movers of our country towards meaningful change and sustained national development," GBF Executive Director Grace Colet said.
Interested applicants may access the complete requirements checklist and application form through bit.ly/gbfstemsfe2020application. Inquiries may be directed to stemsfeapplication@gbf.com.ph.
GBF is the philanthropic arm of the Gokongwei Group. Its mission is to build the future through education. GBF works toward the advancement of STEM education, believing this is the driving force for sustainable national development.
List of Priority STEM Courses for A.Y. 2020 to 2021
Accounting
Applied Mathematics
Chemical Engineering
Chemistry
Civil Engineering
Computer Science
Electrical Engineering
Electronics & Communications Engineering
Electronics Engineering
Industrial Engineering
Industrial Technology
Information Technology
Mathematics
Mechanical Engineering
Petroleum Engineering
Statistics
Veterinary Medicine
List of Preferred Universities for A.Y. 2020 to 2021
Adamson University
Ateneo de Davao University
Batangas State University
Bicol University
Bulacan State University
Central Philippine University
De La Salle Araneta University
De La Salle University – Dasmariñas
Far Eastern University
FEU Alabang
FEU Institute of Technology
Holy Angel University
Lyceum of the Philippines University – Batangas
Mapua University
Mariano Marcos State University
Manuel S. Enverga University Foundation
Mindanao State University – Iligan Institute of Technology
Negros Oriental State University
Our Lady of Fatima University
Pangasinan State University - Urdaneta
Polytechnic University of the Philippines – Sta. Mesa
PUP Taguig
Silliman University
St. Louis University
Technological Institute of the Philippines
Technological University of the Philippines
University of Mindanao
University of Perpetual Help Calamba
University of San Carlos
University of San Jose - Recoletos
University of Santo Tomas
UST Legazpi
University of the Philippines Diliman
UP Los Baños
UP Visayas
Virgen Milagrosa University Foundation
Application Requirements & Submission
Interested applicants should submit via email to stemsfeapplication@gbf.com.ph on or before August 30, 2020 the scanned copies in PDF format of the following requirements: 
Duly accomplished application form and essay. The form can be downloaded from this link: bit.ly/gbfstemsfe2020application
Certified true copy of grades
Certificate of batch ranking from the last completed school year (SHS or college) or at least 2 consecutive semesters (if in college already) showing candidate belongs to top 10% of high school batch or top 30% of college batch
Certificate of good moral standing or a reference letter from the school principal, college dean, or department head
Parent or family's proof of income (e.g. recently filed annual income tax return (ITR), last two pay slips, or certificate of indigency)