This Year's GBF Young Scientist Awardees Share Their Thoughts on Their Winning Projects, and Pursuing STEM Towards National Development
The Gokongwei Brothers Foundation Young Scientist Award (GBF YSA) is conferred upon high school and college students who demonstrate global competence through their achievement in highly- competitive and reputable STEM competitions.
By
Gokongwei Brothers Foundation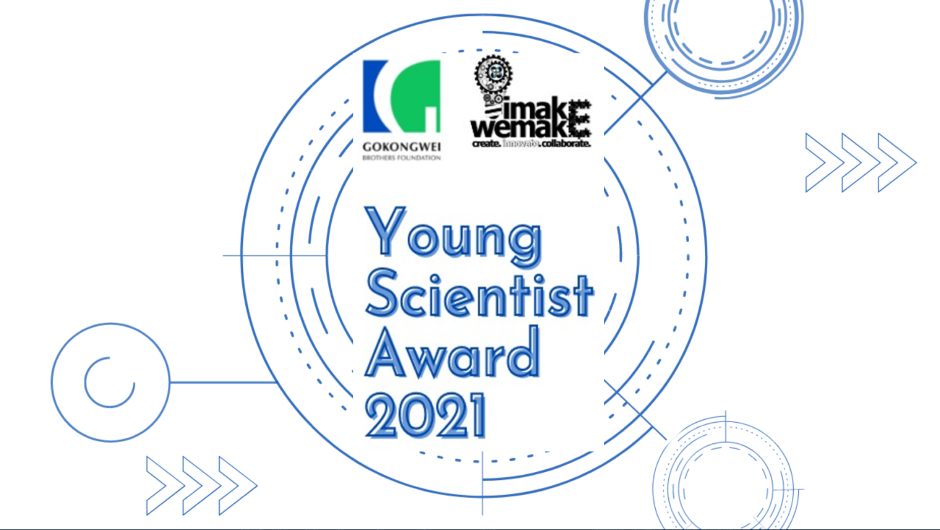 This Year's GBF Young Scientist Awardees Share Their Thoughts on Their Winning Projects and Pursuing STEM Towards National Development
Science has always been the driving force behind the world's greatest inventions—and it has never been more apparent than in our current times. After all, it is scientists who persevered to develop vaccines that provide hope towards an end to the COVID-19 pandemic—arguably one of the most important inventions of today.
The Gokongwei Brothers Foundation (GBF) believes that young Filipino students also have the potential to become like these scientists. Armed with the right tools and mentorship, they, too, can create new innovations for community development and nation-building.
Nothing else proves this belief better than this year's three GBF Young Scientist Awardees, which were selected by GBF in partnership with the Department of Science and Technology - Science Education Institute (DOST-SEI) in DOST - SEI's 4th imake.wemake: create.innovate.collaborate innovation competition last August 27, 2021. This award is part of GBF's goal of encouraging more students to have an interest in STEM by actively engaging not only students but also schools and teachers, empowering them to become STEM champions.
This year's three awardees were Jimuel Clarence Malimban and John Kenneth Sanchez from Cavite Science Integrated School whose imake.wemake project was ABSCISSA: An Arduino-Based Smart Contactless Interface Integrated with Syndromic Surveillance and Alert System for Fomite-Mediated Transmission Mitigation, and Anjeli Merecido of Ramon Teves Pastor Memorial - Dumaguete Science High School whose project was Project WWW: A Multifunctional Waste-Water Web for Agrobotics. They came from the top 3 teams to win DOST's Youth Innovation Prize, besting the 15 finalists of imake.wemake, and the hundreds of proposals from 30 different schools submitted even before the finals.
"Joining this competition not only helped me develop my research competencies, specifically on analytical thinking but also aided me in building meaningful networks and strategic collaborations with other institutions and organizations here in the Philippines," shared Jimuel. "Moreover, we joined imake.wemake because we have witnessed how dire and devastating our country's current situation is due to the pandemic. Last school year, we [were] not required to conduct research for such reasons, but we realized that if we don't act now, when will we? When the situation of the country [worsens]? And I believe that this passion for doing research despite the pandemic has propelled us to succeed and achieve our goals."
For Anjeli, imake.wemake was a chance for her all-girl team to prove themselves in a field that was usually male-dominated. "We were always told that we were too ambitious to join a national competition considering that we were all girls entering a field where men were known to be victors. But we saw it as an opportunity to grow individually and as a team," she shared.
Jimuel became interested in STEM because of the opportunities in the field to address global issues. "As cliché as it may sound," he said. "I believe that when you learn something from your heart and keep that enthusiasm to achieve a goal, you will be instantly drawn to STEM."
For John, his interest in STEM started from a strong interest in mathematics. "I always [joined] math competitions and [expanded] my knowledge through exploring other fields related to mathematics, like science," he said. "With this, I see how I can make a difference in our future through applying STEM concepts."
Anjeli, meanwhile, credits her family for encouraging her interest in STEM. "I grew up in a family that always attended to my interests as a child. When I had questions, they would always try to answer them, but they couldn't answer everything," shared Anjeli. "I still had my own set of curiosities and queries that I wanted to be solved, so I enrolled in a school that I knew would help me grow. Through the years of my education, I found joy in the art of studying science and math."
For the imake.wemake competition, students like John, Jimuel, and Anjeli were encouraged to make use of existing technology like microcontrollers and microcomputers to contribute to solving current problems or improve prevailing conditions in a particular community or even of the whole nation.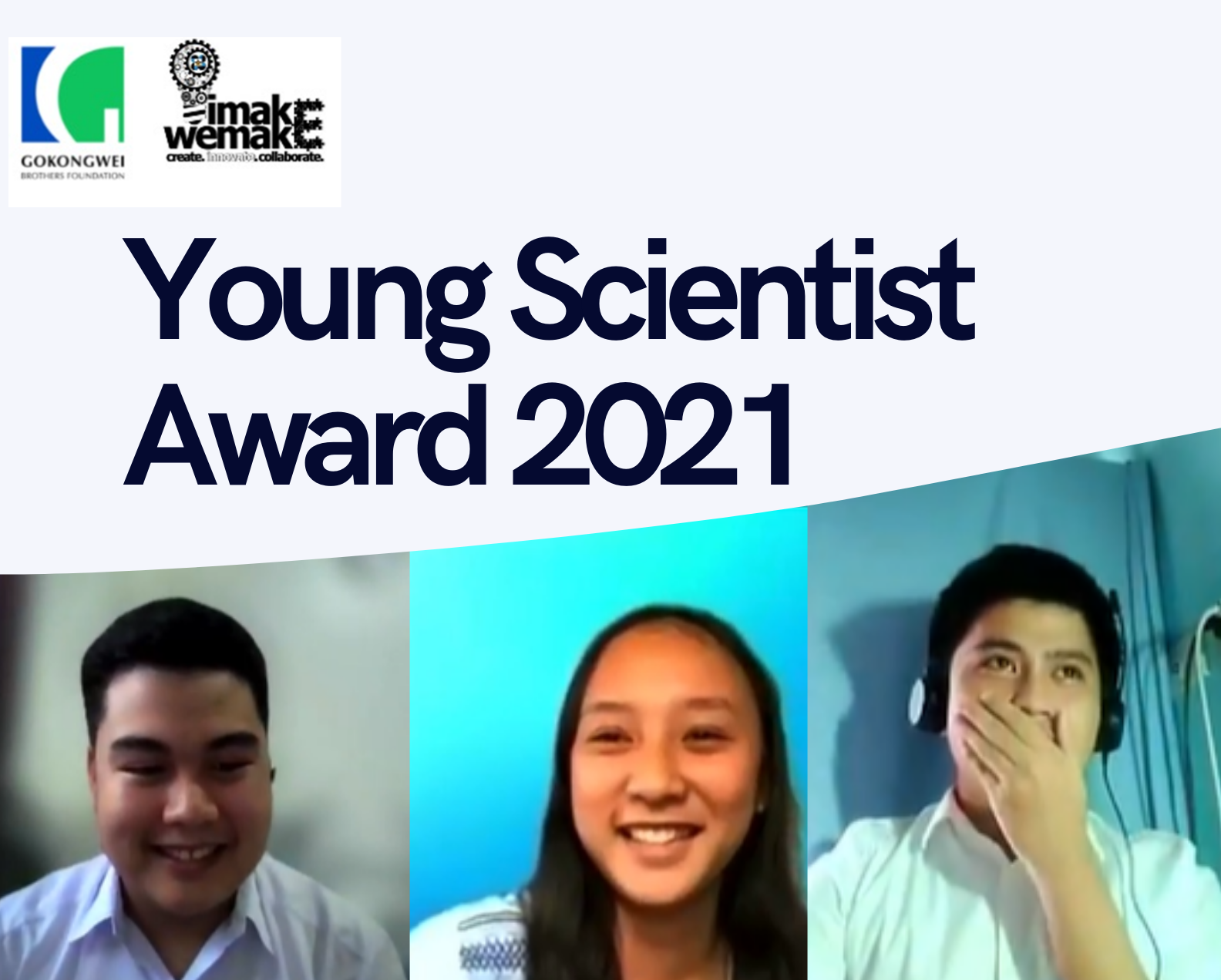 John and Jimuel's project is especially relevant in today's times, as the Philippines and the rest of the world battle COVID-19. "Our project is constructing a device that can replace touch-based interfaces, such as light switches, elevator buttons, etcetera, with gesture-based interfaces," shared John, "Aside from this, it also has other features such as temperature measurement, cough detection, data storage, and an SMS alert system for syndromic surveillance purposes. One of the modes of transmission of the virus is through surfaces contaminated with droplets from an infected person. To reduce the risk of people being infected, replacing interfaces that people usually touch can help in the current situation of our country."
Anjeli's project, meanwhile, addresses the high water consumption in agriculture, one of the Philippines' essential industries. Her team's project, Project WWW, collects and recycles wastewater from the city through biological and physical filters for irrigating crops through an automated system. "Through this project, we can increase crop yields with fewer resources wasted, and we can provide more efficient ways of filtering wastewater for communities to repurpose," explained Anjeli.
It is this enthusiasm and passion for innovation as means for sustainable national development that GBF wants to encourage. In the opening speech of imake.wemake's awarding ceremony, Grace Colet, Executive Director of GBF said, "[This competition] fosters creative and innovative thinking among the Filipino youth and empowers them to design, experiment, build and invent solutions to improve the conditions of their communities."
This is a mission that Dr. Josette Biyo, Director of DOST-SEI shares. In her closing address to the top 15 finalists of imake.wemake, she said, "We see you, [students] as the country's future problem solvers and so we are very glad to have met you in your developing years. The Philippines needs more people like you and by organizing activities like this, we hope to help you grow as science ambassadors."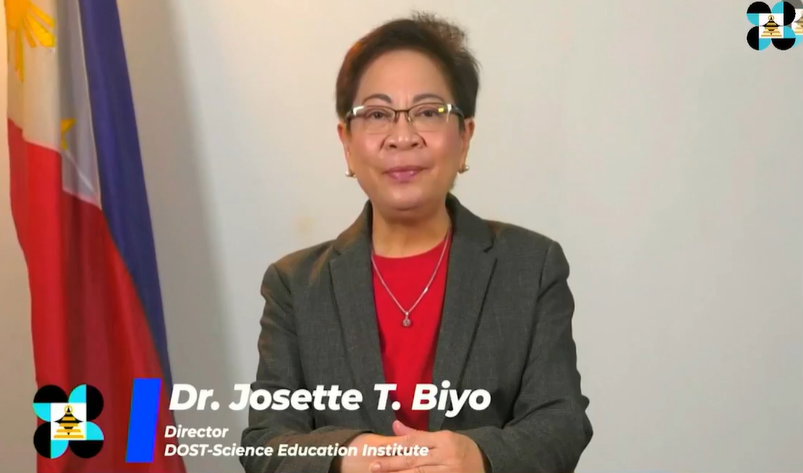 The three awardees of the GBF Young Scientist Award will receive a conditional scholarship grant for their chosen STEM course plus mentoring and immersion opportunities with the help of GBF's education and business unit partners like Universal Robina Corporation, Cebu Pacific, and Robinsons Land. With this scholarship, GBF aims to encourage young Filipino students with exceptional ingenuity and a knack for STEM to become professionals who can contribute to national development in the future.
At the awarding ceremony, Dr. Josette also launched the 5th imake.wemake, and was excited to welcome more budding scientists to develop their innovative projects
For fellow students who are also interested in pursuing a path in STEM and participating in this 5th cycle, Jimuel, Kenneth, and Anjeli share a few tips. 
"Push yourself as far as you can, don't believe something is impossible unless you try it, and don't be afraid to take risks. As someone who has faced numerous adversities, I must say that everyone has a unique timeline. A person may achieve his goals first, but the day will also come when you reach what you used to pray for and sometimes, even more than that," said Jimuel. "Also, you don't have to do these things alone; just remember that there are people and organizations who are willing to lend a hand to you."
"For me, pursuing STEM is really a tough choice," shared Kenneth. "However, I learned that discovering your passion for STEM would make it significantly easier. STEM made me realize that my goal is to create change: for my family, our country, and even the whole world."
For Anjeli, students should also remember to have fun while learning. "It's going to be hard, but it's going to be fun. You don't have to study 24/7, but you have to find joy and meaning in what you do," she shared. "Have fun learning. It might be okay to push yourself to grow, but it's important to know when you should rest. "
The Gokongwei Brothers Foundation Young Scientist Award (GBF YSA) is conferred upon high school and college students who demonstrate global competence through their achievement in highly- competitive and reputable STEM competitions. The GBF YSA comes with the GBF STEM (Science, Technology, Engineering, Mathematics) Scholarship for Excellence that provides college educational financial support to these exceptional students. To date, GBF has supported a total of 16 scholars through this program.