According to a recent report by the United Nations Educational, Scientific and Cultural Organization, the coronavirus pandemic has disrupted the education of over 1.54 billion children or 90% of the world's student population.
When schools around the globe were forced to cease their normal operations in a bid to stem the spread of Covid-19, the educational sector had to adapt quickly. Among the viable strategies developed was online learning, which allowed teachers and their students to interact without the need for their physical presence in school. With face-to-face instruction not likely in the near future, students weren't the only ones who had to adapt to this educational "new normal," instructors have had to adjust as well.
To help more of the nation's educators cope and even thrive in this new teaching landscape, the KaSaMa Teachers Community (Ka-Science and Ka-Mathematics) has been holding a series of webinars on remote teaching and learning for K to 12 teachers. Conducted for free, the webinars are broadcast live via the KaSaMa Teachers Community Facebook Page.
The KaSaMa Teachers Community is a professional online community for Filipino K to 12 science and mathematics teachers launched by the University of the Philippines National Institute for Science and Mathematics Education Development in partnership with the Gokongwei Brothers Foundation.
Earlier this year, UP NISMED and GBF unveiled the vastly improved KaSaMa website, kasamateachers.ph, a one-stop hub for communication, collaboration, learning and development for all Filipino K to 12 Science and Math educators. Apart from providing high-quality teaching resources for free, the platform also allows educators to gain and share best practices and access professional development opportunities.
Fittingly enough, the KaSaMa Teachers Community was among the pioneers of using webinars to provide efficient and scalable alternative professional development and teacher training, having made use of these during the transition years to the K to 12 curriculum.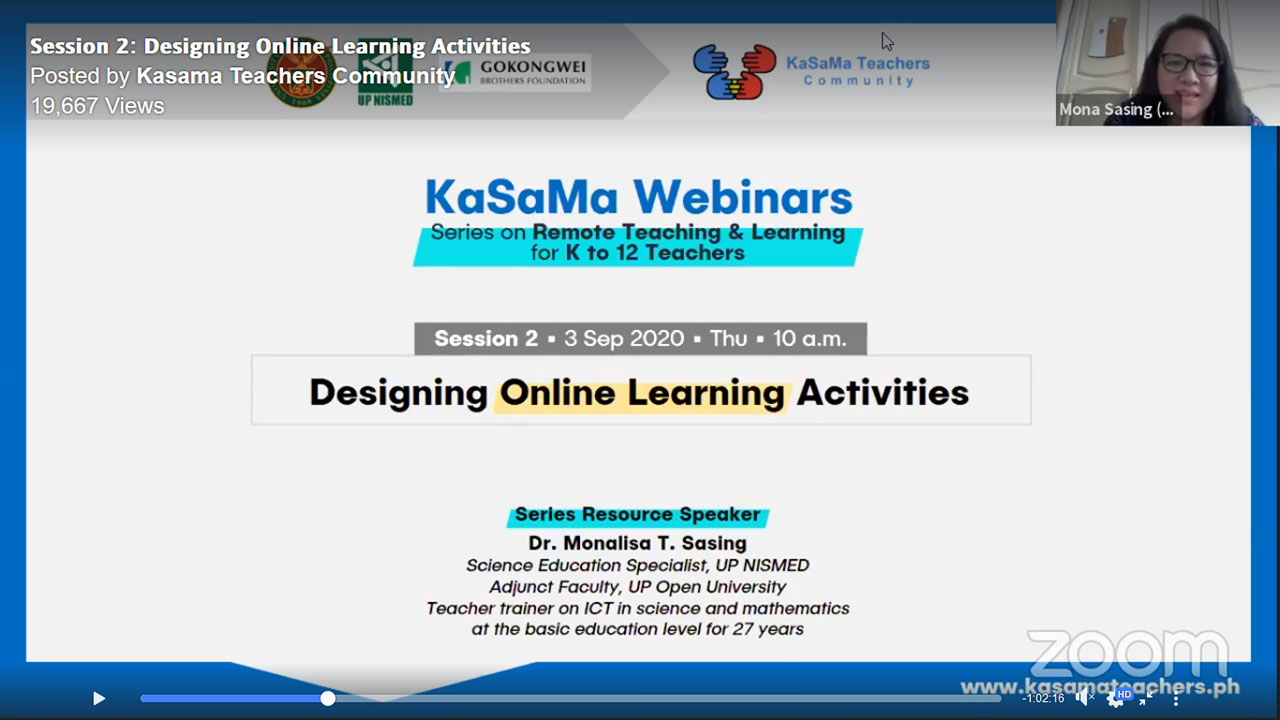 A screenshot of the recent webinar conducted by Dr. Monalisa Sasing of UP NISMED. IMAGE GBF
In response to the current health crisis, various webinars to retool or further develop the skills of the KaSaMa community have been held since May. The first session, "Teaching with Compassion and Providing Psychosocial Support to Students," was held on May 29, followed by "Translating COVID-19 Data and Visualizations inside the Classroom," on June 5.
The most recently completed module, conducted by Dr. Monalisa T. Sasing, a Science Education Specialist of UP NISMED and an adjunct faculty member of the UP Open University, was split into three sessions. The first, "Delivering Instruction through Modular Distance Learning," was held on September 1, immediately followed by "Designing Online Learning Activities" on September 3. Completing the series was "Flipping Classrooms," held on September 8. For viewers who had questions or concerns that were not answered during the scheduled sessions due to time constraints, a separate Q&A with Dr. Sasing was conducted on September 10.
Video recordings of the webinars have since been posted on the KaSaMa Teachers Community's Facebook page, and combined have been viewed more than 60,000 times. The most attended webinar, the live session on modular distance learning, had 1,780 viewers at its peak.
The audience response and engagement have been overwhelmingly positive. Reflecting on the session about modular distance learning, Roselynn Grace G. Montecillo, a high school teacher from Central Mindanao University Laboratory High School in Maramag, Bukidnon, said, "Student support is one important consideration in Modular Distance Learning. I agree that timely and immediate feedback is important. It can aid in engaging the students better in the learning material. Feedback also gives the students the feeling that they are still on the right track."
On the topic of designing online learning activities, which was tackled during the second session, Karen V. Malabanan, a junior high school teacher from Amadeo National High School in Amadeo, Cavite, shared, "I have learned from this session that during this new normal in education, communication between the teacher and the students is highly encouraged to help and monitor the learning progress and outcome of the students. Teachers must find and utilize different platforms that are available and convenient for both the students and teacher to facilitate communication."
Jocelyn L. Lupango, a junior high school teacher from Nursery High School in Masbate City, commented that the "Flipping Classrooms" session was particularly useful in showing how "the new normal scheme in education will require teachers to be knowledgeable in applying approaches in providing quality instruction. Flipped classroom is an avenue for the teachers to deliver quality education and will help the learners to be responsible on their own learning,"
As of September 11, kasamateachers.ph has 2,500 members, while its community on Facebook has over 15,000 followers. K to 12 Science and Math teachers are invited to be a part of the KaSaMa website.
This article was originally published on jgsummit.com.ph.