It's been two years since the pandemic first brought the world to its knees, and while some have already made up for the lost time, others are only just seeing the fruits of their labor. Such is the case for the Gokongwei Brothers Foundation (GBF) Science, Technology, Engineering, and Mathematics – Scholarship for Excellence (STEM – SFE) scholars Ivan Jan Romero, Renan Bilan, Ernest Troy Saquibal, and Zhary Miguel.
Before COVID-19 hit, these BS Chemical Engineering graduates from Central Philippine University had been right on track to fulfilling their dreams. They were also doing what most students of their generation were doing—playing computer games, listening to K-pop, and hanging out with friends. But when the pandemic reached Philippine shores, all four found themselves in the same boat. Their timelines were discarded and their dreams were deferred.
Time being tantamount to money, this delay raised serious concerns. Zhary remembers worrying about his family's finances at the height of the crisis. Fortunately, he managed to secure a GBF scholarship during his last year in college. "My scholarship helped our financial situation. Part of it was used in adapting [to the] pandemic," he explained.
Still, no scholarships could change the fact that the Chemical Engineer Licensure Examination had to be put on hold. In fact, the Philippine Regulation Commission had to cancel it three times.
During the hiatus, none of the scholars remained idle. They made good use of their time by seizing opportunities to either earn extra income or to be of service to others. Renan, who had grown up on a farm, made money with his green thumb. Ivan offered tutorial services, served as a guest lecturer at the university, and conducted an engineering project study. Zhary helped his younger sister adjust to modular learning, and Ernest found employment in his uncle's construction firm.
At the same time, they continued to review for the board, with some even taking extra classes and refresher programs in time for the rescheduled exams in October 2021. When the results were released for the Chemical Engineering licensure exam, it was no surprise that all four passed. In fact, Ivan, Renan, and Ernest decided to take it to another level and took the Chemical Technician licensure examination, an additional certification to be able to work in laboratory jobs, where they were included in the top 10 successful examinees. Offers to work at JG Summit Olefins Corporation (JGSOC) followed soon after.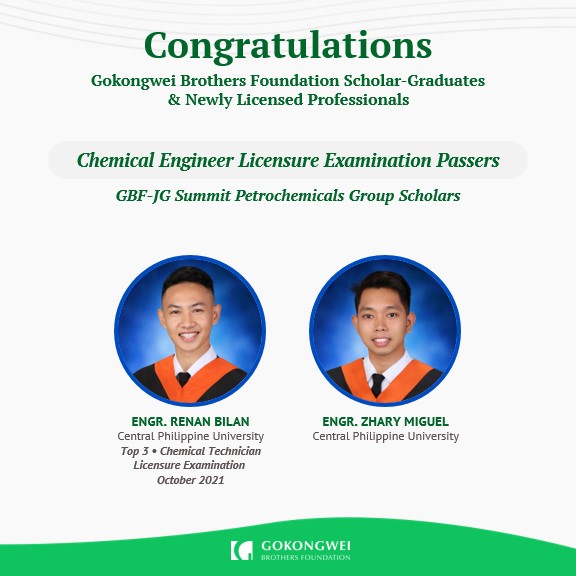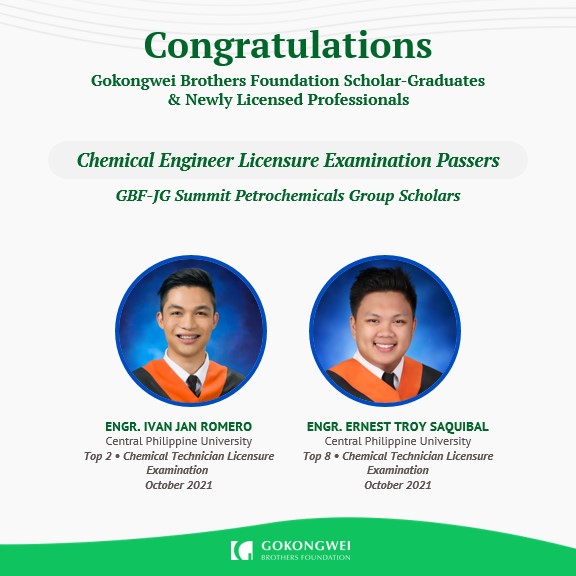 Ivan, currently a technical management trainee at JGSOC, was particularly enthusiastic about meeting new people from different walks of life and looked forward to getting to know everyone, from technicians to junior and senior engineers, to department chairs, and the managers. "Another bonus was the opportunity to be trained by well-experienced engineers in the field of petrochemicals," he added.
Zhary, now a cadet engineer for the company, feels like he's in the right place. "The people in the office are welcoming and kind," he said. "The company values and invests in the training of their employees, which matters the most especially for new hires."
With everyone in a good place in the company, their lives now appear to be back on track. And despite all the twists and turns life had initially thrown at them, all four emerged from the experience with admirable grit.
For Ernest who is currently a technical management trainee at JGSOC, it felt like everything he had gone through paid off. "I did the work and kept the faith and to achieve those milestones was very rewarding."
Renan, also a technical management trainee, echoes his sentiment. "If I could just go back on that specific event in my life, I would tell my younger self that the path I'll be taking on is worth it to continue and move forward."
As hard as these scholars worked to get to where they are today, they also expressed a deep sense of gratitude to those who have helped them along the way—study buddies, doting parents, and inspiring public figures.
Perhaps it is Zhary who summarizes their journey best. "There are rough roads ahead but be strong and remember you are not alone in your journey," he said. "You have your family and friends and different platforms that can help you. Be thankful for everything you receive and share whatever blessings you have."
Ivan, Renan, Ernest, and Zhary are recipients of the GBF STEM Scholarship for Excellence which provides support to excellent and deserving STEM students to complete their college education from different centers of excellence across the country. The scholarship also provides an employment opportunity with partners and Gokongwei business units after graduation. As of 2021, the GBF-GG STEM Scholarship for Excellence has over 238 active scholars and is proud to have supported 182 graduates.
Stay tuned for details of the next call for applications for the GBF STEM Scholarship for Excellence program on the Gokongwei Brothers Foundation Facebook page.