The Happiest Job on Earth: What Being an Educator is Like for This GBF Scholar
GBF TeachSTEM Master's Degree scholar Gil Basa talks about his journey as an educator in the hope of helping students become better persons through teaching math
By
Gokongwei Brothers Foundation
Oct 5, 2021
For many people specializing in the field of education, becoming a teacher is something that has always been part of who they are. These are the people who knew from the get-go that they want to become a part of the education system, as if the goal has always been innate to them. However, not everyone has the same arc when it comes to realizing their calling. For some, becoming an educator is something that comes out of the blue, a thought that merely starts from being a simple interest but later on develops into an honest desire for the profession.
At least this is the case for Gil Basa, a third-year graduate student taking on Master of Arts in Mathematics Education at Philippine Normal University. A current Grade 7 and 10 Math teacher in Tinajeros National High School Malabon, Gil is currently on his way to earning his qualification for College Teaching under the Gokongwei Brothers Foundation TeachSTEM Master's Degree Scholarship Program.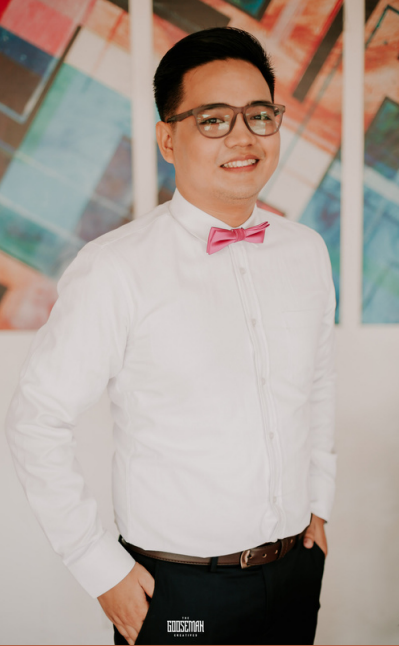 "At first, I really didn't want to be a teacher," he shared when asked about his choice of career. "I just want to learn Math. However, when I started studying, I realized just how much I want to share my knowledge about the subject. It was like I wanted to express my love and fascination for it by helping others develop their skills."
From here, Gil quickly developed a deep love for the profession. For him, being a part of the country's education system means that a person has a responsibility of helping mold the future generation. "Education, if you think about it, is very simple and yet it has a lot of weight. It helps us prepare for the world. For me, one of my favorite parts of being an educator is that I can help create experiences that can help a person become a better citizen."
He continues, "Teachers are there to serve as a guide to other people, especially children in molding their future. If you think about it, this is a very fragile profession because you can make or break the future of the next generation, so an educator must be passionate and dedicated enough to be a good role model to the children they are teaching."
Of course, to become a good educator, Gil also believes that one has to be a willing student as well. Though he was already happy with his teaching career, there came a point when he realized he wanted to expand his skills so he could contribute better to his community. For him, the answer to that came in the form of an opportunity offered by the Gokongwei Brothers Foundation's TeachSTEM Master's Degree Scholarship.
In particular, the scholarship program was the foundation's initiative to address the need for globally competitive STEM education in the Philippines. The goal of it is simple: to provide STEM professionals the content and materials they need to do better at their specializations so that they could become champions of an academic culture that values excellence.
"To be honest, I wouldn't have been able to pursue my graduate studies without the help of GBF," Gil shares when asked about his experience as one of GBF's many scholars. "Other than the monetary assistance provided to us, it also helps scholars like me get other technical know-how through the webinars they offer."
The TeachStem Master's Degree Scholarship program provides P65,000 financial assistance per academic year during coursework and other support programs to its scholars. At the moment, it has partnered with almost thirty universities across the Philippines that are distinguished as Centers of Excellence (COE) or Centers of Development (COD) by the Commission on Higher Education (CHED).
"For me, what I like best about being a GBF scholar is the importance that the foundation gives to us as educators. As I have said, it takes passion to work in this field. It's not an ordinary job where you clock in to get paid. You also have to consider the impact that you leave on your students. So to find a foundation that values and supports us means a lot," Gil shares.
He closes: "Being an educator is hard, but I'd say it is still one of the happiest jobs on earth. The joy of shaping the future of your students and seeing them contribute to their community is something you can't match with any financial amount. And that is coming from someone like me who, at first, just really only wanted to learn Math."
The Gokongwei Brothers Foundation is accepting new applicants for their TeachSTEM Master's Degree Scholarship Program until October 15,2021. To know more about eligibility and application requirements, click this link for more details.