The Gokongwei Brothers Foundation and De La Salle University - Dasmarinas launch newest alliance on SAP University Alliances program
This initiative aims to provide training and internship for DLSU-D's teaching staff for practical application through the SAP University Alliances Program (SAP-UA), a global initiative that helps more than 3,500 institutes in over 113 countries to incorporate the latest SAP technologies into teaching.
By
Gokongwei Brothers Foundation
Gokongwei Brothers Foundation (GBF) and De La Salle University-Dasmarinas (DLSU-D) signed a memorandum of agreement, last February 19 at the Hotel Rafael, DLSU-D. The newly launched alliance aims to boost the quality and quantity of young professionals in the country by equipping them with SAP skills.  SAP is the leader in enterprise application software. Such skills are said to be a crucial necessity in today's workplace.
Preparing the next generation for a digital future
The Gokongwei Brothers Foundation recognizes the need to equip the young generation with the latest knowledge and capabilities, especially today that industries are changing. They are constantly evolving to accommodate the rise of new technologies and innovations. As a result, this digital transformation has caused a demand for an equally modernized workforce with skills that are also relevant and up-to-date with the emerging technologies.
However, in the Philippines, there is still an immense need to update the workforce's skillset. During the MOA signing ceremony, SAP Philippines Managing Director Edler Panlilio notes that one of the problems our country faces is job mismatches wherein the skills of the young graduates simply do not match the needs of the industries. This gap is what the newest alliance program between GBF and DLSU-D, supported by JG Summit Holdings, Inc. Corporate Information Technology Department, wishes to bridge. In line with GBF's core thrust to advance the science, technology, engineering, and mathematics (STEM) education in the country, the foundation commits its support in sponsoring this program.
The future is, as Panlilio put it, all about innovations. The GBF-DLSU-D program aims to prepare students and teachers for the digital future by developing SAP-skills – skills that are identified to be an indispensable factor in today's workplace. Under the program, students and teachers have access to the latest SAP technologies and learning content, intensive teacher trainings, and internship opportunities in one of the country's leading conglomerates – JG Summit Holdings, Inc. JG Summit Group Chief Information Officer Carlos Santos, who was also present during the ceremony, pledges the conglomerate's commitment on supporting the program.
"Our investment here is the coaching [and] the mentorship. My leadership team has committed to teach. I've invited your faculty to come over to witness how SAP is now working as we actually are implementing [it in the conglomerate]. That would be my commitment to you," said Santos.
Likewise, DLSU-D has taken appropriate measures to secure the success of the program. "We have reviewed our curriculum offerings to identify the courses that may integrate SAP.  The technical requirements of our classroom were rechecked for the successful rollout," assured DLSU-D Computer Studies Department Chair Gloria del Rosario in her message of circumstance.
Teacher trainings will be scheduled soon for the faculty and teachers of DLSU-D. They will be trained in using SAP S/4HANA, a modern ERP system that utilizes artificial intelligence (AI) for business processes in the cloud or on-premise.
Joining forces towards one goal
The program brings together four institutions, all driven towards the same advocacy. GBF, SAP University Alliances, JG Summit Holdings, Inc., and DLSU-D join forces to improve the quality and quantity of SAP-skilled graduates who will soon innovate and fuel the country's future.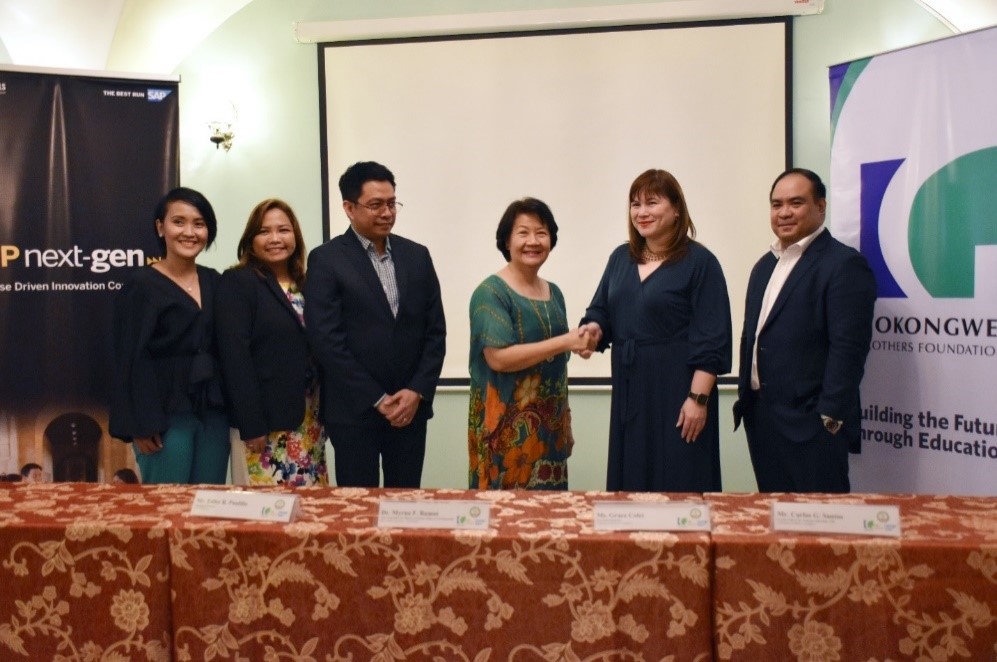 From (L) to (R): SAP Philippines Inc. Global Account Director Simone Pigason, SAP University Alliances Head Nina Grace Santiago, SAP Philippines Managing Director Edler Panlilio, DLSU-D Vice Chancellor for Missions, External Affairs and Advancements Dr. Myrna F. Ramos, GBF Executive Director Grace Colet, and Group Chief Information Officer of JG Summit Holdings, Inc. Carlos G. Santos
"We believe that the current strong need and best way to move our economy forward is through investing in STEM education, to become the building blocks for our global competitiveness in the next generation. We believe that this cannot be done alone and are very privileged that we have found like-minded alliance to work with [who are] committed to the advocacy and this program," said GBF Executive Director Grace Colet.
The integration of SAP into DLSU's curricula will be implemented in the university's next academic school year.