Iskolar Ni Juan Alumni On Taking Small Steps To Achieve Big Dreams
Sometimes, a single opportunity can open a door of possibilities.
By
Gokongwei Brothers Foundation
Big dreams are made of small steps. That, and an opportunity to give someone a chance; a shot at what they want to achieve in life.
This is something that could not be any more true for Ryan Mark Ceriaco and Rica Rose Abellera, two (2) Iskolar ni Juan (INJ) graduates who are now starting to pave their dreams as Instrumentation Technicians at the Universal Robina Corporation Sugar and Renewables (URC SURE) La Carlota Distillery.

Established in 2014, INJ is a technical-vocational certification scholarship program of the Gokongwei Brothers Foundation (GBF) in partnership with Universal Robina Corporation (URC) that lets Senior High School graduates train under a TESDA-registered course, particularly in either Mechatronics Servicing or Instrumentation and Control Servicing.The scholarship program also includes On-The-Job training and future employment at URC. It has over 350 graduates ever since it started, where it provides a fully subsidized one-year scholarship that covers tuition fees, uniforms, school supplies, food, accommodation, and transportation allowances.

"When I heard about the scholarship offered by the Gokongwei Brothers Foundation, I immediately grabbed the opportunity because I know it will help in giving me the chance of employment at URC. Knowing that I may find difficulties in pursuing college due to financial limitations, I saw it as my ultimate chance," Ryan shared when asked about his journey as an INJ graduate. This is something that Rica also whole-heartedly agrees on. "I saw that being part of the program brings me one step closer to my dream as an Engineer. I was nervous, but I also felt motivated to get it."
INJ gave both scholars the chance to experience hands-on training, something that is very important for the career path they want to take. According to Ryan, "When it came to honing my skills, the program really improved my academic and technical skills because of the complete and state-of-the-art equipment and devices that we had the chance to use. Additionally, there was hands-on training for practical handling and running of equipment. What I liked best, however, is the on-the-job training period because it gave me a chance to actually apply what I learned."
As an Instrumentation Technician, Ryan's responsibility is to make sure he maintains the accuracy of all the instruments and to repaire damaged cylinders, pressure regulators, and other devices during the scheduled Off-Season Repair. But when milling season comes, he is tasked to do a daily routine checklist and provide troubleshooting for instruments.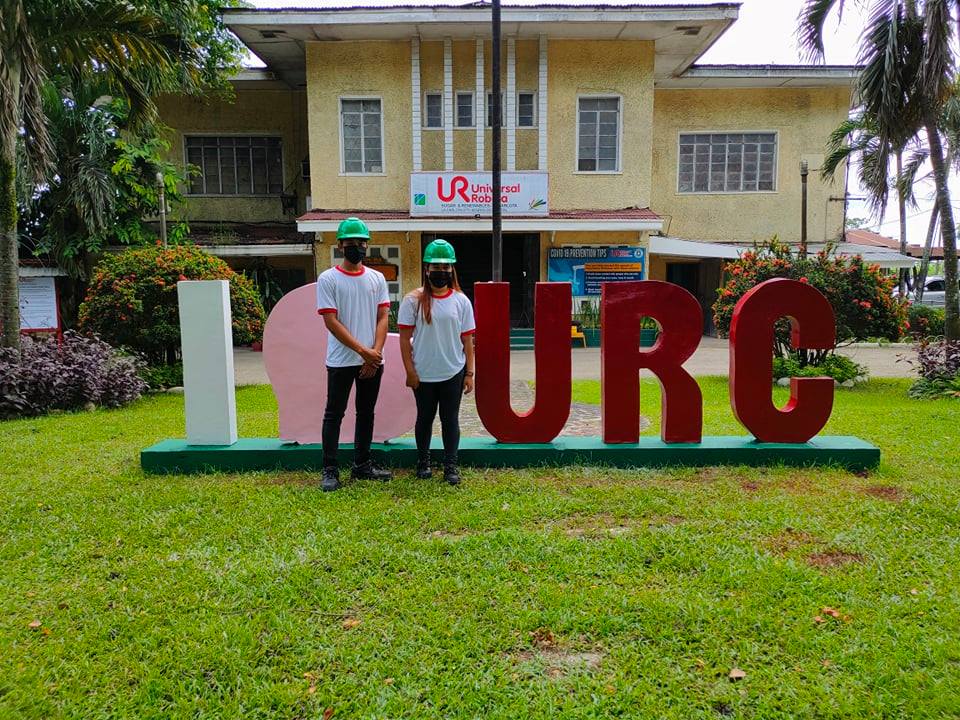 Ryan Mark Ceriaco and Rica Rose Abellera during their first day at URC SURE La Carlota Distillery as Instrumentation Technicians. Photo courtesy of Rica Rose Abellera
Rica does the same. She mostly takes care of calibration of all instruments in the plant and in assisting other departments to make sure everything is working well. She shares, "INJ helped improve my skills. I honestly was not that good at technical things before, but the training I got improved my understanding of all of them."
Mr. Gerson Amodia, the Department Head of the Instrumentation and Automation Department where Rica and Ryan belong to also only have good words for the two. "The tasks assigned for scholars like Rica and Ryan involve routine or standard procedure, but require technical knowledge especially in the fields of electronics, pneumatics, and hydraulics. Having a familiarity with instrumentation and control system is an advantage."
He also shares what he thinks about the significance of being part of a training program like INJ for future technicians working in their industry. "For Rica, I noticed that she can easily adapt to the working environment because she already has an overview of what instrumentation and control are all about. Ryan is the same; both needed less supervision which is really a benefit for us."
When asked about the significance of scholarship programs like Iskolar ni Juan for industries like this, Sir Gerson has this to say: "It helped us in hiring Instrument Technicians. Before, we would get engineering graduates from other companies because there is a scarcity of Technical- Vocational graduates with knowledge in the field. Newly hired employees like Rica and Ryan can easily do what is expected of them, however, with less guidance because they are already equipped with the right skills and knowledge."
But it's not just in their careers that Rica and Ryan see the benefit from being part of INJ. "For me, the greatest help that scholarships like INJ offer are the opportunity it gives to youth like me to be a step closer to my dream," says Rica. Ryan adds, "It gives less fortunate people like us a better shot at having a stable job. Also, not only was I able to develop my technical skills, but I also learned some important life skills like budgeting and overall maintaining a healthy life balance."
Interested to know more about the Iskolar ni Juan program? Visit the Iskolar ni Juan Facebook Page or send us an email at iskolarnijuan@gbf.com.ph.