With the increasing challenges of STEM learning among educators and students, Gokongwei Brothers Foundation (GBF) initiated in 2022 a capacity-building program called STEM Collab to help educators improve their skills and address teaching challenges through creative and innovative approaches—learning both from experts, and from each other.
Through a Facebook group of STEM educators, STEM Collab has already conducted 12 sessions on various topics chosen by community members, with a total of more than 1,300 live viewers across the country.
Open and Safe Space for Teachers
STEM Collab is a safe and open space where the teachers can interact with each other to share experiences, resources and learnings. A speaker is invited to provide a brief but substantive discussion on a topic live-streamed on Facebook, followed by a discussion by way of live commenting facilitated by a host, or through break-out rooms using Zoom. Participants are then invited to continue their learning through a week-long exchange in the Facebook group through follow-up posts, discussions, activities, and materials. At the end of the week, selected teacher-participants are invited to share their learning, or their own take on the topic in another live-streamed session. With this format, teachers can learn to learn at their own pace and in their own time, given their already busy schedules. The webinars can be viewed anytime via the Gokongwei Brothers Foundation Facebook page, or through the STEM Collab Facebook group.
Math and Science Learning through Inquiry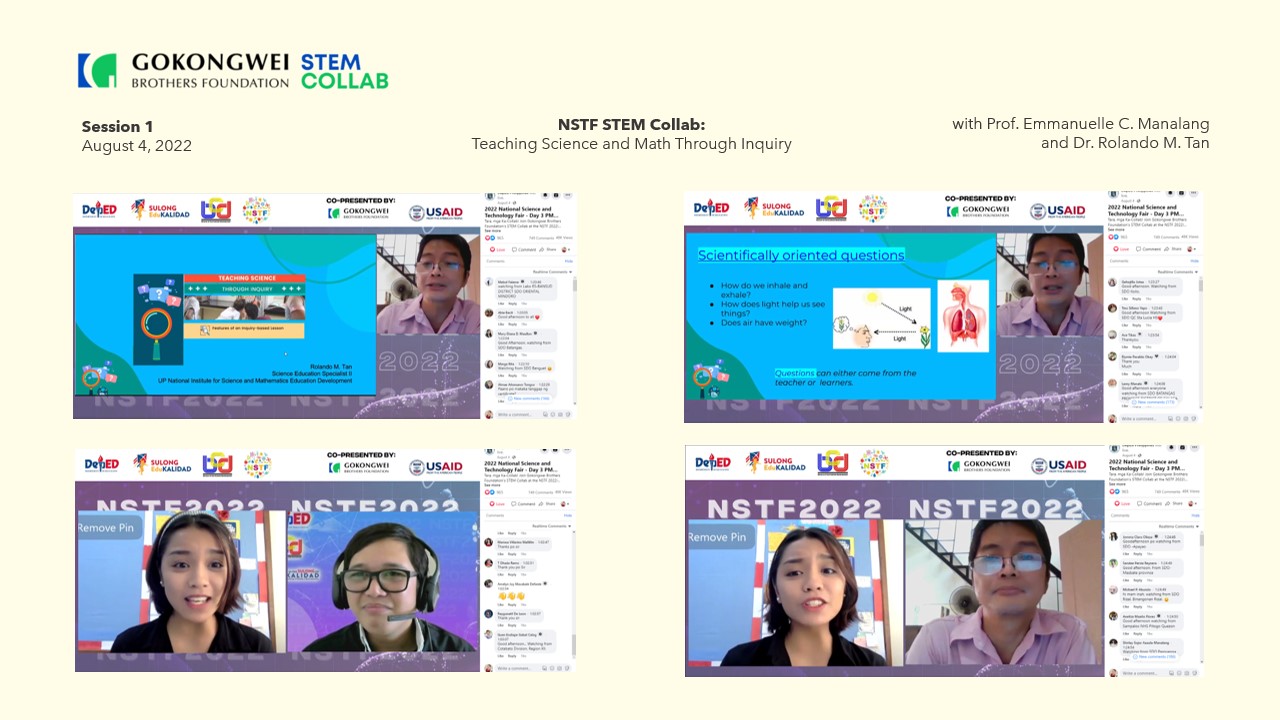 After its pilot run in May 2022, GBF STEM Collab made its official debut in DepEd's NSTF 2022 held in August, with 249 live participants. This first run featured a back-to-back session with two well-known resource speakers, Prof. Emmanuelle Manalang of the UP College of Education and Dr. Rolando Tan of the UP National Institute for Science and Mathematics Education Development (NISMED), who shared their expertise in teaching Math and Science through an inquiry-based approach.
"Teachers are expected to be professional imitators,'' said Prof. Emmanuelle. According to him, teachers learn best from other teachers through listening and interacting with each other. Dr. Rolando emphasized that inquiry skills, on the other hand, must be emphasized more than memorization of terms. This should be followed through how well the learners respond to inquiry in order to enhance Science process skills.
Student Engagement is the key!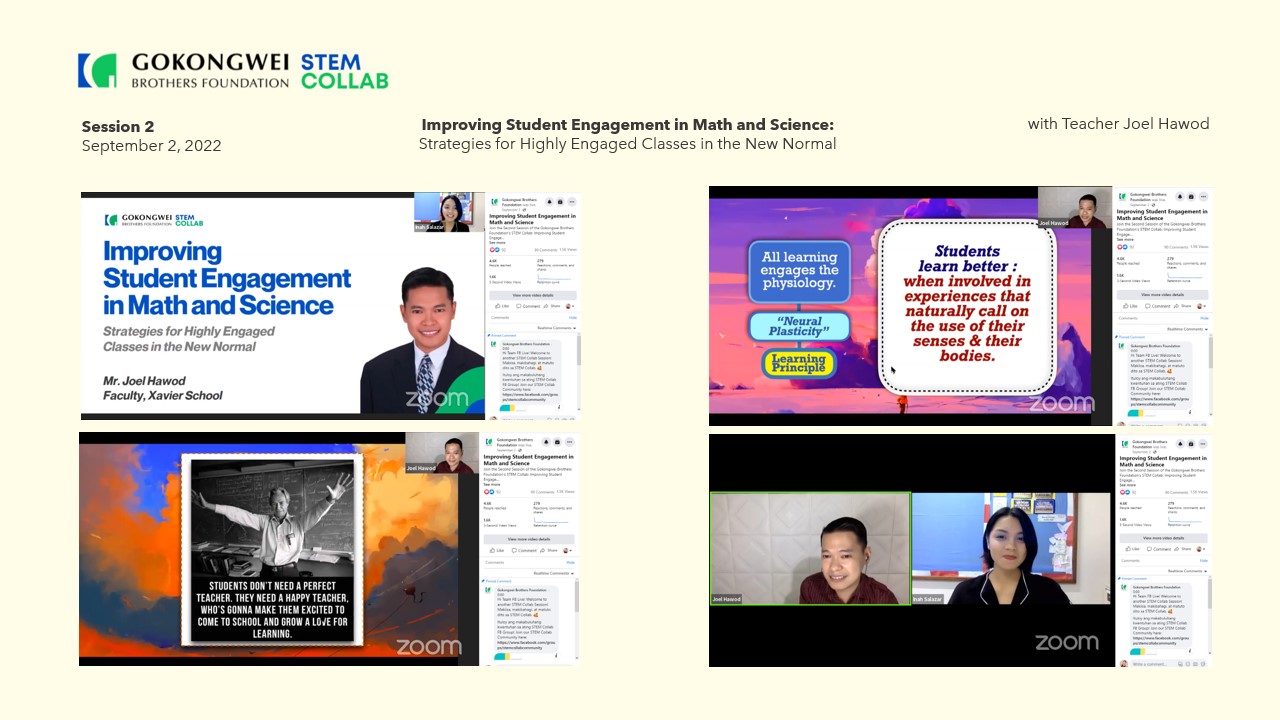 "Students don't need a perfect teacher. They need a happy teacher, who's gonna make them excited to come to school and grow a love for learning." Mr. Joel Hawod connotes as he presented the importance of understanding student engagement during the new normal classes during his session STEM Collab, entitled "Improving Student Engagement in Math and Science."
The key take away from Mr. Hawod's session is that the world has become more unpredictable, and seeking anchors that can stabilize the foundation of teachers to facilitate learning for their students is important. This is where the learning principles being tackled in this session come into place. It applies to every setup that each educator has.
From STEM To STEAM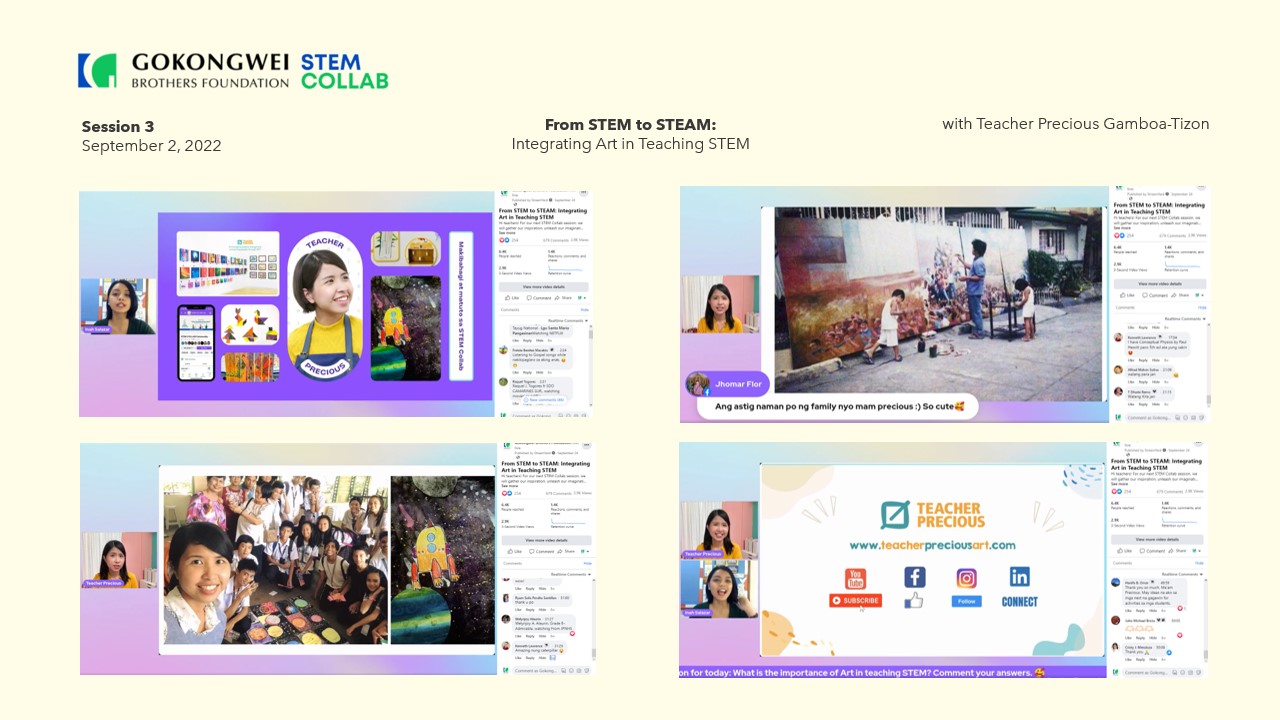 Integrating Arts into the Math and Science learning process increases students' engagement and unleashes students' creativity in STEM subjects. This is what Teacher Precious Gamboa-Tizon during her session. Growing up with a Science teacher and artist parents allowed her to appreciate the importance of Arts in learning STEM.
STEAM integrates facts, fun, and feelings toward the learning activity. The active participants emphasized that Art connects the concrete and abstract which made it more effective to make actual experiences as she co-relates it with the insights of Teacher Precious.
Content & Output Integration over STEM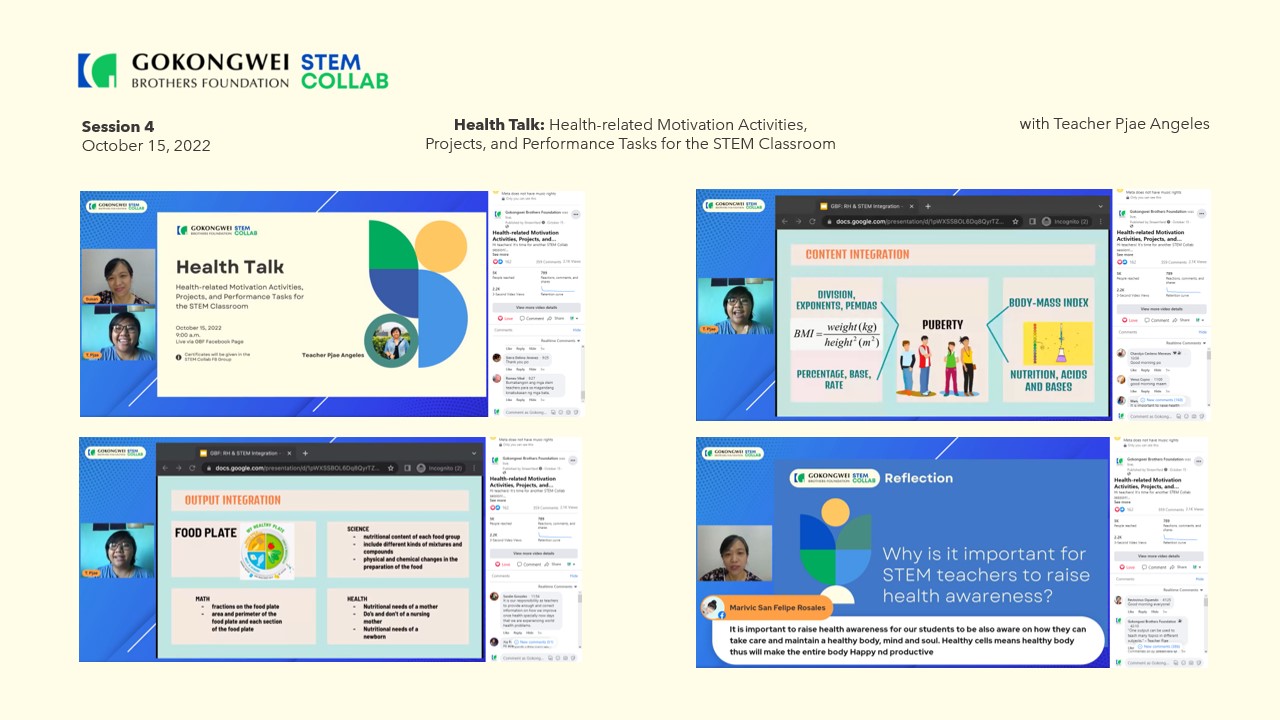 Educators are always encouraged to interrelate Health in their teaching. Doing so is not an easy task, that's why Teacher Pjae Angeles tackled how teachers can creatively integrate health topics and other subjects into STEM courses. Most participants agreed that it is often difficult to discuss sensitive health topics in STEM lessons. That's why they found the session helpful for them to effectively maneuver health topics in their lesson plans.
Teacher Pjae also pointed out the importance of output integration where students' workload is lessened, but the competencies and creativity are still there. "One output can be used to teach many topics in different subjects," Teacher Pjae stressed.
Ka-Collab Sharing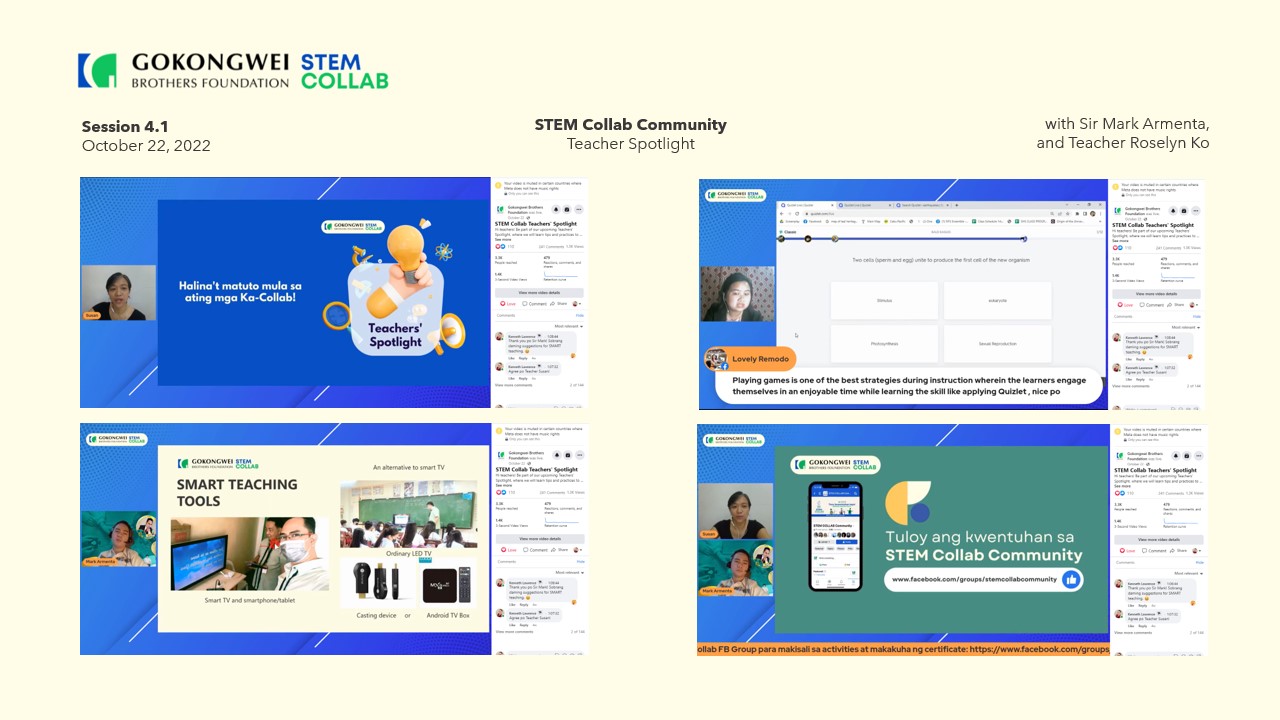 Different STEM Ka-Collab participants were invited to share creative tools they use in STEM teaching. Ms. Joy Talens emphasized the use of visuals for STEM lessons, while Mr. Alwielland Bello showed educators how to learn Physics through guitar-tuning and Sir Ace Aniceto presented a way to think and rethink the school programs by having Humanities week or STEM week or both.
Ms. Roslyn Ko presented the useful effect of movies in her students' engagement. She also shared how to use Quizlet to carry out formative assessments that are fun and engaging for students. A participant agreed and echoed that Quizlet is a collaborative game that develops communication skills, vocabulary, and understanding of definitions.
Teacher Mark Armenta on the other hand, shared his SMART Teaching technique a using smart TV and smartphone in a classroom set-up. According to Teacher Mark, SMART teaching is not just the plain use of a TV as a visual aid but is also useful in integrating different activities such as singing, playing, dancing, and class reporting, especially in the new normal set-up.
Creating STEM Action Research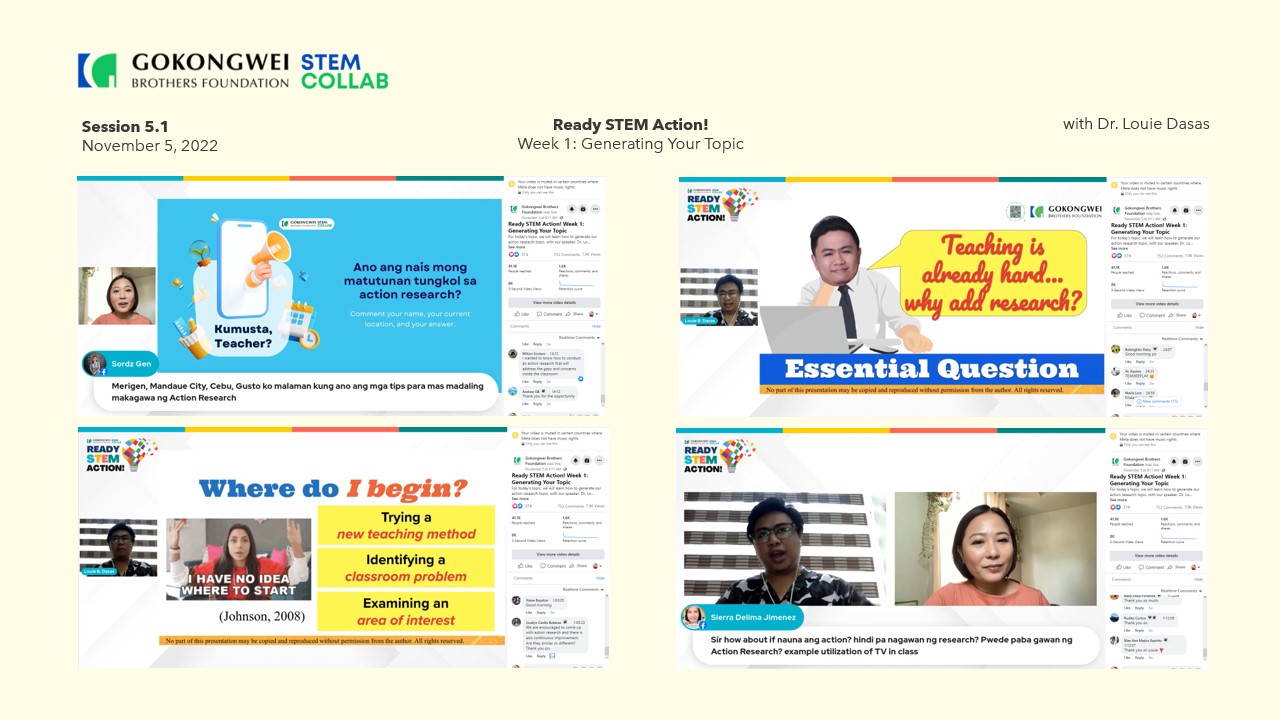 One of the sought-after topics of teachers is Action Research. It is an important activity that help them improve in their professional development. Recognizing the need to learn the different aspects of Action Research, GBF STEM Collab conducted a 4-part weekly series on the most relevant topics on how to strategically plan, design, and write it.
Every action research journey starts with the question "Where do I begin?". This is what Dr. Louie Dasas asked STEM Educators to identify first. According to him, teachers should have more questions than answers to strategically identify the right topic for their action research. Tantamount to the topic itself, picking the right research tool is a must! He emphasized that there are multiverse ways of gathering data for each action research topic.
Ms. Anj and Kath on the other hand, made a deep dive into Action Research by focusing on designing qualitative tools. They came up with practical tips that make Action Research easier and more effective. One of which is to collect actionable experiences and understand if the research are aligned with the specific tools used.
"When we conduct this research, we only have one important goal, and that is to improve the teaching and learning in our respective teaching and learning space." Mr. Ryan Lansangan said during his discussion about designing quantitative tools. "Producing meaningful representation of the data is one of the goals of using quantitative tools on Action Research," he added.
Around 700 Ka-Collab live participants actively joined the Action Research series. Not only that they were able to share some of their insights on each of the session's topics, but they also gave sample topics that they would want to work on.
STEM Collab where to next?
With the successful launch of STEM Collab this year, educators can look forward to more sessions and resources where they can learn out-of-the-box strategies and skills for teaching STEM to their students. These free upskilling activities not only helped the educators upgrade their teaching toolkit but also prepared them for uncertainties that they may encounter. And the best part of it, learning side-by-side with their co-educators makes the experience more comfortable and relatable, as they share solutions to common challenges given their different contexts.
As GBF celebrates its 30th year, its thrust of uplifting STEM educators' professional development has taken a leap with STEM Collab. The insights gathered by GBF about the needs and aspirations of teachers has been very useful in improving the program to make it more responsive, and teacher-focused and driven.
With GBF's 30th year battle cry of "Walang Imposible!", STEM educators can expect more support from the Foundation to help them advance as STEM champions in their schools and communities.