Young scholars define what's important to them during the pandemic
Unable to go home amid COVID-19 surge, tech-voc scholars share realizations while on extended stay at the GBF Technical Training Center.
By
Gokongwei Brothers Foundation
Oct 15, 2020
When the Philippines underwent its first lockdown in March 2020, 21 young students undertaking the Gokongwei Brothers Foundation (GBF) Iskolar ni Juan (INJ) Tech-Voc Scholarship found themselves stranded at the GBF Technical Training Center (TTC) in Calamba City, Laguna.
Boarded at the GBF TTC, INJ students are enrolled at a one-year TESDA-registered certification program where they learn industrial machine operation and servicing. INJ graduates are eventually offered jobs at Universal Robina Corporation as production operators or maintenance technicians.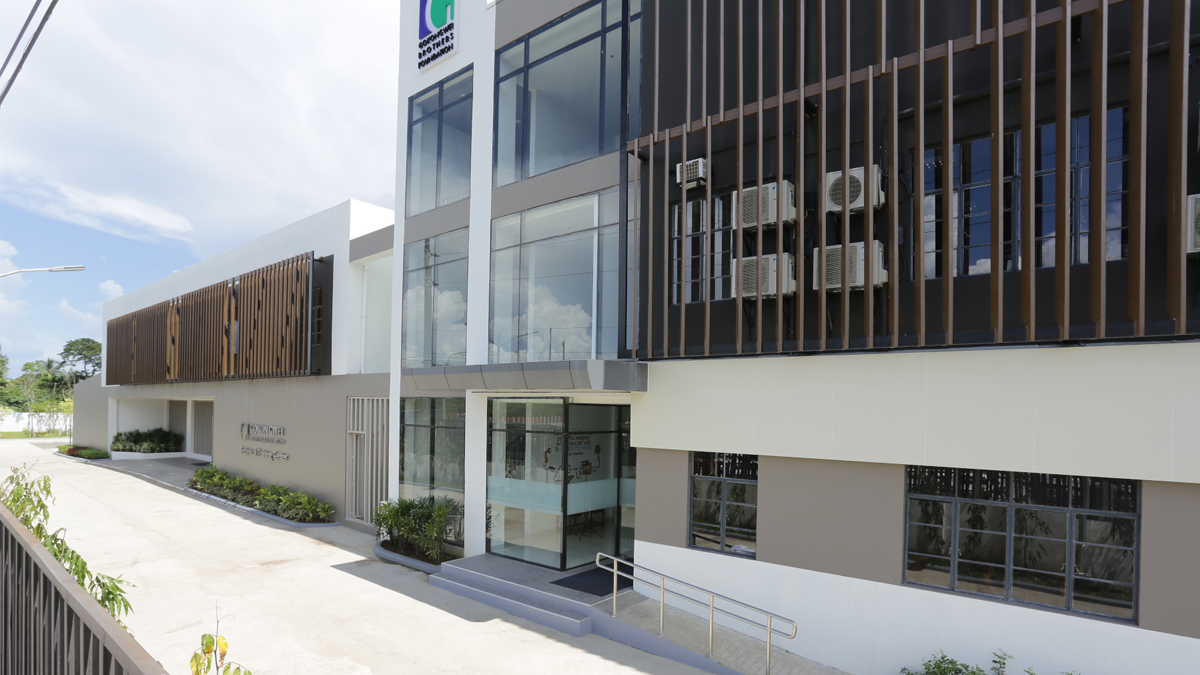 The GBF Technical Training Center in Calamba City, Laguna. PHOTO JG Summit Holdings Inc.
Unlike fellow scholars from Laguna and nearby provinces, 21 INJ students from Iloilo, Dumaguete, Bacolod, Tuguegarao, and Greater Manila Area were unable to go home due to imposed travel restrictions. At that time, they were at different stages in their training programs for mechatronics servicing and instrumentations and controls servicing.
Like the rest of the country, they hoped that the pandemic would soon blow over as they continued on with the balance of their academic term. However, by the end of the school year in June, it was clear they would have to extend their stay indefinitely.
While rising numbers of COVID-19 cases and lockdown protocols made going home a distant dream, the TTC admin and faculty focused on navigating "the new normal." They held advanced classes (like electives for their technical subjects), a socially distanced sportsfest, and even tree planting sessions. They also organized special weekend activities, such as music nights and stargazing, on TTC grounds, and ensured that all of the students' needs were taken care of, their basic expenses subsidized.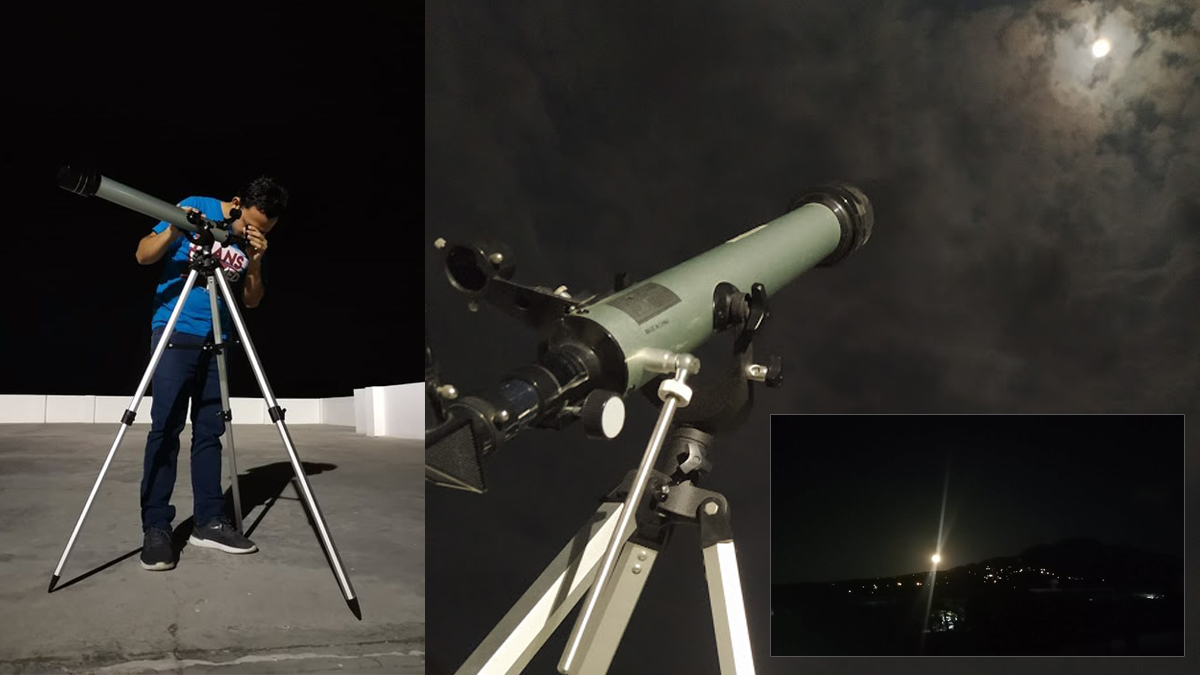 GBF TTC's stargazing activity set-up and a snapshot of the moon and a portion of Laguna as seen from the school's roof deck. PHOTOS GBF Technical Training Center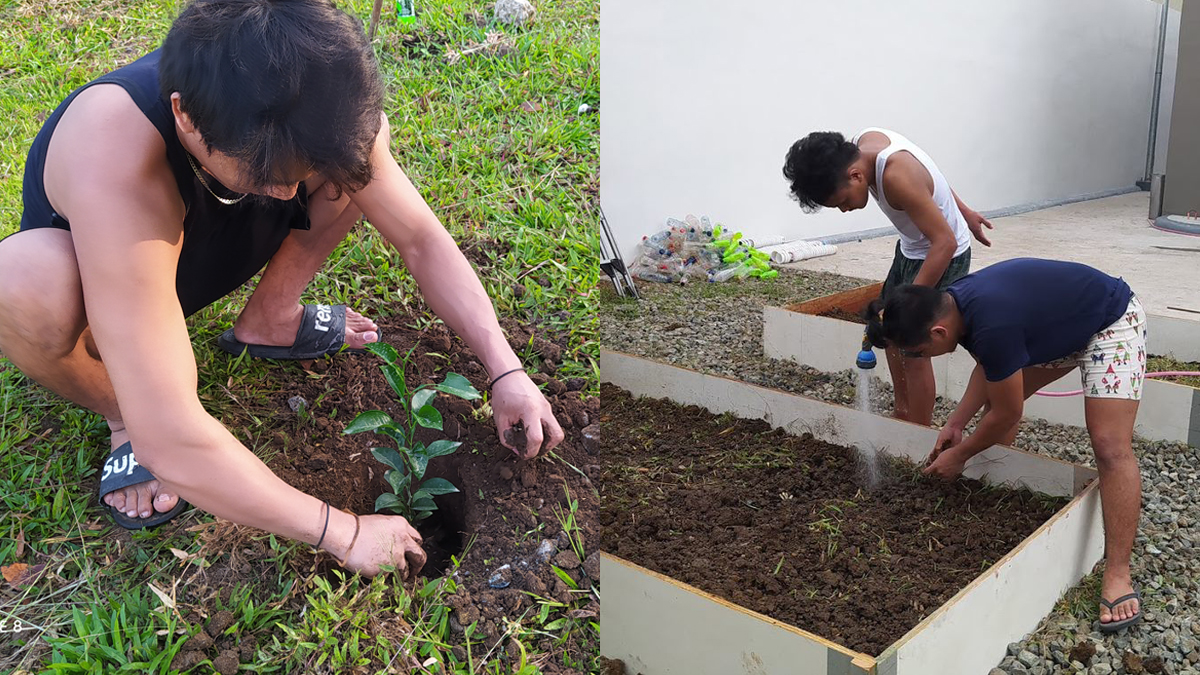 A scholar works on replanting while two co-scholars prepare a vegetable garden plot at the GBF TTC garden. PHOTOS GBF Technical Training Center
In turn, the students have been able to focus on prioritizing their physical and mental health. This is especially important seeing as how the world they're growing up in is rapidly changing, and along with it, their values.
"This lockdown taught me that communication with family is very important," says Jhasten Consular, a 20-year-old student at GBF TTC. Among those who were stranded on site, Jhasten found himself making a more concerted effort to keep in touch with his folks back home, bringing them closer together. "I also realized that people are too busy on things that they didn't have time to spend with their families."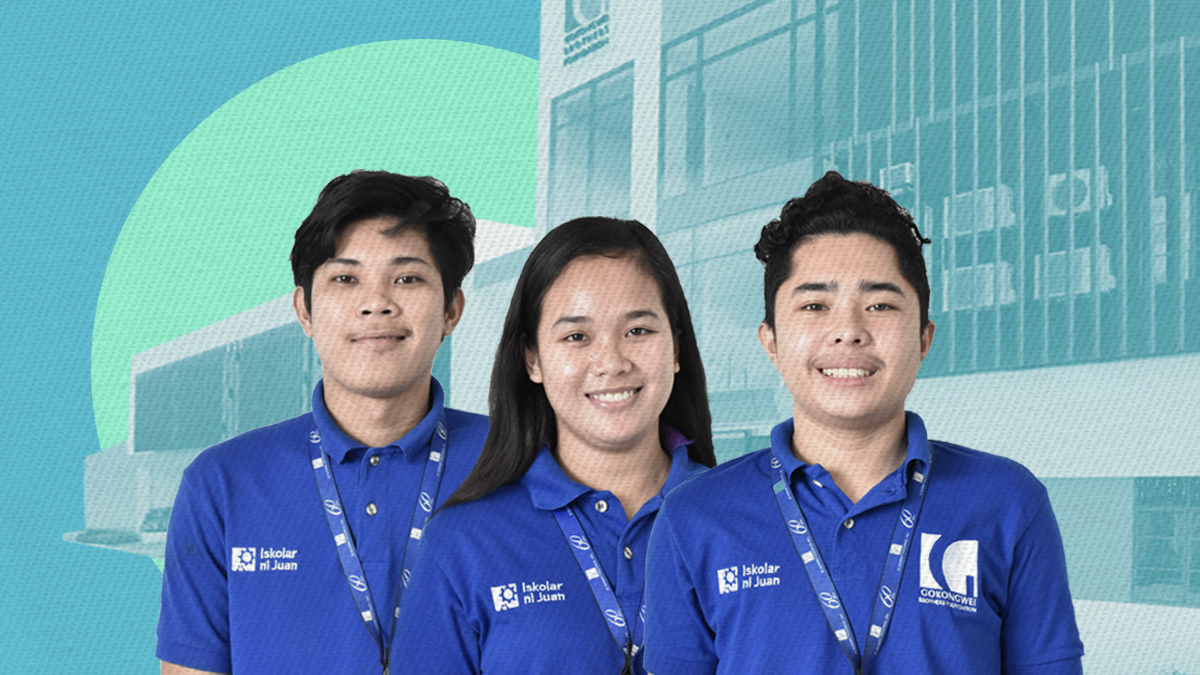 GBF Iskolar ni Juan Jhasten Consular, Hezel Villa, and Janel Panagsagan. PHOTOS JG Summit Holdings Inc. and GBF Technical Training Center ILLUSTRATION Gokongwei Brothers Foundation
It's a sentiment echoed by many of the other students at the training center. Jhover Germino, 24, admits that he may have taken some of his loved ones for granted. "This lockdown brought me to the realization that I have friends, family and relatives that I haven't contacted for a very long time," he shares.
The pandemic has also made the students more conscientious about managing their resources. While the GBF staff continues to provide food, lodging, and special classes to the scholars inside the TTC, the stark contrast between their situation and those who have more limited means of supporting themselves seems to have fostered a more provident and economical mindset. "If you have money, spend it wisely, and have some savings in order for you to have some money to spend in case of emergency," says Janel Panagsagan, 20. "These learnings will help me [in] being prepared in future [crises] that may come," adds INJ student Wilfred Luna.
But perhaps one of the most crucial lessons today's generation is learning is the importance of perseverance against adversity. Many of the students might have experienced a certain degree of stress because of the pandemic, the collective effects of being away from their loved ones and the general air of uncertainty taking their toll, but they've also shown maturity and wisdom beyond their years.
INJ student Hezell Villa, 24, has since accepted that there's very little control anyone could have over the pandemic. "This lockdown taught me to have strong faith [in] God and letting God control everything," she says. "I learned how to be strong, resilient, patient, to trust and be positive."
The situation hasn't dampened 21-year-old Jemarie Maigue's spirit either. "I realized during the lockdown that it's about how you fight, not giving up, and not losing hope (Na-realize ko sa lockdown na ito ay kung paano lalaban, hindi susuko at hindi mawalan ng pag-asa)."
Perhaps Reynaldo Casido, 27, says it best. "In this lockdown, I realized that there is no shortcut to success, it needs courage, perseverance and resilience."