#HeroTeacher: School Head Sold Cookies To Buy Flash Drives For Her Students Learning At Home
Teachers recorded audio lessons in the flash drives so students can listen to it at home.
By
Grace Bautista for Smart Parenting
Dec 24, 2020
Before the new school year opened in October 2020, the big question on everyone's mind was: How would the schools operate? How would the teachers fulfill their roles and ensure students' learning while staying compliant with the IATF protocols?
A small team of elementary school teachers in remote schools in Peñarrubia, Abra found a very good answer: They would provide each of their students with a 32gb OTG flash drive so they can record audio lessons in those devices and the children can connect it to their mobile phones and listen to lessons at home.
Teacher Maria Lorena "Loren" Bisares, the school head at Sta. Rosa Elementary School and Tattawa Primary School, as well as her co-teachers believed the flash drives would be a very important teaching tool. Many of their students could not rely on anyone to teach them at home. Most of the parents only finished elementary school and many of them worked during the day.
"I knew for sure that this would stimulate the children's interest and help them focus on their modules, especially the children in the primary grades. The children need motivation to learn, and what they hear and see, these stimulate their learning," Teacher Loren told SmartParenting.com.ph.
Brigada cookies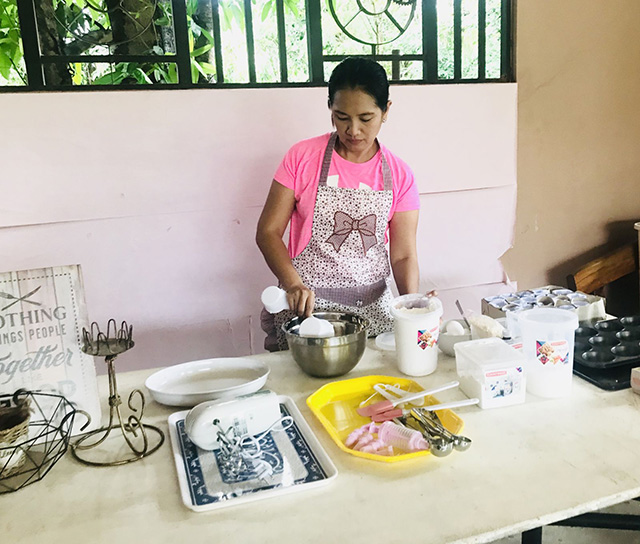 Teacher Loren would prepare the cookie dough at night and wake up early the next morning to bake. PHOTO Courtesy of Maria Lorena Bisares
Teacher Loren thought of baking cookies to raise funds for the project. She called the project Brigada Cookies — buy a Brigada cookie to sponsor a USB.
Loren was not an expert baker and she only had a small oven at home. But she had a goal and she was determined to complete it for the children's sake.
Loren promoted the Brigada Cookies, which were priced at Php300 a dozen, to gainfully employed individuals in their community. Thankfully, many people supported the project — her friends, the employees of the Schools Division Office of Abra, the officers of the local Philippine National Police and Bureau of Fire Protection, as well as private organizations. Many civic-minded individuals also supported the project by donating in cash and in kind, including the local government and even friends abroad.
New modes of learning in the new normal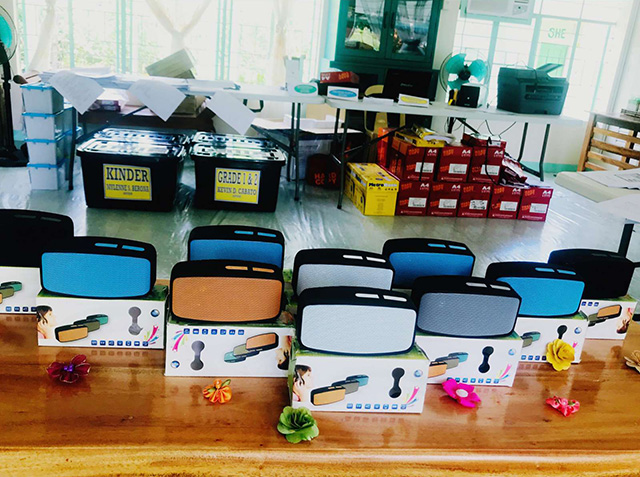 The school was able to provide flash drives and even speakers to a total of 53 students. PHOTO Courtesy of Maria Lorena Bisares
Thanks to the overwhelming support the Brigada Cookies received, Teacher Loren's team was able to get hold of all the USB flash drives required before the schools opened in October. They were also able to get a speaker for each learner!
The teachers also upskilled to keep up with the new normal. At first they only used the built-in recorder in their mobile phones to record their lessons, but Loren looked for someone who could teach them to use Audacity, an audio software that would allow them to record and edit their audio recording without extra cost.
During school orientations, teachers did a demo of how to use the flash drive with the speaker. These are now being used to complement the students' modular lessons.
During the week, the teachers would record their lessons and also download relevant lessons from DepEd TV and convert them into MP3 files. Every Monday, the parents would come to school with their flash drives so the teachers could save the new weekly content onto them and also pick up the new modules for the week.
Considering multiple intelligences and different learning styles, Teacher Loren saw the need to provide more than just printed materials to their learners. So far, the results prove their efforts are worth it.
"The effect on gains in learning is almost double that of only providing SLM (self-learning materials) and textbooks," Teacher Loren shared.
Sta. Rosa Elementary School received a commendation from the provincial government of Abra for their innovative way of teaching and not solely depending on modules to support the learning of their students.
More innovations that engage students and improve learning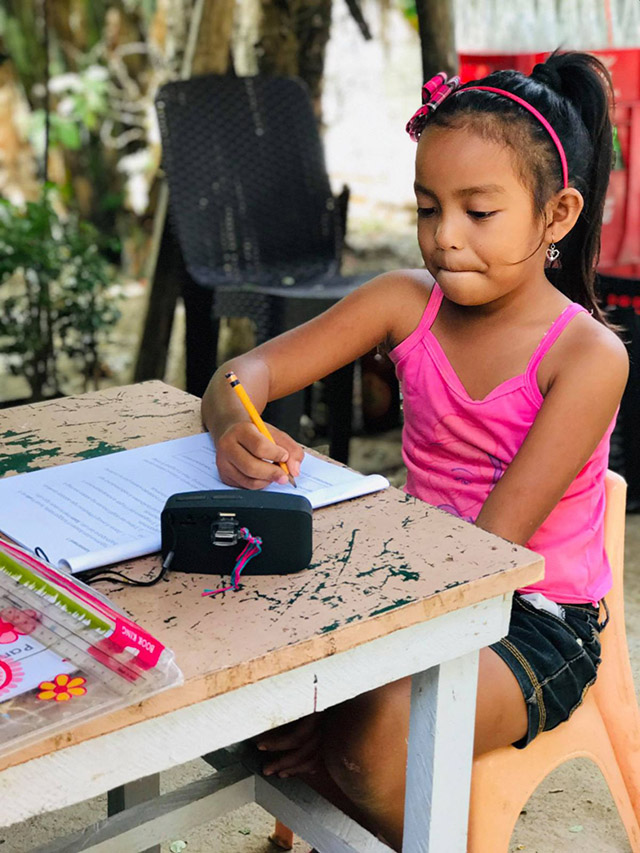 One of Teacher Loren's students studying at home. PHOTO Courtesy of Maria Lorena Bisares
Teacher Loren and her team of teachers in Sta. Rosa Elementary School and Tattawa Primary School continue to innovate to provide the best education they could to their learners. Thankfully, the Covid-19 situation is not bad in their municipality, so they can somehow move about and visit their students.
They were able to hold training for parents of kids in the learning-to-read levels and they have identified volunteer para-teachers within the communities to help struggling learners.
They also launched Project ROSAS, a mobile learning program that brings the School Learning Resource Center or SLRC (it's like a library but also includes toys and other learning resources) to the communities so the children can read, play, color, and practice their literacy, numeracy and science skills through educational games. The teachers do all these once a week, all while making sure they follow health protocols at all times.
For this project, Sta. Rosa Elementary School was recently given a Partnership Benchmark recognition by the Department of Education Schools Division of Abra.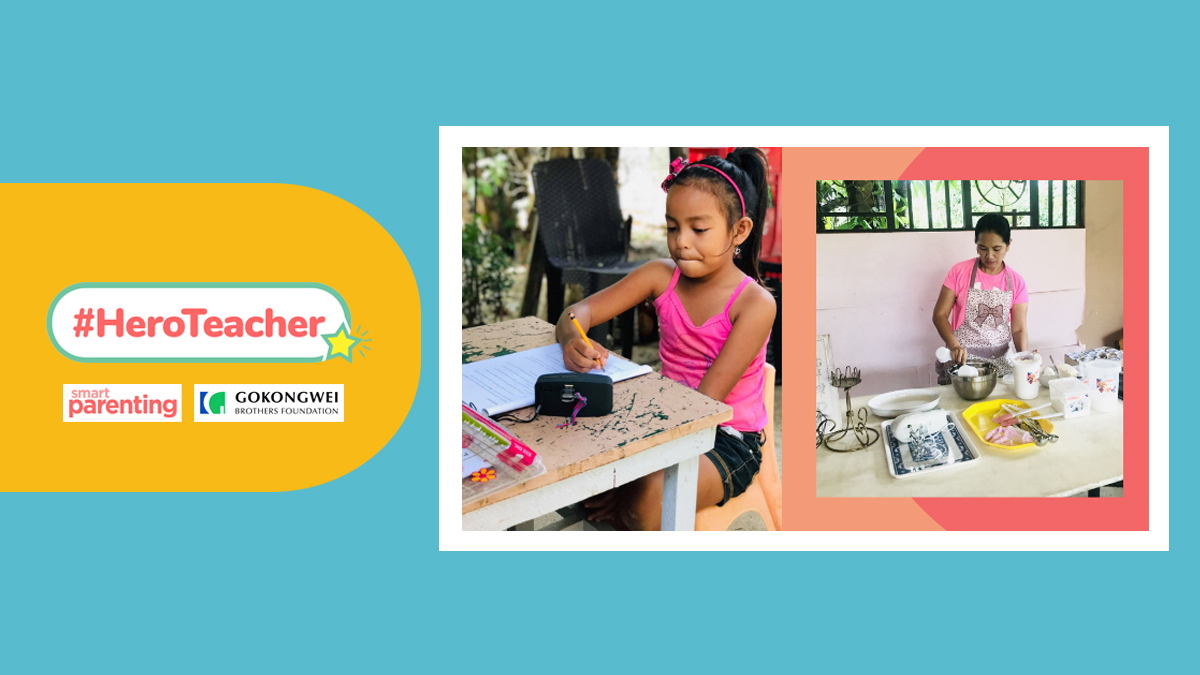 PHOTO Courtesy of Maria Lorena Bisares
Gokongwei Brothers Foundation (GBF) teams up with Smart Parenting to shine a spotlight on teachers who go the extra mile. For every #HeroTeacher featured in Smart Parenting, GBF pledges P15,000 donation in kind.
You can also nominate a #HeroTeacher! Just go to this link and fill out the form:
https://bit.ly/NominateAHeroTeacher. Meet our #HeroTeachers! Read their stories here.
This story originally appeared on SmartParenting.com.ph. Minor edits have been made by Gokongwei Brothers Foundation.