Of Mothers and Daughters
Learn how one woman's path to success helped her daughter write her own future.
By
Gokongwei Brothers Foundation
When Jennifer Sicat, a 45-year-old warehouse assistant at URC first joined the company, she probably didn't think that she would stay there for the next 25 years or that she would go on to have two wonderful daughters with her husband whom she would also meet there. At the time, she also had no way of predicting that her second daughter, one who would inherit her name, would one day become one of the scholars of the Gokongwei Brothers Foundation (GBF).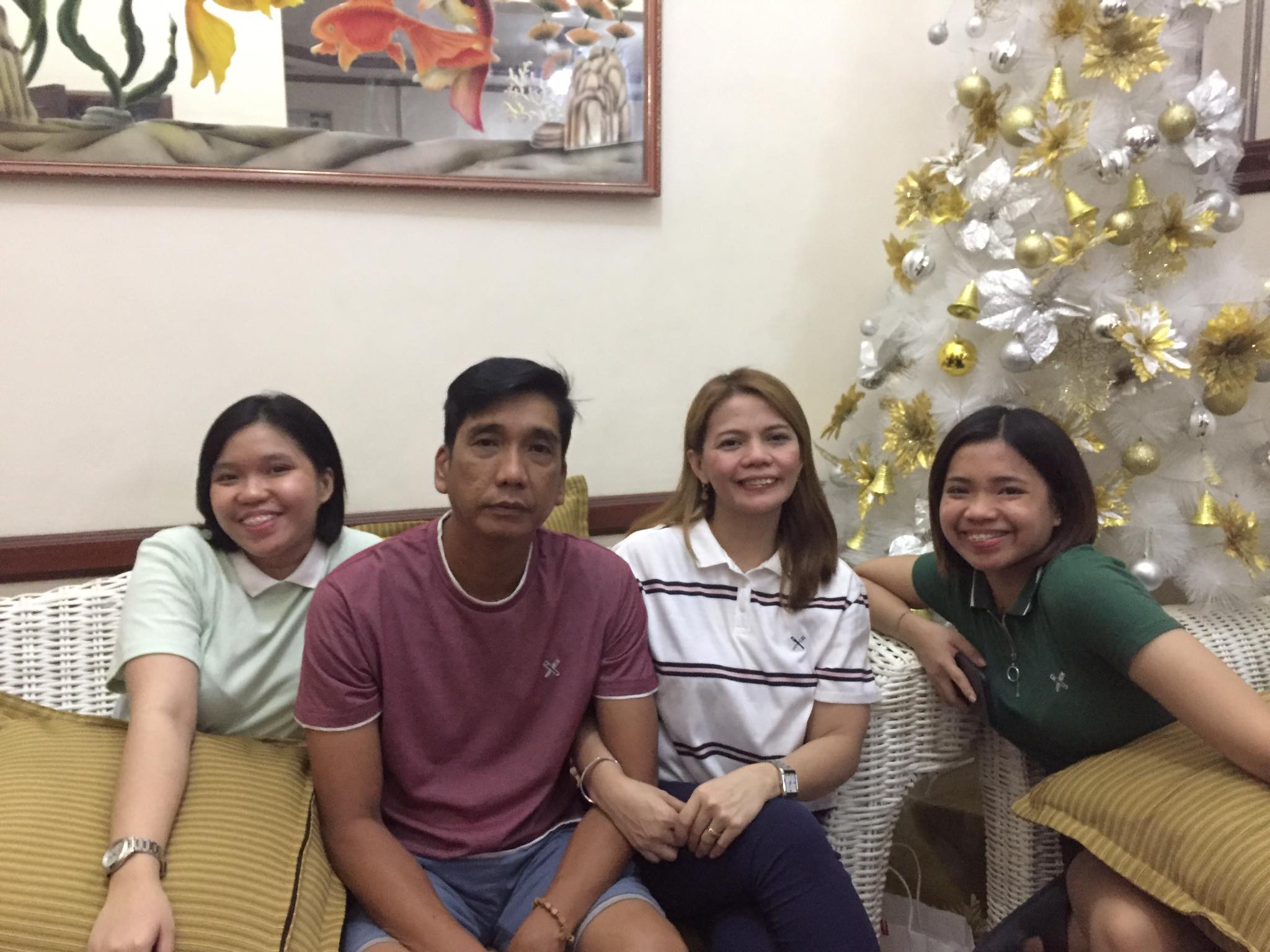 Jenny with her husband and two daughters. PHOTO Courtesy of Jenny Sicat.
But we're getting ahead of ourselves.
The story begins way back when Jennifer, nicknamed Jenny, joined URC as a fresh graduate. She was initially hired as a contractual employee, but when her six months were up, she applied for a regular position in the company's national warehouse. The interviews were held at the head office then, so Jenny would travel from Pampanga to Manila, before eventually being hired as a clerk.
While most people don't stay 25 years with their first employers, that was precisely what happened to Jenny, although it certainly wasn't for lack of options. "There were many opportunities then, companies were calling," says the mother of two, "but of course, I was enjoying myself at URC."
URC felt like home, but it wasn't just the friendly atmosphere that she liked. Jenny also felt in her element in a busy environment. "I never considered transferring because URC was such a big opportunity, and it was such a big company," she says.
From being a clerk, Jenny gradually worked her way to become a warehouse assistant. "Actually, the term warehouse assistant sounds like it's an easy job, but no, for me, it's a big responsibility," Jenny explains.
The job requires her to keep track of the company's inventory, which includes even the smallest OEM parts and the needs of other factories as well as those of other plants owned by URC. It's perfect for someone like Jenny who has a very organized mind and who runs her life like clockwork.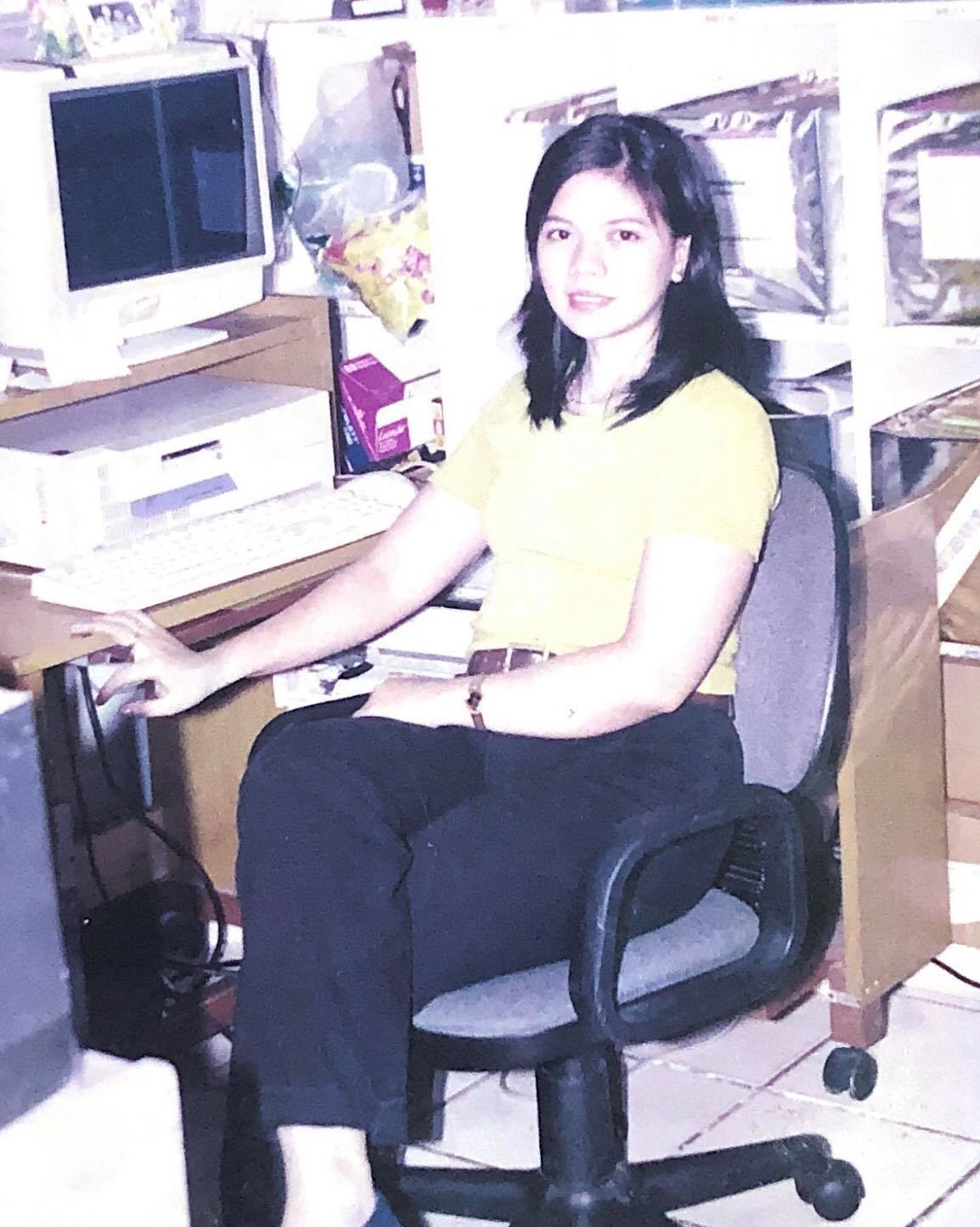 Jenny poses for a photo while at the office back in the '90s. PHOTO Courtesy of Jenny Sicat.
Perhaps one of the few times that she's been taken by surprise is when, just seven months into her pregnancy, she gave birth to her second daughter.
"She was so small, just 3.4 pounds!" says Jenny of her daughter. "You could put her inside a shoebox!"
Extremely busy with ISO certifications for URC then, Jenny hadn't had a chance to think of a name for her second daughter yet. She ended up naming her daughter Jennifer as well, a decision that might have tied mother and daughter in more ways than one.
Like mother, like daughter
Born Ma. Jennifer "Jenn" Sicat, the 21-year-old Accountancy student from Holy Angel University in Pampanga is currently hard at work on her senior thesis, and she's also about to start her virtual internship in a matter of days. This doesn't leave her a lot of time for anything else, not even for cooking, which is one of her hobbies.
This doesn't bother Jenn the slightest. Everything, after all, is going according to plan. She's mapped out her life goals like one big to-do list.
Jenn isn't that much different from her mother in this respect. Both of them are clearly organized; they also appear to have a very strict work ethic. At URC, Jenny gives even the simplest tasks her 100%, a trait that her daughter greatly admires. "My mom is very hard-working," she says. "She gives her best at work."
At school, Jenn isn't content with just ticking a box off her checklist either. Every output she produces has to be impeccable. "She wants her work to be perfect," Jenny says of her daughter.
It's easy to see why both ladies sometimes get mistaken for each other as the two of them aren't just similar in name, but also in their approach to their responsibilities. "We just want everything to be fine. No glitches, smooth, no issue," says Jenny.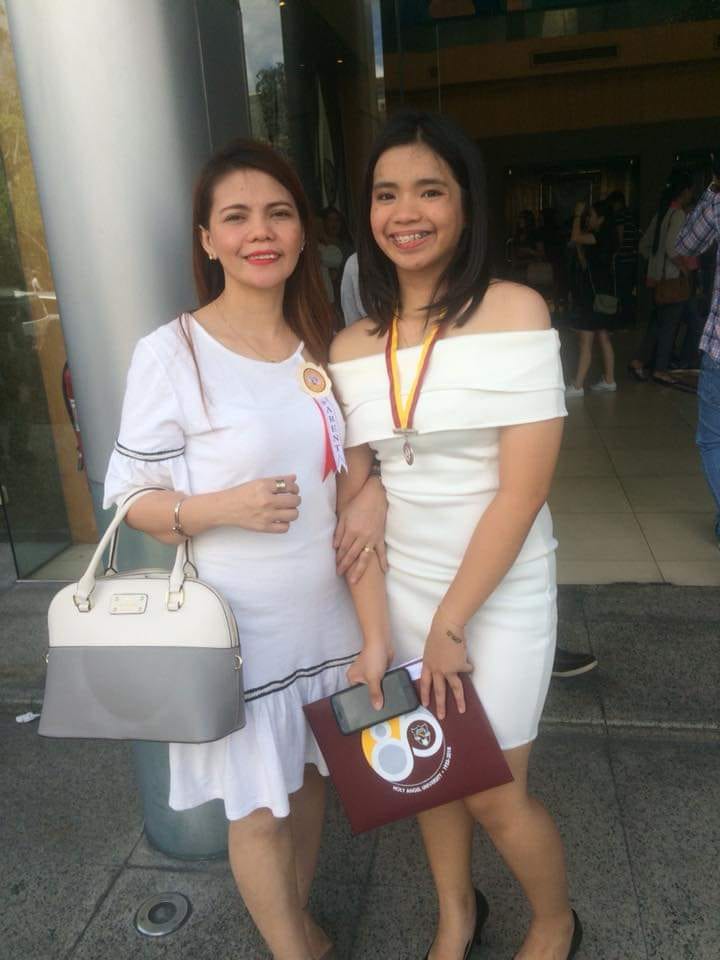 Jenny with her daughter Jenn when the latter graduated with high honors from senior high school. PHOTO Courtesy of Jenny Sicat.
When Jenn was about to start college, Jenny's HR manager encouraged her to apply for the Gokongwei Brothers Foundation (GBF) NextGen Scholarship for Excellence. The academic grant is given to children and siblings of existing JG Summit employees, and while mother and daughter dutifully filled up the application form and submitted the requirements, including an essay that Jenn had to write, they were still surprised when they found out that Jenn had been among those chosen.
In fact, Jenn was the only one accepted from URC Pampanga.
"Thank you, Lord, she was chosen," says Jenny who is very proud of her daughter.
Right now, Jenn seems to have her future well in hand. After graduation, she wants to focus on studying for the board exam to become a certified public accountant. Once she starts earning her own income, she intends to take culinary studies, self-funded, of course.
She's also not opposed to applying at URC one day if an opportunity presents itself. "I want to work for a company that prioritizes its employees," she says, adding that she sees all the benefits that her mother gets at URC.
Jenny would love to have Jenn work at URC, but she also knows that her daughter makes her own choices. "Jenn is very independent," she says, confidence and pride evident in her voice. On her face is the smile of a mother who knows that she doesn't have to worry (too much!) about her daughter's future.
Jenn Sicat is a recipient of the GBF NextGen Scholarship for Excellence. The scholarship offers college educational financial support to children and siblings of employees in the Gokongwei Group subsidiaries and affiliates who display excellence in academics and strong leadership potential. To date, GBF has supported a total of 224 scholars through this program.