For This Teacher, There's No Higher Honor Than Seeing His Students Reach Their Potential
It is what keeps him motivated.
By
Gokongwei Brothers Foundation
Jun 17, 2021
Ernie Santoyo loves teaching—in fact, the Gokongwei Brothers Foundation (GBF) TeachSTEM scholar counts passing his licensure examination for teaching as one of the happiest moments of his life—but while the vocation does run in his family, becoming a member of the academe was not a part of his plan at all, at least, not in the beginning.
Originally, Ernie had set his sights on becoming an engineer in hopes that it would help him give his family a better future. However, life turned out to have other plans, and he graduated with a degree in Environmental Science instead. It left him confused about his career path. Suddenly, his future seemed much less certain.
Teaching became an option when a private school offered him the role of substitute Science teacher, but it was not without its challenges either. "Lack of training and experience was, indeed, a problem," says Ernie who admits that every single day that he had to create lesson plans was like a battle. Oscillating between teaching methods—singing and dancing for his younger charges and a more formal and analytical approach for his high school students—was particularly difficult.
It was not until he saw just how eager his students were to learn and got to know more about their life stories, some of which might have paralleled his own, that he realized teaching might just be his calling.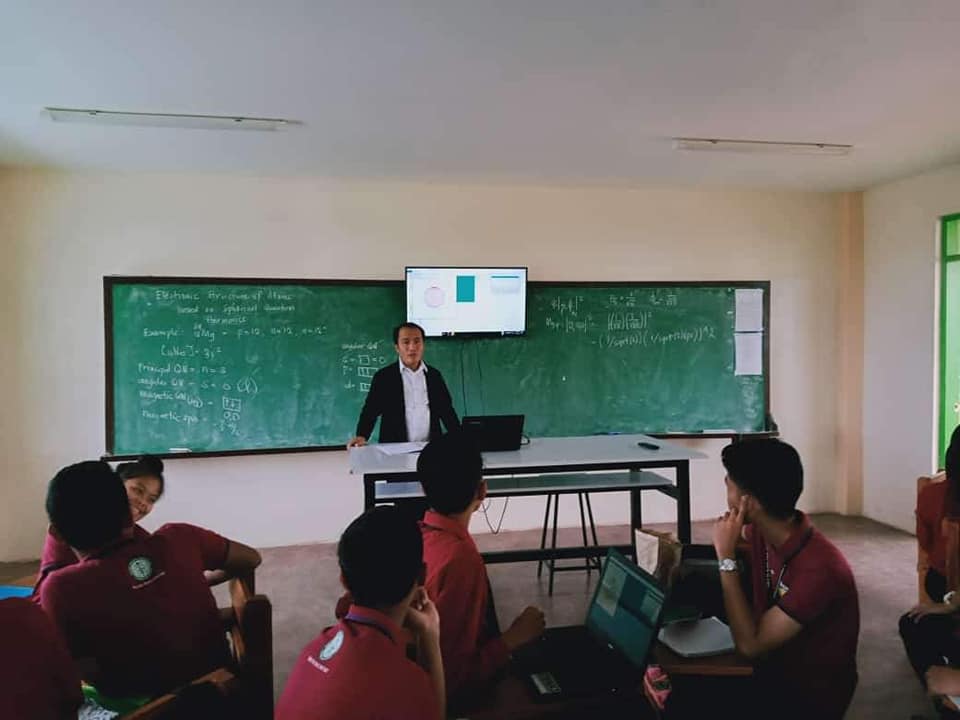 Ernie in one of his lectures. PHOTO Courtesy of Ernie Santoyo. 
Giving back to his community
In a country where education is more a privilege than a right, it is all too easy for some students to slip through the cracks, even with the most attentive teachers. Where one student realizes their potential, another might have to drop out, so Ernie does his best to level the playing field in whatever capacity he can.
In 2013, in his role as Executive Assistant and Program Coordinator, he helped his school raise money for academically inclined students who needed financial assistance. Through contests and fairs as well as partnerships with rotary clubs and other non-governmental organizations, he was able to gather enough funds to help said students finish high school, with some even receiving support all the way through college.
It's a story that Ernie himself is familiar with. Growing up, he had always been a bright student and even became the salutatorian of his batch in grade school. Right in the middle of giving his graduation speech, however, his mother sadly passed away of cancer. "That pain still lingers in my thoughts up until now," he says, although he recognizes it as a part of his long bittersweet journey to being a teacher.
Left as the only working member of the family, his father, a tricycle driver, did his best to send all his children to a private secondary school. Fortunately, Ernie was able to pass a scholarship exam in the same school that helped support his studies until he graduated.
Coming full circle with GBF
Having achieved so much despite life's challenges, it is no surprise that helping his students, especially those from marginalized sectors, has always been one of Ernie's top priorities. "Whenever I give advice to my students, I tell them that opportunities rarely come, so they shouldn't be afraid to take or grab them when they do come along," he says.

In 2019, he grabbed such an opportunity for himself when he became a GBF TeachSTEM Scholar, same with his brother who had also benefited from one of the group's training programs in the past. Ernie was in the middle of taking his master's degree in Science Education at the Philippine Normal University (PNU) at that time, a move that was precipitated by a very simple reason. "As a teacher, I value the knowledge and learnings that I can provide my students," he says.
Less than two years later, Ernie found himself working with GBF again. This time, he finds himself on the other side, helping facilitate the donation of mobile learning devices to students who needed them the most. He also volunteered to run a diagnostic exam that would eventually be used in GBF's Iskolar ni Juan scholarship program.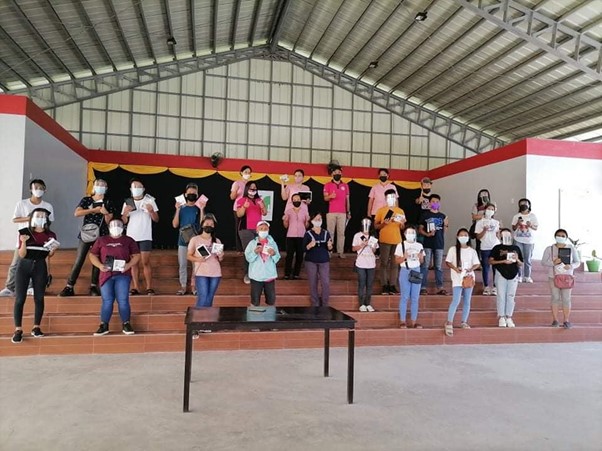 Beneficiaries of the mobile learning devices donation drive pose for a photo while following physical distancing protocols. PHOTO Courtesy of Ernie Santoyo. 
It is clear that everything Ernie does is in service of his students. "It feels good to help." he says, "not because of our current situation, but because I want my students to have the same opportunity as I have right now."
He also hopes that "they will be able to find courage and strength to move forward as long as they can see that there are people who are backing them up."
Passing the torch on to the next generation

In the last 14 years that Ernie has been teaching, he's had students return, telling him how grateful they are to have had him as their teacher. But based on how proudly he talks about them, the opposite is also true.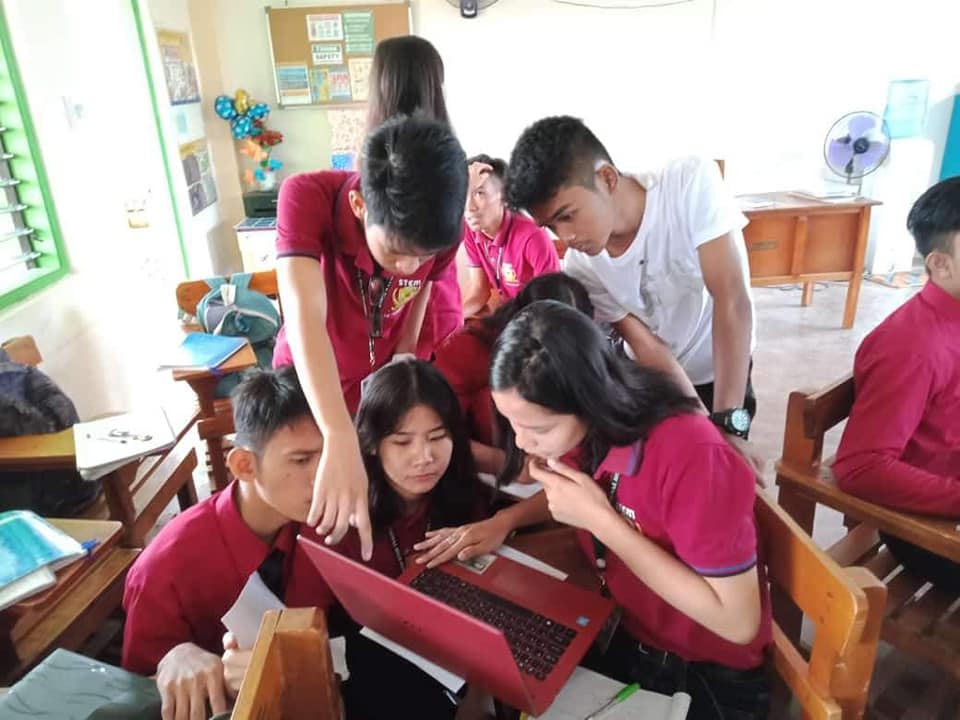 Students in one of Ernie's high school classes collaborate for a group activity. Photo courtesy of Ernie Santoyo.
"There are so many great stories and so many to be thankful for," he begins. "I have some former students who are now professionals who put up a help drive during the Mt. Taal eruption last January 2020. We were able to raise almost P100,000 and materials and food packs were donated in different towns in Batangas affected by the natural calamity."
He also lists seeing one of his students, a public servant in Batangas, talking to political leaders and police officers about managing the pandemic, as a proud moment.
It is evident that Ernie finds no greater fulfillment than seeing his former students take their place in the world and reach their full potential as agents of change themselves. "Whether you're a good teacher or not depends on how the children you taught turn out," he says.
There can be no greater honor than that.
Ernie Santoyo is a recipient of the GBF TeachSTEM Graduate Scholarship, which provides financial assistance to public school K to 12 Science and Mathematics educators who are taking their Master's Degree in Science and Mathematics education. As of press time, there are 21 enrolled scholars.