Scholar Spotlight: Aileen Jean Braña
From folk dancing to line assembly. Life has presented so much surprises for INJ scholar Aileen Braña. Here's the story of how she broke the norms in the so-called "man's world" of manufacturing.
Life knows how to reward those who trust and believe in the process, especially those who persevered despite all odds.
This is the mantra of Aileen Jean Braña, 21, whose life story, she bets herself, could easily win against the drama series we often see on television. Thanks to her unwavering faith and dedication, Aileen is now reaping the fruits of her labor three years on after she graduated as a scholar of the Gokongwei Brothers Foundation Iskolar ni Juan (INJ) Tech-Voc Program.
INJ is the flagship scholarship program of the Foundation, which provides a year-long training on TESDA-accredited certificate courses in Mechatronics Servicing or Instrumentation and Controls Servicing. The scholarship also provides on-the-job training in Universal Robina Corporation (URC) plants that could potentially lead them to employment.
Aileen now holds a supervisory role URC plant in San Fernando, Cebu. She looks after line maintenance — a job usually assigned to men. It is a tough job but she has learned to love it, she says.
Life hasn't been completely kind to Aileen, after all. Growing up in Mandaue City, Aileen shares, their livelihood depends mainly on the demand for her father's carpentry skills and her mother's income from being an on-call worker in a furniture factory.
During the worst of times then, less demand for her parent's labor skills meant Aileen going to school without a single centavo in her pocket. That's why, at an early age, she knew she had to step up for her family. Aileen joined the school's dance troupe and performed folk and sports dance to earn an extra allowance for her schooling.
Aileen vividly shares how she was ready to take on the world after finishing high school in 2014. For the longest time, she dreamed to be a teacher but her family cannot afford to send her to college. Luckily, her high school pushed her to take a crack on a scholarship offered by GBF, in partnership with URC. "Grab the opportunity please," she remembers her high school teacher and mentor telling her.
As fate would have it, two from their batch passed the qualifying examinations for the highly coveted scholarships and she was one of them. Her next hurdle would be to convince her father who was wary of sending her to Manila for a panel interview. To his mind, it was too good to be true. A personnel from the Human Resources unit of URC paid them a visit and explained how the scholarship works. This convinced her father to give her clearance to be interviewed in Manila.
Determined as she has been all her life, Aileen was able to secure the scholarship and fly to Manila. She was overwhelmed with homesickness and the heavy school requirements during her first months in the city. But she persisted, knowing what she wanted for herself and her family.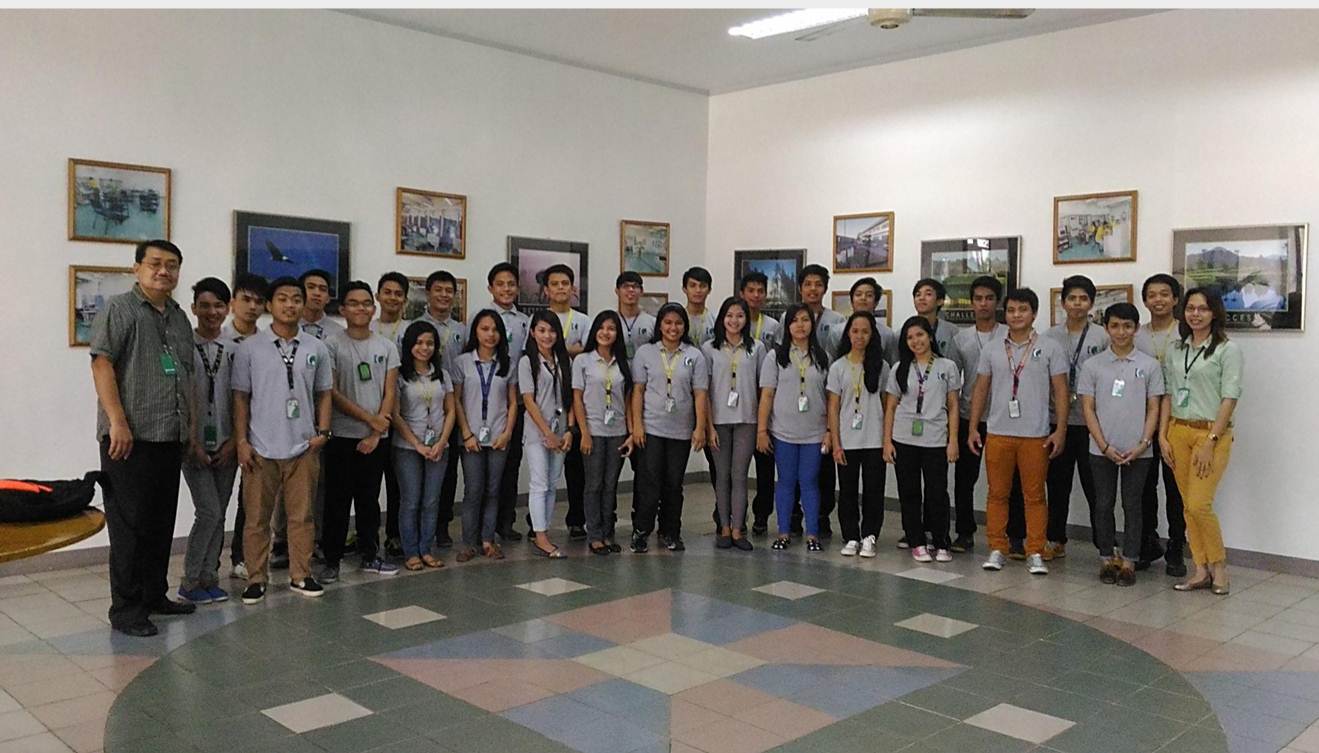 The first batch of Iskolar ni Juan Tech-Voc Program scholars.
"Gusto kong maging proud sila sa akin. Gusto kong makita ng parents ko na nagsisikap ako," recalls Aileen.
(I want them to be proud of me. I want my parents to see that I am working hard.)
In school, she learned skills she never knew she would be interested in, Her favorite subject –  Instrumentation - covers the processes, precision and calibration of the machines used in the line assembly.
"Doon ko nahanap kung ano talaga ang gusto ko. Hindi ko alam na kaya ko pala," says Aileen.
(That's where I realized what I want to pursue. I didn't know then that I am capable of learning this.)
She finished top 2 of INJ's first batch of graduates. She never updated her parents about her achievements in school. That is why during the graduation ceremony, they cried out of surprise and pride that Aileen finished with flying colors. Aileen herself was also proud that she was able to conquer her fears and conquer herself.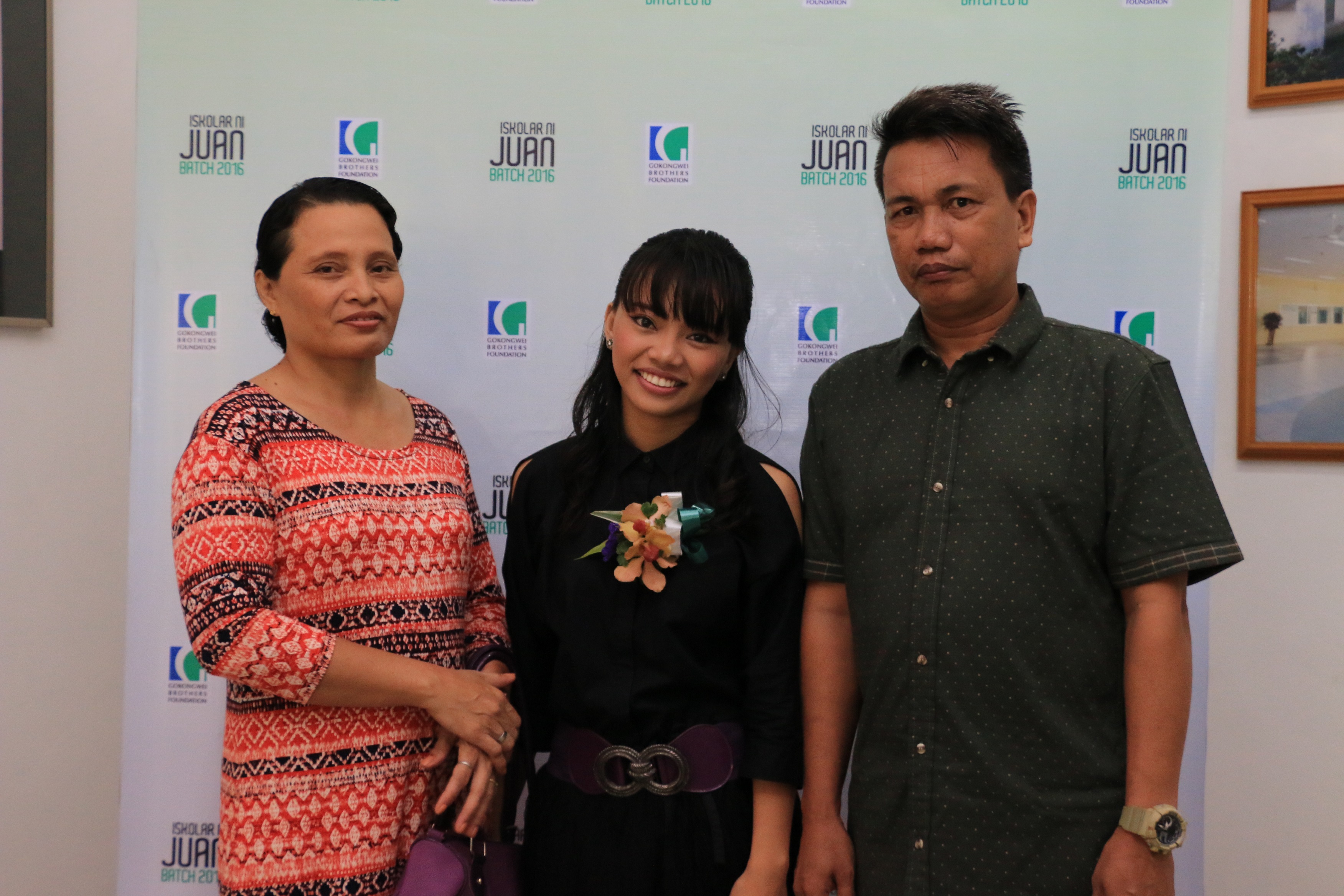 Aileen with her parents during GBF Technical Training Center's first commencement exercise.
Aileen's persistence and dedication did not stop in school. In the URC plant in Mandaue City, Cebu, she performed beyond expected. In an industry where men usually lead the pack, Aileen considers breaking the gender barrier as her biggest achievement yet. As the only woman in the team, she makes sure she can climb atop the machines and troubleshoot any problem in line production like any man would.
Her supervisors saw Aileen's leadership potential that she was sent to the URC plant in Calamba for training. She applied the things she learned from there to help set up the pilot operations of the new San Fernando, Cebu plant. Her efforts paid off eventually that she is now a supervisor there.
Aileen did not become a public school teacher as her younger self would have wished. But she is taking steps towards being an educator. She is now taking up a bachelor's course in Industrial Engineering so that she could impart what she knows about plant operations. When the right time comes, Aileen says she still wants to teach to give back to the community.
"Sabi ko sa sarili ko, magaling ako dyan. Bakit hindi ko i-share iyong natutunan ko para din ma-inspire iyong ibang mga bata," Aileen tells.
(I told myself: I am good at this. Why not share what I know to inspire the younger ones.)
At a young age, Aileen believes there is no accident in life and there are reasons for everything. The key, she says, is to embrace opportunity.
"If you don't like it or it's not your passion, then you can escape. Another door will open to you. You never know if that [next] opportunity will change you, yourself, or your future."