At This Year's National Science and Technology Fair, GBF Sees a Glimpse of the Country's Future
And it promises to be very bright.
For the last 14 years, the National Science and Technology Fair (NSTF), the biggest science fair in the country, has been actively promoting interest and awareness in the field of science and technology among the youth. This year, it aimed to help develop resilience, innovation, and creativity amidst a global crisis with its theme: Agham, Pananaliksik at Teknolohiya: Kabalikat sa Matatag at Maunlad na Pamayanan.
The four-day affair, organized by the Department of Education (DepEd) through the Bureau of Curriculum Development, was held online from August 31 to September 3 and featured an exciting roster of speakers, from research scientist Dr. Jose Noel S. Villasenor from the MIT Kavli Institute for Astrophysics and Space Research to professor Dr. Carlos Primo David from the National Institute of Geological Science at the University of the Philippines. There were also compelling panel discussions on women in STEM as well as on the role of industry agenda in STEM education.
Dr. Jocelyn Andaya, Director IV of DepEd's Bureau of Curriculum Development, described the virtual event as meaningful, enthralling, and thought-provoking. "We had a virtual glimpse of technologies from the sky to the sea and even to the galaxy," she said. "We were updated on space explorations, technologies for agriculture, healthcare, and on mitigating climate change. We were inspired by the journey of our scientists and inventors, men and women alike, and we recognize their great minds, their grit, their creativity and collaboration, and the vital role they are playing for the benefit of humankind. They have explored solutions for food security, healthcare, environment, among others, all of which are geared towards sustainable development."
Marrying science and communication
The talks and discussions weren't the only highlights of the fair. This year, NSTF also launched Siyensikula, an original video competition that challenged junior and senior high school students across the nation to address issues in their own community, while also putting the spotlight on new and innovative solutions and information related to education, safety, health, disaster preparedness, and community development.
A distinguished board of judges led by Dr. Maribel G. Nonato, Academician of the National Academy of Science and Technology and Vice-Rector for Research and Innovation at the University of Santo Tomas, judged the presentations on four criteria, namely: engagement, illumination, creativity, and difficulty.
In her speech, Dr. Nonato said that all of the judges were impressed by the videos. "I could see future science writers, science media newscasters who can communicate effectively emerging issues to the society," she said.
Among these future communicators, three winners were ultimately chosen. Taking home the blue ribbon were Junel O. Arellano from Negros Occidental High School in Negros Occidental with the Siyensikula video "Debunking The Myth: How mRna Vaccines Work", Chloe Nicole L. Borja from Science and Technology Center - SHS in Lapu-Lapu City for "The Intern: Enzyme Crash Course", and Jude Christian T. Nobleza from Himamaylan National High School in Himamaylan City for "Higgs Boson".
Committing to the country's future
In support of NSTF, the Gokongwei Brothers Foundation (GBF) awarded P7,000 cash to each of the three winners as well as in-kind donations amounting to P7,000 to the schools they're enrolled in. Together with USAID, GBF also sponsored the virtual event platform used during the fair.

A staunch advocate of uplifting STEM education in the Philippines, GBF has been working hand in hand with various stakeholders and partner institutions to create real change in the country's learning landscape for years. In her talk about the foundation's work, GBF Executive Director Grace Colet said that we're all fighting in a war, whether it's with COVID-19, unemployment and poverty, or depression and the temptation of hopelessness.
However, she also added that we can win this war by first winning the war within ourselves. "We believe that to change a nation is to change oneself," she said. Overcome loneliness by thinking of others. Triumph over indifference with perseverance. Battle anxiety with preparation and action. Move past mediocrity or cowardice through expansion, sacrifice, and discipline. 
From there, the change can spread. "We win this war by working together, seeing and leveraging each other's strengths more than complaining about weaknesses, going the extra mile by helping each other," she said. "We win this war by choosing to hope, choosing to love, choosing to keep our faith."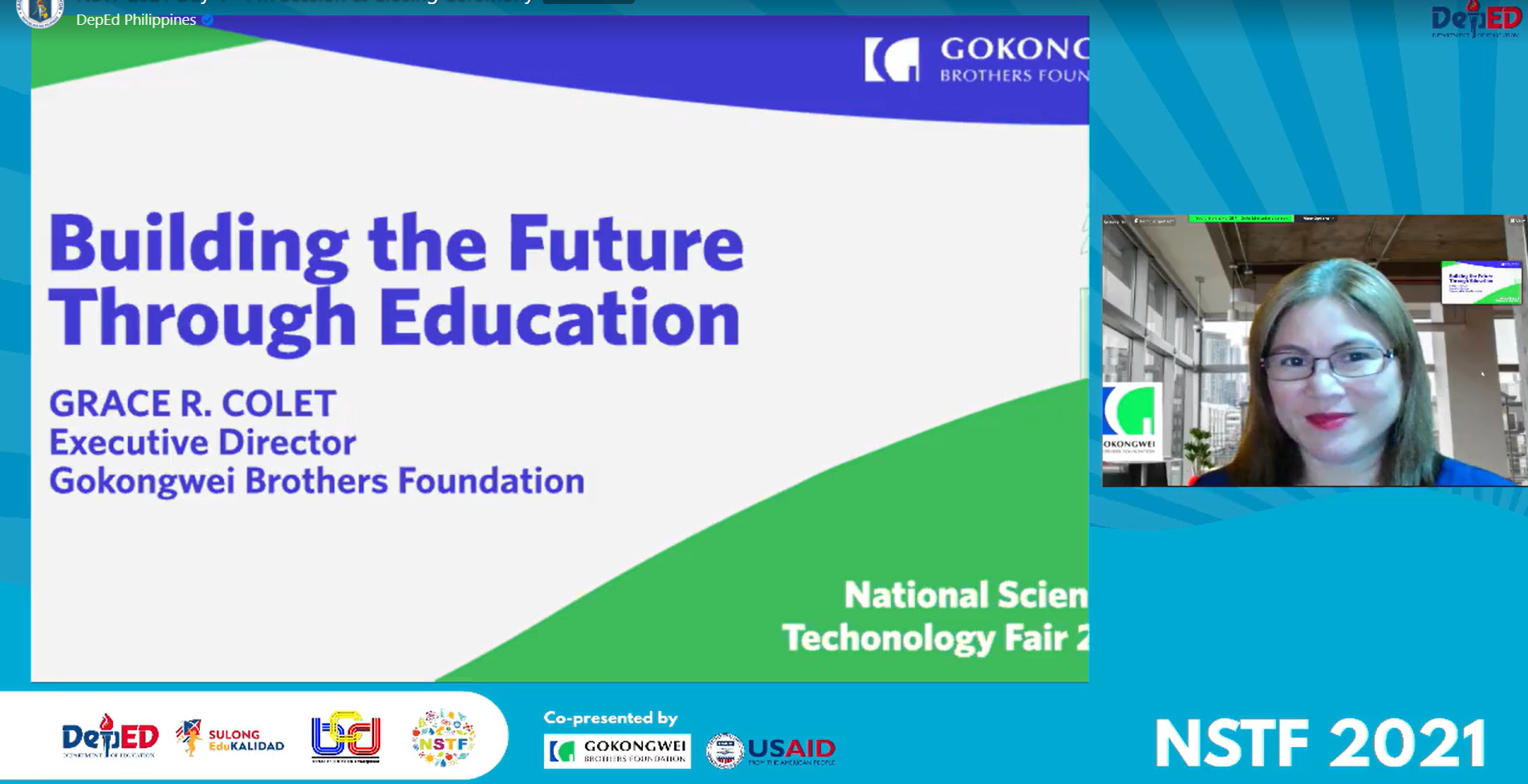 By choosing to support NSTF and similar endeavors as well as continuing to create opportunities for educators and learners in the country, GBF is determined to win the war for the country's future. And it's doing so in its own way—by making sure that no Filipino is left behind.
The Gokongwei Brothers Foundation has been a partner of the Department of Education's National Science and Technology Fair (NSTF) for three years in a row. Through the NSTF, GBF hopes to advocate and advance STEM education among Filipino learners and educators.