UPDATE

We've extended the deadline of application to the GBF-Gokongwei Group STEM Scholarship Excellence until August 15, 2022 for SELECTED COURSES only.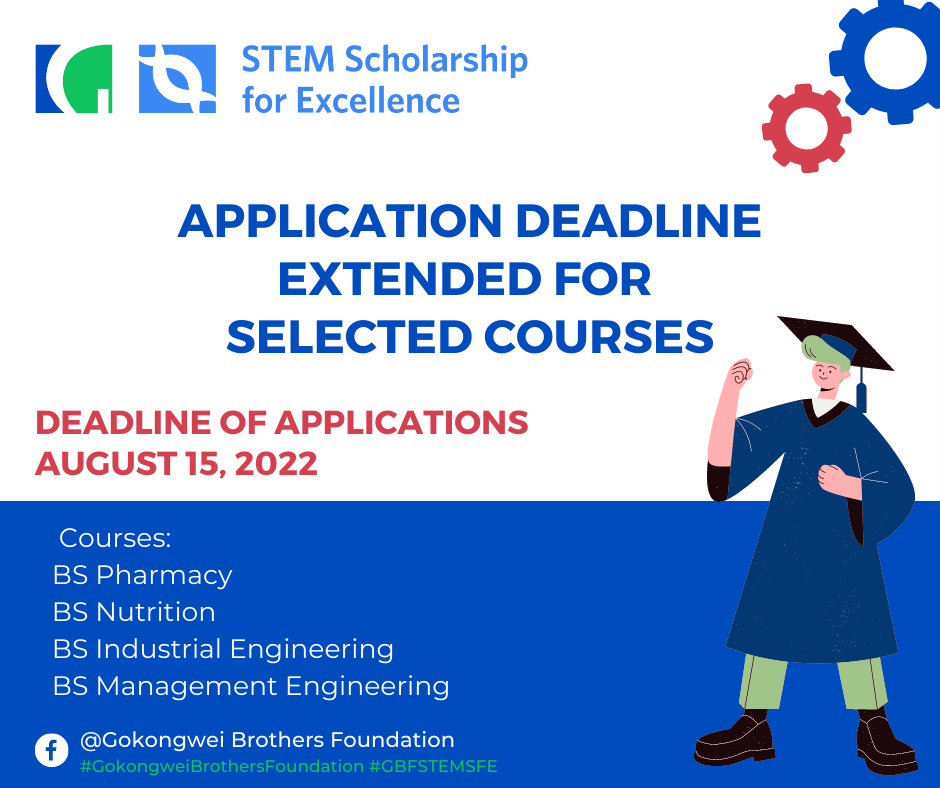 Are you enrolled in any of these courses? If yes, what are you waiting for? Apply now at bit.ly/gbfstemsfe2022extended
FAQ: bit.ly/stemsfe_faq
STEM SFE aims to provide access to quality education to underprivileged and deserving STEM college students from centers of excellence, in partnership with the Gokongwei Group business units. Successful applicants will get a chance to pursue a career in a Gokongwei Group business unit.
SCHOLARSHIP BENEFITS
Fixed annual financial grant to subsidize tuition and other fees (Subject to terms and conditions of scholarship agreement)
Access to scholar development programs
Internship opportunity in the Gokongwei Group
Employment opportunity in the Gokongwei Group (Subject to company vacancy and passing of all pre-employment requirements)
ELIGIBILITY REQUIREMENTS
Enrolled in a GBF priority STEM course in one of GBF's partner universities
Has an outstanding academic record with GWA of at least 2.5 or 80%
Top 10% of SHS batch for incoming 1st-year students, or top 30% of the course batch for continuing college students (Top 50% - Pharmacy)
Exemplifies good moral character and shows active participation and involvement in extra-curricular activities
In need of financial assistance
DOCUMENTARY REQUIREMENTS
Certified True Copy of Grades or Transcript of records
Batch Ranking Certificate
Good Moral Certificate
Proof of annual household income (e.g. payslip, ITR, certificate of indigence)
Proof of enrollment/Letter of Intent to Enroll
Applicant Portfolio
LIST OF PRIORITY STEM COURSES
BS Accountancy
BS Applied Mathematics
BS Chemical Engineering
BS Chemistry
BS Civil Engineering
BS Electrical Engineering
BS Industrial Engineering
BS Information Technology
BS Management Engineering
BS Mechanical Engineering
BS Nutrition
BS Packaging Engineering
BS Pharmacy
BS Statistics
Veterinary Medicine
LIST OF PREFERRED UNIVERSITIES
Adamson University

Batangas State University
Bulacan State University
Cebu Institute of Technology
Central Luzon State University
De La Salle Araneta University
Far Eastern University (Alabang)
Far Eastern University (Main)
FEU-Institute of Technology
Holy Angel University
Lyceum of the Philippines (Batangas)
Lyceum of the Philippines (Cavite)
Lyceum of the Philippines (Laguna)
Mapua University
Mariano Marcos State University
Mindanao State University (Iligan)
Negros Oriental State University
Our Lady of Fatima University
Pamantasan ng Lungsod ng Maynila
PATTS College of Aeronautics
Polytechnic University of the Philippines (Main)
Polytechnic University of the Philippines (Taguig)
Saint Louis University
Sacred Heart College (Quezon)
Samar State University
Silliman University
South Luzon State University
St. Scholastica's College (Tacloban)
Technological Institute of the Philippines
Technological University of the Philippines
University of Batangas
University of Mindanao
University of Perpetual Help (Calamba)
University of San Carlos
University of San Jose Recoletos
University of Santo Tomas
University of Santo Tomas (Legazpi)
University of Southern Philippines
University of the Philippines (Diliman)
University of the Philippines (Los Banos)
University of the Philippines (Visayas)
APPLICATION PROCESS
STEP 1: Preliminary Screening
Accomplishment of Application Form
Submission of Documentary Requirements
STEP 2: Live Online Essay Exam
STEP 3: Panel Interview