Gokongwei Brothers Foundation Donates COVID-19 Test Kits & Lab Equipment
GBF's donations to the Lung Center and The Medical City ramp up testing capacity
By
Gokongwei Brothers Foundation
and
JG Summit Team
Jun 26, 2020
With a population of more than 100 million people, the Philippines must greatly increase its testing capacity to enhance its chances of containing and eliminating the COVID-19 virus. Through targeted mass testing, the government and its partner institutions can speed up the tracing, isolation, and treatment of those infected with COVID-19 in order to "flatten the curve."
To aid the Philippine government's efforts towards achieving this goal, the Gokongwei Brothers Foundation, the philanthropic arm of the Gokongwei Group, donated COVID-19 test kits and related laboratory equipment to the Lung Center of the Philippines and The Medical City earlier this month.
"GBF supports the government in ramping up our COVID-19 testing capacity. We understand how important it is to provide support to our testing centers to immediately curb COVID-19. We chose to help the Lung Center of the Philippines and The Medical City to be of help to more of our fellow Filipinos and to ensure maximum impact, as these are two reputable institutions strategically positioned in our fight against the virus," said GBF Executive Director Grace Colet as the donation was announced.
GBF has committed to donate RT-PCR (reverse transcription-polyamerase chain reaction) test kits good for over 2,500 tests worth P4 million to the Lung Center of the Philippines.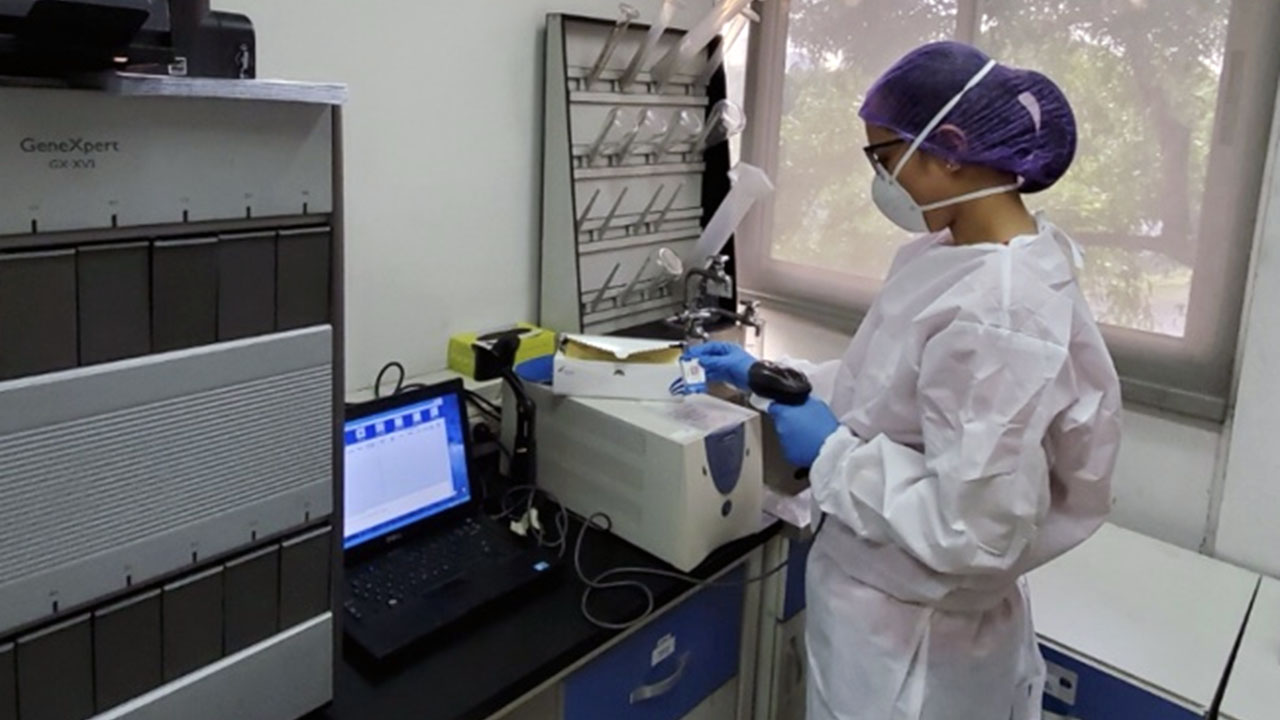 Stephanie Caballero, medical technologist at the Pathology and Laboratory Medicine Department of the Lung Center of the Philippines, scanning and preparing for use a COVID-19 test cartridge donated by GBF. IMAGE Lung Center of the Philippines
Speaking about the impact this will have on the facility, Dr. Ma. Teresa A. Bargaza, Department Manager of LCP's Pathology and Laboratory Medicine Department said, "This donation will assure the Lung Center of the Philippines COVID-19 Sub National Laboratory (SNL) of achieving its full testing capacity of as much as 500 tests/day for almost a month without interruptions."
The Medical City, on the other hand, received a PCR machine, a microcentrifuge, and a biomedical freezer, all essential equipment for conducting COVID-19 testing. "The donated equipment will hasten TMC's laboratory test process, which can augment the volume of tests that the laboratory can perform," said Dr. Rose Agbay, Laboratory Director of TMC.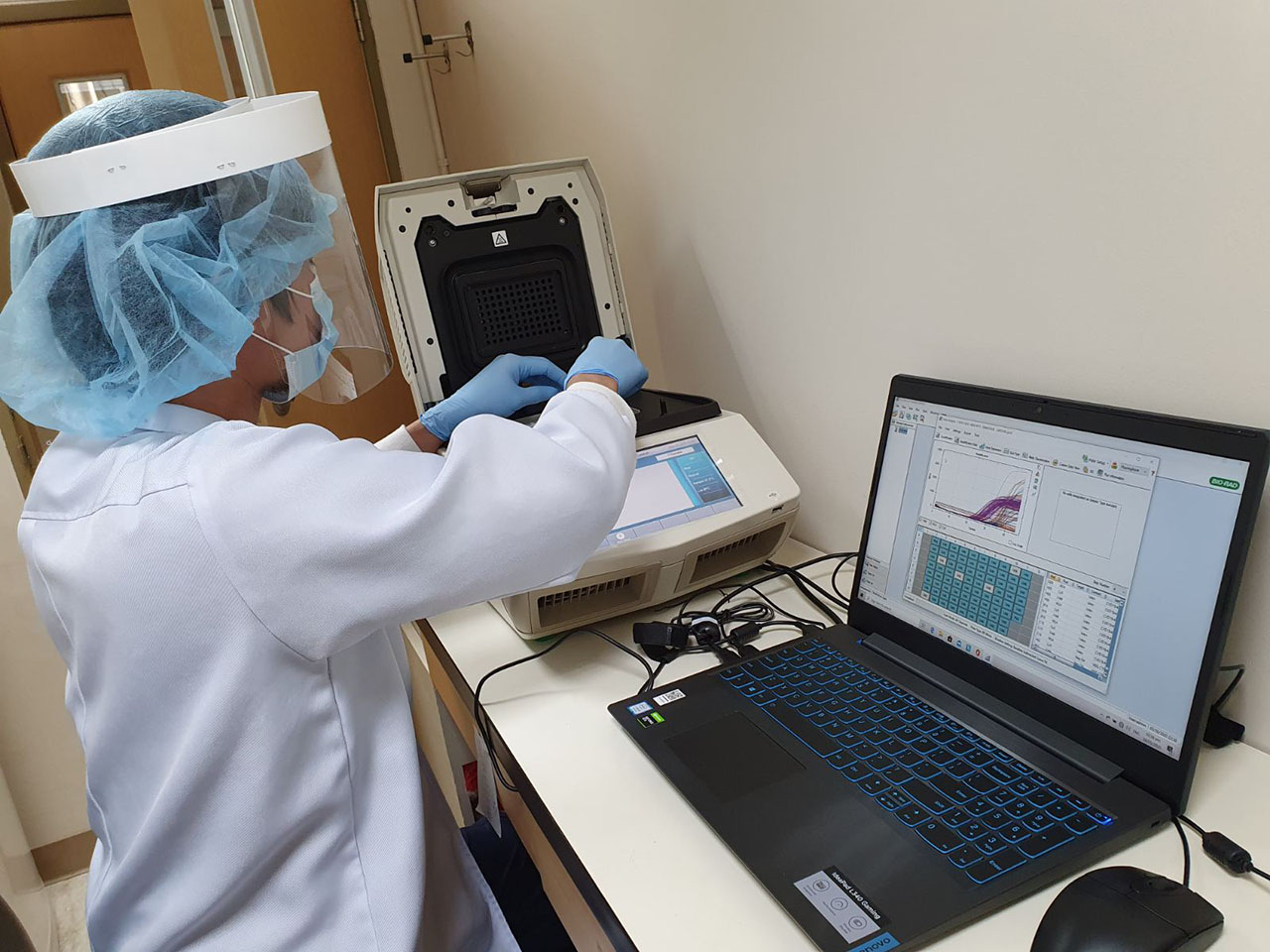 John Elmer Ordoño, medical technologist at The Medical City Laboratory Department, using the PCR machine donated by GBF. IMAGE The Medical City
While the GBF donations have helped in the fight against COVID-19, there is still much that needs to be done to reach the ideal daily testing level. Both Dr. Agbay and Dr. Bargaza hope to see more private companies contributing to this cause.
"It will be of great help if the private sector will support the laboratories through their assistance in procuring supplies and equipment needed for the tests," says Dr. Agbay. Further to that point, Dr. Bargaza states, "Various private sector groups can likewise donate different specialized equipment as well as other consumables needed to process specimens for SARS-COV-2 detection, to augment the current testing capacity of the LCP COVID-19 SNL. This is in anticipation of the demand for more individuals needing to be tested as we continue our surveillance, or as we prepare for another surge, possibly from a second wave."
Now that more hospitals around the country have increased their testing capability, Dr. Bargaza opines that people who start displaying symptoms of the disease have no reason not to seek medical help. "Those experiencing COVID-19 symptoms should seek medical advice immediately to be evaluated for possible confirmatory swab testing. Aside from getting appropriate treatment, this is a crucial strategy to detect and isolate someone infected and perform contact tracing as part of the implementation strategies in COVID-19 response."
The Gokongwei Brothers Foundation is the philanthropic arm of the Gokongwei Group. Its mission is to build the future through education. In March, GBF created a P100 million COVID-19 relief fund to support frontliners, hospitals, and government efforts to contain the virus by providing ventilators, COVID-19 testing equipment, RT-PCR test kits, PPE sets, and food packs and vouchers to hospitals, LGUs, and other vulnerable sectors. More than an emergency response, GBF's COVID-19 relief initiatives are an affirmation of its commitment to advancing STEM and supporting STEM professionals in the country.
This article was originally published on jgsummit.com.ph.